The first Presidential debate between former Vice President Joe Biden and President Donald Trump took place Tuesday evening on Sept. 29.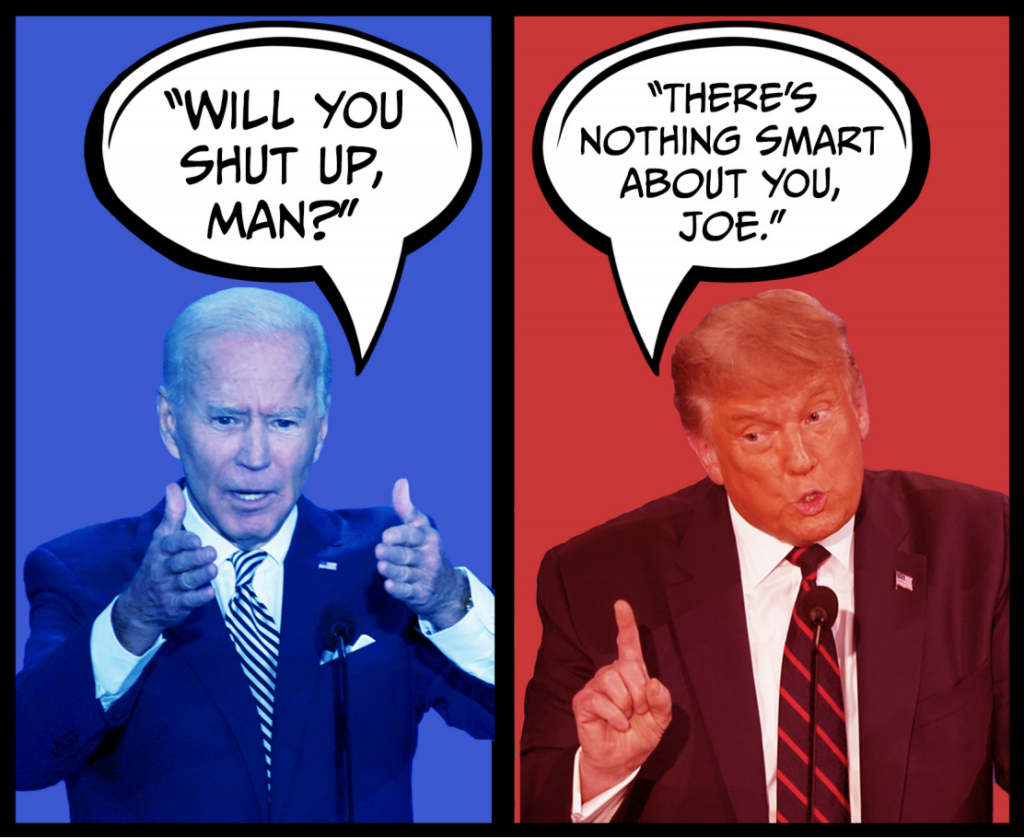 The debate, the first of three, was hosted by Fox News' Chris Wallace, and it was held in Cleveland, Ohio. The debate topics were as follows:
The Trump and Biden Records The Supreme Court

COVID-19

The Economy

Race and Violence in our Cities

The Integrity of the Election
Graphic by: Charlie Zitta & Cora Hall | Production Assistant & Editor in Chief
Biden and Trump moved quickly between topics, and within minutes of the start, both descended into disorder. Biden and Trump both attempted to speak over one another, and often they had to be reeled in by Wallace. Policy and solutions were not a central focus of the debate – even in the section on both candidates' records, policy took a backseat for most of the debate.
Ferris professor of political science David Takitaki agreed the topics were on point, but something was off.
"The topics themselves, as posed by moderator Chris Wallace, were absolutely on point," Takitaki said. "They addressed several of the most divisive and controversial political issues of this election, and America would have been well served by an engaging exchange of ideas in which both candidates could inform us about their plans and policies.
"That's not what we got from the candidates, and much of the conversation was pulled off topic by President Trump's interruptions and non-topical attacks."
Both candidates decided to have personal attacks on their families and personal financial standpoints, rather than their policies.
Reactions throughout the campus sparked questions and confusion on whether this was a good debate.
When Takitaki finished the debate his overall reaction was grim.
"Stated simply, this was not a professional presidential debate. It was a debacle, and, in the eyes of many, a black mark on the long history of Presidential debates. The 2016 debates were unconventional in their own right, but none of them featured the raw vitriol that we saw in what may be the only 2020 Presidential debate," Takitaki said.
Communications Professor Sean Kolhoff had his own feelings about the debate.
"I initially felt like it was a pretty bad impression for our country on an international and national stage," Kolhoff said. "We had combative debates in the past, but even previous debates with Trump's unorthodox style have not been bad. The only thing that would have made it worse is if Biden completely changed to this style as well."
The Torched reached out to both The College Republicans and The College Democrats for comment. The College Democrats were not immediately available to comment, but The College Republicans echoed Takitaki's senitments.
"Both sides didn't really energize their voting base, which threatens the rest of their own parties out of general apathy," Jonathan Ward of the College Republicans said. "What they did emphasize and focus on felt uncalibrated, as if both campaigns are detached from the voices and concerns of their voters. I feel like both sides realized how rocky the first debate was, so I believe we'll see something better in the next round."
Takitaki wanted to inform new voters and students who just began to get into politics that this debate was abnormal and not to get used to these types of debates.
"This debate has been condemned by people on both sides of the isle—and across the world—because it was such a large departure from both precedent and expectation. Don't let the chaos and contempt we saw on display dissuade you from participating in politics or making your voice heard," Takitaki said.
The next debate will be between the Vice Presidential candidates, featuring Democrat Kamala Harris and Republican Mike Pence 9 p.m. Wednesday, Oct. 7.
The next presidential is slotted for Thursday Oct. 15, but this is still up in the air due to President Trump having tested positive for COVID-19.
Mason Grunow contributed to this story.