Over the course of the last five years, Ferris become a hotbed for many NFL prospects.
Zach Sieler, Tavierre Thomas, Justin Zimmer, and Malik Taylor are currently rostered in the NFL. All four were standouts at Ferris.
The Baltimore Ravens drafted Sieler in the seventh round of the 2018 NFL Draft. Some NFL analysts described the two-time GLIAC Defensive Lineman of the Year as a "steal."
"It was sheer excitement, and everything finally came into full fruition," Sieler said about being drafted. "But being drafted is not getting into the NFL, it's not making a team. It's not a guarantee of anything. That's basically to say that you're getting a shot and telling you to get to work and make a name for yourself."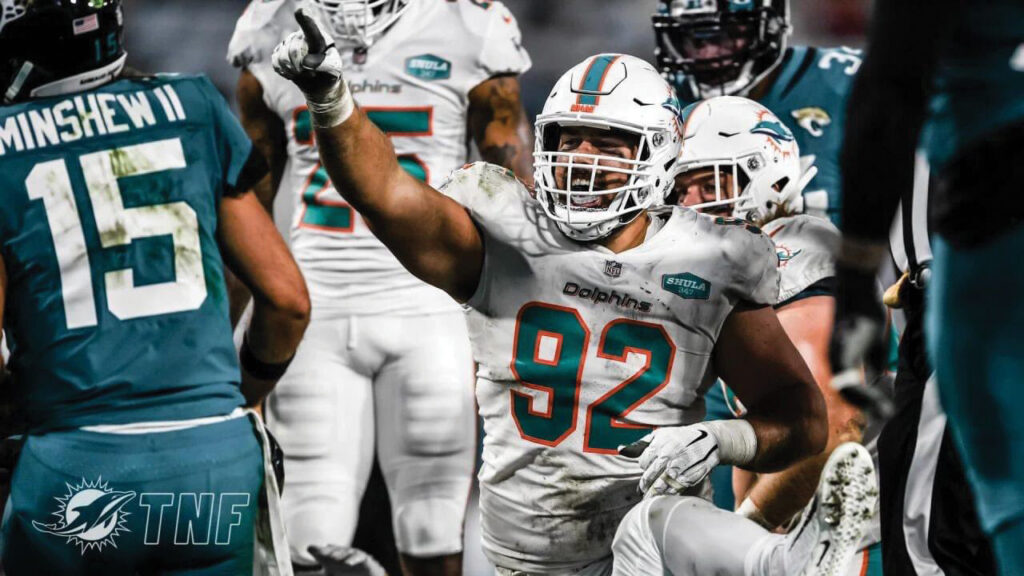 Sieler worked to prepare himself for the NFL immediately after Draft Day. Coming from a Division II school, Sieler needed to take a "step up" to acquaint himself with the NFL.
"I've worked. I've worked on my technique each day, worked on my strength training, recovery, watching more film, and growing as a player, which is what I needed," Sieler said.
Buffalo Bills defensive tackle Justin Zimmer has had a long road to his current position; playing for four NFL teams along with a stint in the Canadian Football League. After a successful pro day that saw him put up 44 reps on the bench press, the Bills originally signed him as an undrafted free agent.
Over the course of the last four years, Zimmer has played for the Browns, Falcons, Saints, Montreal Alouettes, and currently, the Buffalo Bills.
Coincidentally, every team that Zimmer has been a part of over the course of his career currently has a former Bulldogs on the roster counting Vander Laan who opted out of the season while on the Saints roster.
"Yeah, it's kind of weird that every team I've played for has had another Ferris State guy on the team." Zimmer said, "When I was in New Orleans, they had wide receiver Jake Lampman late in camp, so it was really cool to get to play with him. Last year during the end of the season and during OTA's this past year I was with Tavierre Thomas, so it's a cool experience to play with college teammates twice."
While Zimmer came into the NFL as an athletic specimen training in the NFL changed to fixing the technique flaws in Zimmer's game.
"The work regimen isn't that different from college." Zimmer said. "There's only so many ways you can lift and run, but technique-wise it's so different. Everyone is so athletic, especially when you come from a small school, you can kind of get by being more athletic, stronger, and just win on that, but you can't really do that in the NFL. That was the biggest thing for me was just fine tuning my technique. That's taken a long time and I'm still fixing up some old bad habits."
While the NFL is a different level than Ferris, Sieler and Zimmer still believed their time at Ferris was necessary for their growth as players, both on and off the field. They credited Ferris's staff, faculty, and coaches for preparing them to be the best people they could be.
"It was college, you're still growing up, still learning, so they helped instill in me work ethic and a drive," Sieler said of the Ferris staff and coaches. "A lot of people can play football really well, but it takes a brighter person to be able to do everything and last."
Sieler lives his dream every day in the NFL and especially loves playing for the Miami Dolphins, who claimed him off waivers on Dec. 5, 2019, after the Ravens waived him. He impressed the Dolphins in the final three games of the 2019-2020 regular season with seven tackles and a sack. On March 15, 2020, the Dolphins rewarded Sieler with a $660,000 contract.
"I absolutely love it down here in Miami," Sieler said. "The staff, facilities, and the people outside the direct coaching staff like cleaning people, lunch people, and trainers are great. They bend over backward to make sure you can do your job to the best of your ability."
As a seventh-round pick from a Division II school, Sieler had to adopt a different mindset than many other players. He had to make the most of every opportunity and never give up.
Sieler's former Bulldog teammate Tavierre Thomas currently plays for the Cleveland Browns. With injuries ravaging the Browns secondary, Thomas stepped into a more significant role this year as the starting slot corner. He played more defensive snaps in his first two games of 2020 than he did in his previous two years combined.
Thomas recently drew praise from Browns' head coach Kevin Stefanski.
"He has done a nice job," Stefanski said in a press conference before the Browns' Week 3 matchup with the Washington Football Team. "He brings physicality to the position and does a nice job in the run game, on pressures and covering his guy. I am glad we have him because he is a versatile football player."
Thomas, who walked-on at Ferris and went on to win All-American Honors for the Bulldogs, worked his way into a starting cornerback job in the NFL.
Doing into week five of the regular season, Tavierre Thomas will once again look to make an impact for the 3-1 Cleveland Browns, trying to add onto his 24 tackles and sack on the year. Zach Sieler will be on the active roster, looking to add onto his eight combined tackles on the season as the Dolphins will be facing the San Francisco 49ers. Justin Zimmer is currently on the practice squad as his Buffalo Bills look to continue their undefeated season against the Tennessee Titans.
Sports Editor Brendan Sanders contributed to this story.