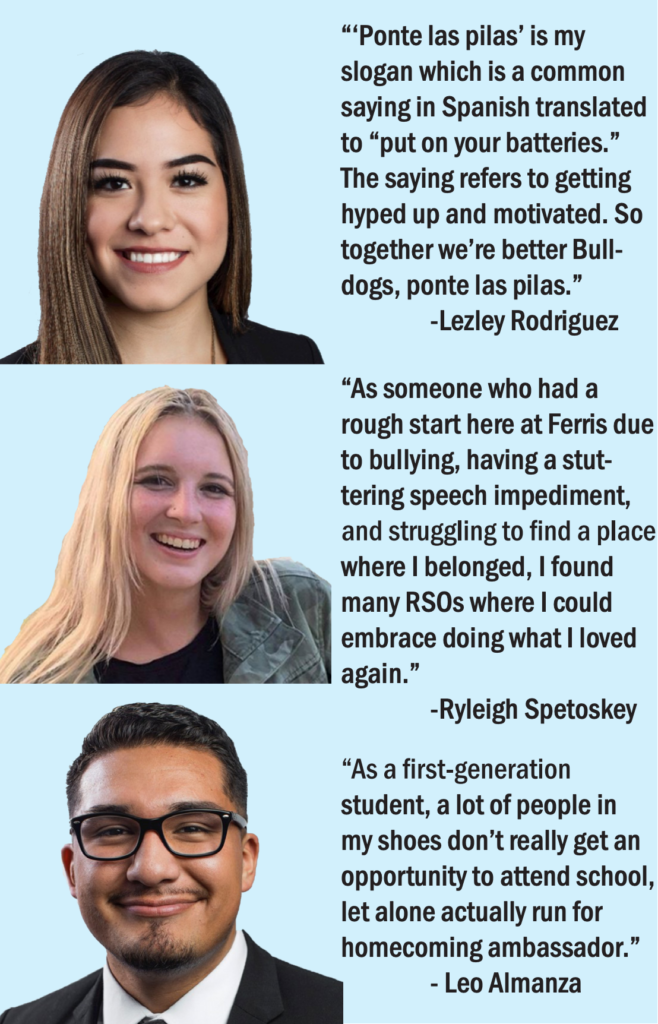 Homecoming is widely considered to be a staple of the college experience. Significant changes have been made to ensure your safety, but different doesn't necessarily mean bad.
Homecoming was planned over two weeks this year instead of the usual one. Events began last week on Sept. 26 with a Virtual 5K. Other events included a tailgate recipe contest, a Ferris photo contest, and a virtual homecoming parade.
The LGBTQ+ Resource Center also hosted an event they called Homocoming to share what's happening in the LGBTQ+ community at Ferris and to spread news about the new LGBTQ+ and ally Alumni organization.
The big highlight of this week will be Saturday Night Live comedian John Mulaney preforming stand up on Thursday, Oct. 8 at 9 p.m. The comedian event has become a tradition for Ferris homecoming. The event is being put on by Entertainment Unlimited and will be a Q&A that students will be able to stream.
Another highlight of homecoming celebration is being able to vote for the Homecoming Ambassador Candidates. Ferris switched to using the word "ambassador" in 2018 to increase inclusivity.
For the 2020 homecoming race we have three individuals looking to win the crown: Leonardo Almanza, Ryleigh Spetoskey and Lezley Rodriguez.
Almanza is a criminal justice senior with a minor in public advocacy. He is the president of Sigma Lambda Beta International Fraternity at Ferris and the president of the United Greek Council. Almanza was also this year's Association of Latino Professionals for America Fellow.
Spetoskey is a music and entertainment business senior. As the Music and Entertainment Business Association president, she has helped start a fundraiser dedicated to supporting Michigan music venues during the pandemic. Spetoskey is also the music director for Vibrato Vibes.
Rodriguez is a business administration senior with a minor in international business. She is the 2020-21 Newman Civic Fellow, a member of the United Greek Council, and a member of Sigma Lambda Gamma National Sorority.
The winner of the ambassador competition will be announced after John Mulaney's performance on Thursday, Oct. 8.
Lifestyles Reporter Matthew Miller contributed to this story.