Big Rapids' most popular bar announced its reopening Saturday afternoon on Twitter and saw a turnout of 195 patrons throughout the night, according to Star Shooters owner Jerry Boman.
Shooters has been closed since Gov. Whitmer's executive orders closed down indoor bars on July 1. Since then, students have turned to Sawmill Saloon, which has an outdoor area and was allowed to remain open. But on Oct. 3 at 9 p.m., Shooters once again opened its doors to the public aged 21+.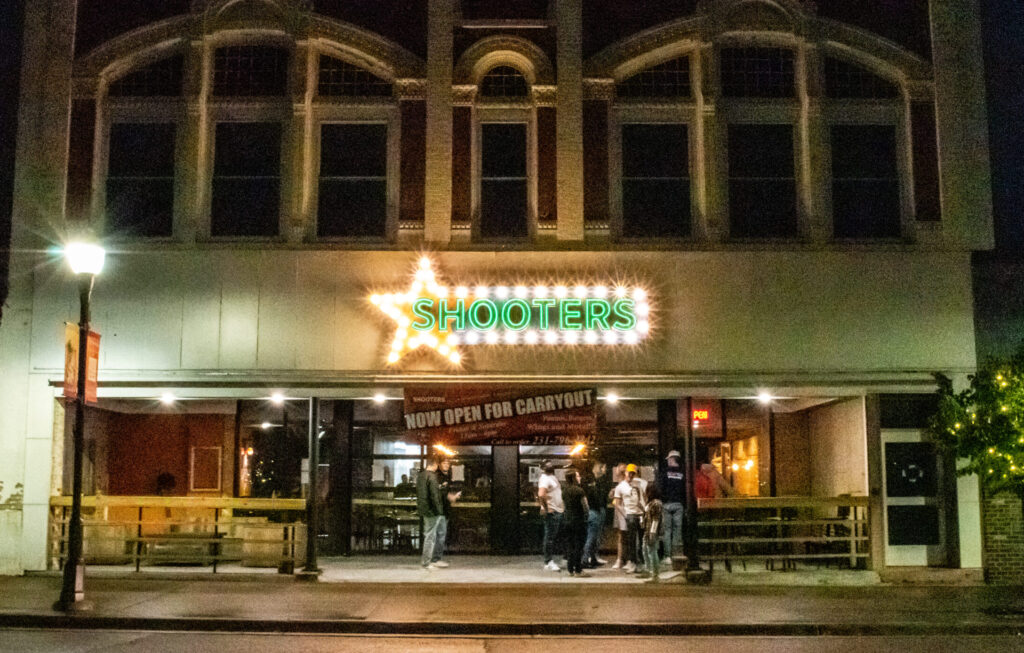 Boman said they were able to open due to the Oct. 2 Supreme Court ruling stating that Whitmer can no longer extend the State of Emergency and make executive orders. If Boman had not planned on starting another business this year and had money set aside, being closed for this long "would have been devastating." He declined to reveal exact sales from Saturday, but said it was about one-third of the sales they would typically make at this point of the school year.
Masks were "encouraged" in the original tweet, but not required. Around 12 students were in line at 8:50 p.m. Saturday, waiting for the doors to open. None were wearing masks, and all declined to be interviewed.
Boman said he was impressed with the students who did show up, saying they stayed within their groups for the most part, even though about 90% did not wear masks. With a maximum capacity of 444, Boman said they are limiting it to half that for the foreseeable future.
Because someone close to him has preexisting conditions, Boman has not dined in at restaurants since the beginning of the pandemic. But he feels that Shooters is not much different than patrons dining at a restaurant and taking their masks off.
"They're not wearing masks anyway," Boman said of those in restaurants. "And we know now that it's airborne, it doesn't really matter—they've extended it from six to 20 feet if both people are not wearing masks and that's what's happening in restaurants, but they still only have to be six feet apart. 
"Even with what we know now, it doesn't really matter, if they're taking their masks off to drink, they're going to breathe with their masks off. I think restaurants offer a unique situation where it's hard to be open and have a mask on, all we can do is say 'hey please wear your masks when you're moving from your table to go to the bathroom or when you're moving around' and that's all we can do, we can only hope that they want to do their part." 
The Shooters staff are following the original rules laid out by Whitmer when they initially reopened this summer. This includes all staff members wearing masks, glass barriers at the bar, temperature checking patrons as they come through the door and asking them to remain at their tables and wear masks when they order.
When Shooters originally opened this summer, Boman said they followed all the rules required, including mask wearing inside.
"That's what we did the initial time when we were allowed to open, because that was part of the rules initially," Boman said. "And we followed the rules, directly as described by the governor and we had no customers." 
A Tweet sent by the Shooters Twitter account on Saturday alluded to other local bars not enforcing masks or social distancing during the pandemic.
"In response to other local bars not following proper restrictions the entire time, we want to try to provide a safer environment as the state moves forward with loosing restrictions. Be safe, be smart, wear masks," the Tweet read.
Boman has not been to other bars personally, but wanted to have a safer environment for students.
"I only know what I heard or saw on Facebook, I never witnessed it firsthand," Boman said. "I don't necessarily want to comment on how another place wants to manage or run their establishment. They make their choices. I think I made the right choice as long as I could. But I'm not saying everybody did." 
With the fact that essentially only staff is wearing masks, Boman had—and said he will continue to have—conversations with his employees about how they feel about their personal safety.
"They want to be back to work," Boman said. "I've heard about all the other things that have been going around and I think a lot of this is already happening within college students [not wearing a mask]. I'm actually kind of surprised by how low the numbers are after the initial spike. I'm pretty impressed with how the numbers haven't grown much since that initial spike. I think my staff feels safe and if anybody did feel unsafe, I would not force anybody to work."
Ferris' current COVID-19 case count at 149 cumulative classes, 33 of which are still active. The week leading up to Shooters' opening, 33 cases were reported. Since the beginning of the school year, Boman has kept an eye on the COVID-19 case count and said an increase in cases could cause a change in policy.
"The problem is that, everything else that has been opened up are equal risks, gyms being a big one," Boman said. "That's the problem, is you can't pick on one area when there's really a lot of proof that other areas are in the same boat. But because people are fighting for gyms, they're willing to look the other way. I get it, gyms help people, too, but I guess you could make the argument that socialization helps people. Everybody needs to be safe and it sucks that the environment that has arisen is not productive to people trying to help other fellow Americans by doing the simple things."
Editors Note: Shooters has now be forced to close until Oct. 31 due to the MDHHS epidemic order, which was put in place Monday Oct. 5.