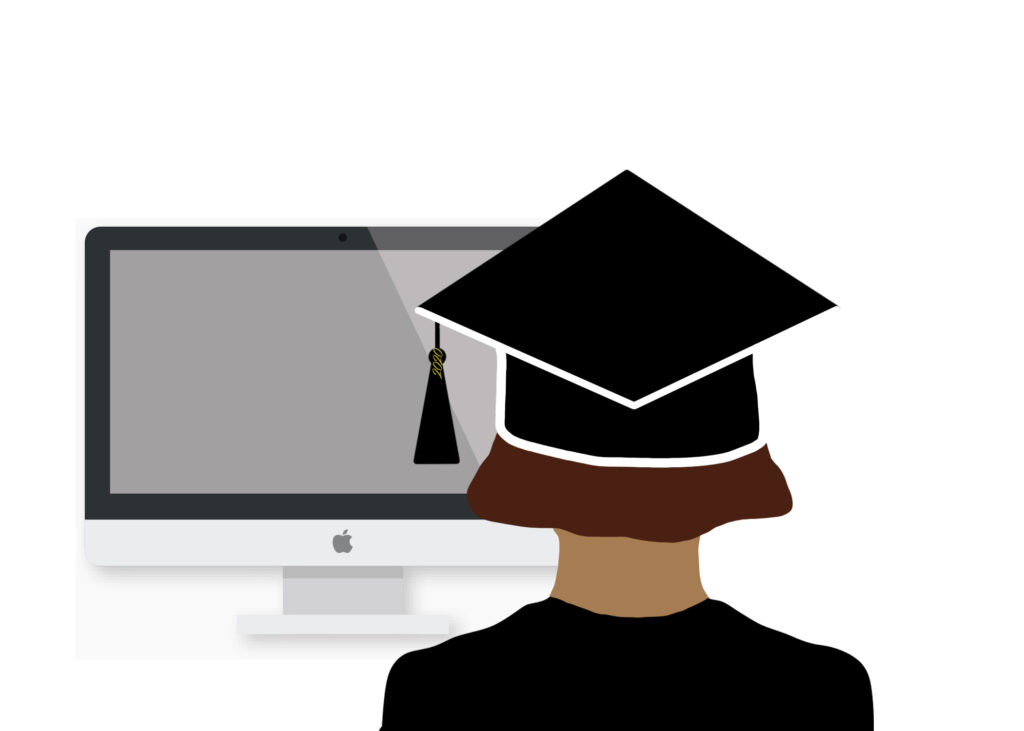 On Sept. 25, Ferris announced via email that the Fall commencement ceremony would be canceled for safety reasons.
COVID-19 has caused many restrictions to go into place, including limitations on large gatherings. Outdoor gatherings are a bit more flexible as there is more room to socially distance. However, because fall commencement takes place in December it would create more issues to have an outdoor commencement ceremony, which is why all commencement ceremonies at Ferris are traditionally indoors.
In place of the traditional ceremony, each graduate will have a personalized slide with a Ferris logo and colors displaying their name, degree, photo and a short quote or thank you message.
Ferris had previously promised to make up a ceremony for Spring 2020 graduates who were also unable to have a graduation ceremony. However due to the cancellation of fall commencement Ferris has decided to cancel the make-up ceremony as well.
Dean of Enrollment Services Kristen Salomonson has taken leadership of commencement and explained the process behind the decision to cancel commencement. Salomonson explained that the biggest factor that was taken into consideration were guidelines set in place by the Center for Disease Control and the State of Michigan.
"Planning for commencement starts months in advance," Salomonson said. "When our university transitioned to virtual learning in spring, we began discussions on scenarios for our December commencement. We made the difficult decision to postpone the in-person ceremonies, ultimately it is a choice that protects the health and safety of our graduates, their guests and university staff."
Making this decision was not something that was easy for Salomonson and the team in charge of commencement. Salomonson said that having a graduation ceremony is one of the most important events for students and expressed her hopes that commencement can return for the spring 2021 graduates.
"They have worked hard for this one moment of celebration for themselves and for the family and friends who have supported them through their educational journey. If we can do it safely, we will return to our in-person ceremonies in the spring. At this point, we don't know what will happen. We are hopeful we'll be able to make it work. So much depends on what happens between now and 2021 in terms of the trajectory of the virus," Salomonson said.
Ferris facility management senior Kyle White is graduating in the spring and is hopeful that things will return back to normal in the spring semester.
"My gut feeling is that COVID-19 will no longer be around or a thing come January or February, this may just be me being hopeful that it all ends soon, but time will tell," White said. "Senior year has been a bit odd given the world's state currently. Going back and looking at my time leading up to this it makes me miss being a freshman on campus. I'm hoping I can finish off my spring semester with the world somewhat back to normal with all of my friends."
Although White won't be too upset if there isn't a ceremony, he planned to attend the ceremony so that his mom could see him walk across the stage and get his diploma. If there is no ceremony White said that he would likely have a special dinner with his family to celebrate with the people he loves.
Ferris social work senior Marisol Martinez was a first-generation high school graduate so attending and graduating from college is a major accomplishment for her family. Hearing the news that there would be no graduation ceremony broke her heart.
"My mother will never hear my name being called to watch me walk across a stage that no previous generation has walked before," Martinez said. "I cannot speak for everyone, but I feel like the missed feeling of attending a ceremony where we receive the last words of motivation and hope before entering the professional world is a once in a lifetime moment. We miss the moment of celebrating with our classmates, mentors, advisors, professors, friends, and family."
Martinez believed that there was going to be a graduation ceremony as different guidelines and restrictions have changed and she felt like things were returning to normal.
"I thought that Ferris would split graduation over a couple more days in order to celebrate everyone who graduated in May, August, and December." Martinez said. "I hope Ferris can do something in the future, but nothing could make up for missing a ceremony and walking across a stage. I just feel for the class of Spring 2020, they got their ceremony cancelled twice."
Despite not having a ceremony Martinez still plans to celebrate in some way.
"At the moment there is no other celebration planned, but the fiesta will still happen. I'm buying a cap and gown still of course so I can take pictures with my parents," Martinez said.
Ferris is holding its virtual celebration on December 19 at 10 a.m. Each graduate will be having their own presentation slide along with a verbal announcement of their name, degree and any academic honors. Many of the elements of the traditional ceremonies will be in place – including music and speeches from Ferris dignitaries. There will also be several commencement stations in the University Center. This will present graduates with the opportunity to take photos with themed backdrops, receive diploma covers and to pick up alumni pins before Thanksgiving.