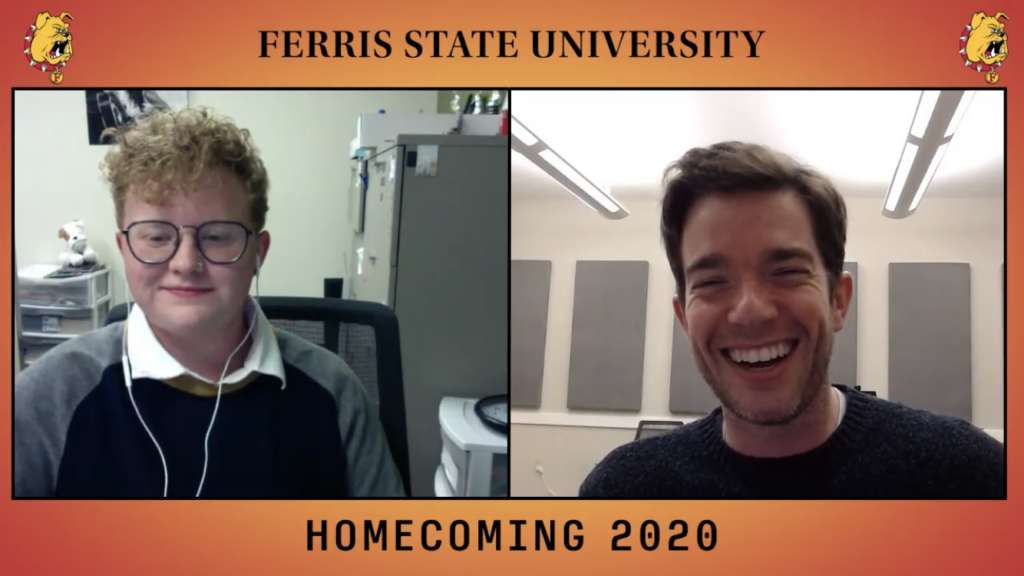 Stand up comedian John Mulaney visited Ferris for our Homecoming celebration this past week.
Mulaney was interviewed by a student over a live Zoom call on Thursday, Oct. 9. He answered questions that had been previously submitted by Ferris students. Born and raised in Chicago, Mulaney left for Washington to attend Georgetown University in 2000. He described his college experience in a way that most students can relate to.
"College for me was a four-year game show called, 'Do my friends hate me or do I just need to go to sleep?'" Mulaney said. "I was very emotional."
As students watched the interview unfold virtually, Mulaney discussed topics such as his time working on Saturday Night Live (SNL), his views and experience with college, his relationship with Jerry Seinfeld, his dog, Petunia, and much more.
"Petunia eats first," Mulaney said. "I've catered more to her meals in ways that I won't even discuss… There's no question about whose meal is most important."
Mulaney met two of his closest friends, Nick Kroll and Mike Birbiglia, at Georgetown University. Together these future Hollywood stars joined an improv group on campus. Although Mulaney graduated with his degree in English and met some of his life-long friends there, he still described his hesitance towards encouraging the traditional four-year path.
"I personally feel college can be a waste of time," Mulaney began. "But this is not geared towards any of you. Then again, I became a nightclub comedian – so don't take my word for it. Of course I'm not using my college degree. I'm standing on stage telling jokes for the mafia."
"Anyway, everyone should drop out," Mulaney joked.
A few years later, Birbiglia would invite Mulaney along on his stand-up tour, playing a detrimental role in helping develop Mulaney's stage presence. Further, Birbiglia, Kroll, and Mulaney worked together as recently as 2019 to raise a million dollars for first generation college students. Throughout their careers, the three have continued to stay in touch and collaborate on projects.
"I did a show with Nick Kroll called 'Oh, hello' on Broadway," Mulaney said. "One time, a very old guy walked up to me at the supermarket and said, 'I bet everyone says 'Oh, hello' to you. But I'm not everybody, so I'm going to say 'Hi!'"
Lastly, Mulaney discussed working with Jerry Seinfeld while they were both on SNL. Remembering the show's 40-year anniversary party, Mulaney reflected on when he held the responsibility of writing the questions that Seinfeld would read to the audience.
"I was really nervous." Mulaney said, "I called Seinfeld a few days before and I said, 'This is a very big deal to me, so please be gentle
when I pitch these jokes."