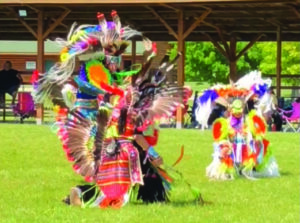 Oct. 12 is recognized in many places in the United States as Indigenous People's Day (IPD) to celebrate and honor Native American people and their culture.
IPD was created in response to Columbus Day holiday to recognize the native populations that were displaced and decimated after Christopher Columbus and other European explorers reached the continent.
Michigan started to observe IPD on Oct. 14, 2019 after Gov. Gretchen Whitmer declared the day to "uplift our country's indigenous roots, history and contributions."
Ferris biology professor Scott Herron has been working on getting IPD recgonized on campus, but to no avail.
"As a faculty researcher working with Indigenous-Native American communities in Michigan for several decades, it makes me feel that Diversity and Inclusion does not extend to all community members here at Ferris State University," Herron said.
Herron said that he has a IPD banner in his lab and that he considered hanging it out outside on campus but the lack of support makes it not worth the effort in his opinion, since there is no longer an active Circle of Tribal Nations RSO on campus.
"I feel its past time for Ferris State administration to support all its students, faculty, and staff and one simple but powerful action would be for the Board of Trustees to adopt IPD as the holiday of record, and for that effort to be lead by our office of Diversity and Inclusion," Herron said.
Herron has requested this directly in past years, but has not had any success. With the help of the Office of Multicultural Student Services he has been able to educate the students and staff on campus about IPD for several years now, "yet the campus appears to celebrate the oppressor, not the survivors."
Accounting senior Tianna Halfaday is a student who would like to see IPD recognized by the university, as a member of the Hannahville Potawatomi tribe in Michigan.
"I'd rather celebrate a day recognizing my culture which is beautiful and deep, versus a day celebrating genocide and rape," Tianna Halfaday said.
Halfaday said she would like Ferris to bring more awareness for IPD because there are so many people on campus that don't even know this day exists. She said that when she was a freshman living in the dorms she met people that were shocked that she, a Native American, went to college. They told her that they have never "met" a Native American before.
Columbus Day, which is also on Oct. 12, is recognized on Ferris calender, unlike IPD.
When asked why Ferris recognizes Columbus Day instead of IPD, Ferris communications officer Michelle Rasmussen said, "Columbus Day is on the campus calendar because it is a federally recognized holiday. All of the federal holidays are posted on the campus calendar."
Even though Columbus Day is a federal holiday, states and governments can choose to not observe a federal holiday and choose to observe IPD instead.
Rasmussen did not respond to questions about Herron's efforts to bring IPD observance to Ferris, why Ferris has not adopted IPD and why Ferris sees Columbus Day more important than IPD. Eisler was not made available for comment.