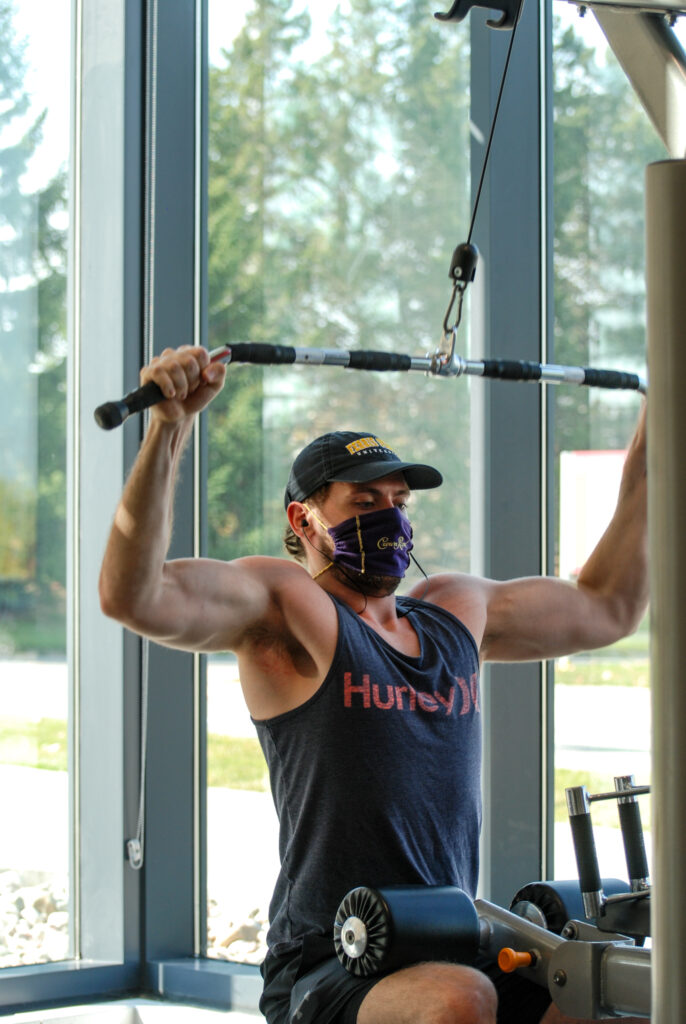 Wearing masks and making appointments to workout at the gym has become the new normal since their re-opening.
Many students have had mixed feelings about the Rec Center operations, and some have opted to attend other gyms as an alternative. The major annoyance among some students attending the gym is the mask requirement.
"I believe it's stupid to be honest" Michael Alderman a mechanical engineer technology senior said, "Walking around the gym is one thing but for them to make you wear it while actively working out or running is ridiculous."
The Rec Center requires students to wear masks at all times while inside the building. It also requires that students make appointments before attending for a workout. The appointments allow the Rec Center to regulate the number of students inside as well as sanitize equipment between each appointment time slot.
Austin Carrithers a business management senior said that it took him some time to get used to making the appointments after being so used to walking in whenever. He stated however, "This allowed me to schedule my week better by picking what time slots I would want and what body part I would be working out that day."
Due to the Rec Center policies many students have opted to attend other facilities totally or for some of their workouts, leaving the traffic throughout the Rec Center decreasing.
Justin Harden, the Director of University Recreation and Wellness Programs stated, "I do think [there has been a] decrease in our traffic. However, I think the decrease in traffic comes from people still being cautious about going out in public spaces especially inside smaller areas like the SRC. I think that has more to do with it than the Governor's mandate."
Jacob McGowan a professional tennis management senior has started to attend JD Fit in Big Rapids, as opposed to the Rec Center. JD Fit is following similar guidelines as the Rec Center, they are also requiring masks and appointment times. McGowan stated "I have mixed feelings about masks in the gym. I don't mind wearing one inside, and I understand why the mandate has been put in place. However, I believe that the masks should come off briefly during either heavy exertion while lifting/running, or while you are at least 6 feet away from anyone."
Aldermann attends PT Plus in Big Rapids, along with the Rec Center. He prefers attending the Rec Center but mentioned that PT Plus does not require members wear masks which was his main annoyance.
"I have three current gym memberships, all of which stayed open during the entirety of the pandemic. They've all required you to sanitize your equipment and one of them required a temperature check, before masks were mandated by the state. My main gym "Crunch fitness" made you sign a waiver upon entering saying you'll wear a mask when moving between equipment or when social distancing was not possible."
Depending on your preference for precautions taken in the gym setting there is likely one which will fit your needs. If you would like to schedule an appointment to attend the Rec Center visit the University Recreation page, click the SRC Updates link, and follow the steps provided to create an account and schedule an appointment.