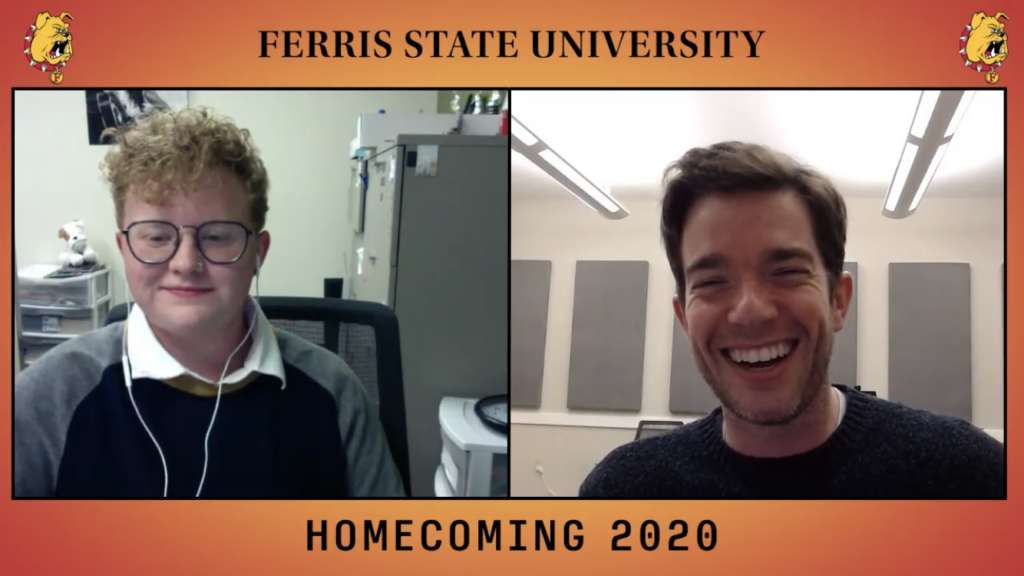 Students came out by the hundreds to watch stand-up comedian John Mulaney answer questions, even in the event's virtual format.
The homecoming comedian event which typically happens in person was held virtually on Thursday, Oct. 9 and 236 students watched the live stream.
Music and entertainment business senior Lane Steffke serves as this year's Entertainment Unlimited president and homecoming committee president and was the student who got to interview Mulaney.
Before the show Steffke had briefly interacted with Mulaney for a few seconds but they didn't really interact until it was show time.
"He is one of my favorite comedians, so I was definitely excited for him to be doing this show," Steffke said, "I was nervous day of show for the interview, but as soon as we started the nerves went away."
During the show Mulaney quickly began to ask Steffke questions as well, creating an environment that was more of a conversation.
"Although it was a Q&A, we wanted it to have a natural flow which allowed him to add some funny commentary as well." Steffke said.
Steffke recognizes that it can be difficult to do comedy virtually and felt that the format they went with fit well with Mulaney's content.
"I think students were still able to enjoy it because we were able to bring such a big act. Because the event was virtual, we were able to afford someone bigger than usual, which helped make it more enticing," Steffke said. "John Mulaney is also big among college students right now, so I think people were excited to see him."
Both EU and homecoming traditionally rely on events that are held in-person such as stuff-a-plush, and the homecoming parade. But with the restrictions from COVID-19, it's put a damper on the way many events across campus are held.
"It has definitely been more difficult to hold events. With less students on campus and tight restrictions on what we are able to do, it is hard to engage students in ways that we have before," Steffke said.
Nicholas Smith is the coordinator of activities at the Center for Leadership, Activities, and Career Services serves as the advisor for EU and the homecoming committee has begun looking ahead a bit to plan out the following year's festivities.
Planning for the following homecoming will begin during the spring semester as normal, however a lot more "what if" conversation will be likely to occur.
With everything constantly changing it's also to soon to say whether things will be virtual or whether it will be back in person. The committee has hopes for an in person show but can take advantage of the event being virtual by getting a larger comedian. The format of the show will as well depend on the comedian and what type of show they'd be willing to host.
Mulaney ended off the show by saying that he'll have to come to Big Rapids in person one day. When asked about this comment, Smith kept things mysterious.
"You never know, we have had some pretty cool performers come to campus in the past," Smith said.
Students will have to wait for the next homecoming comedian to be announced next fall.