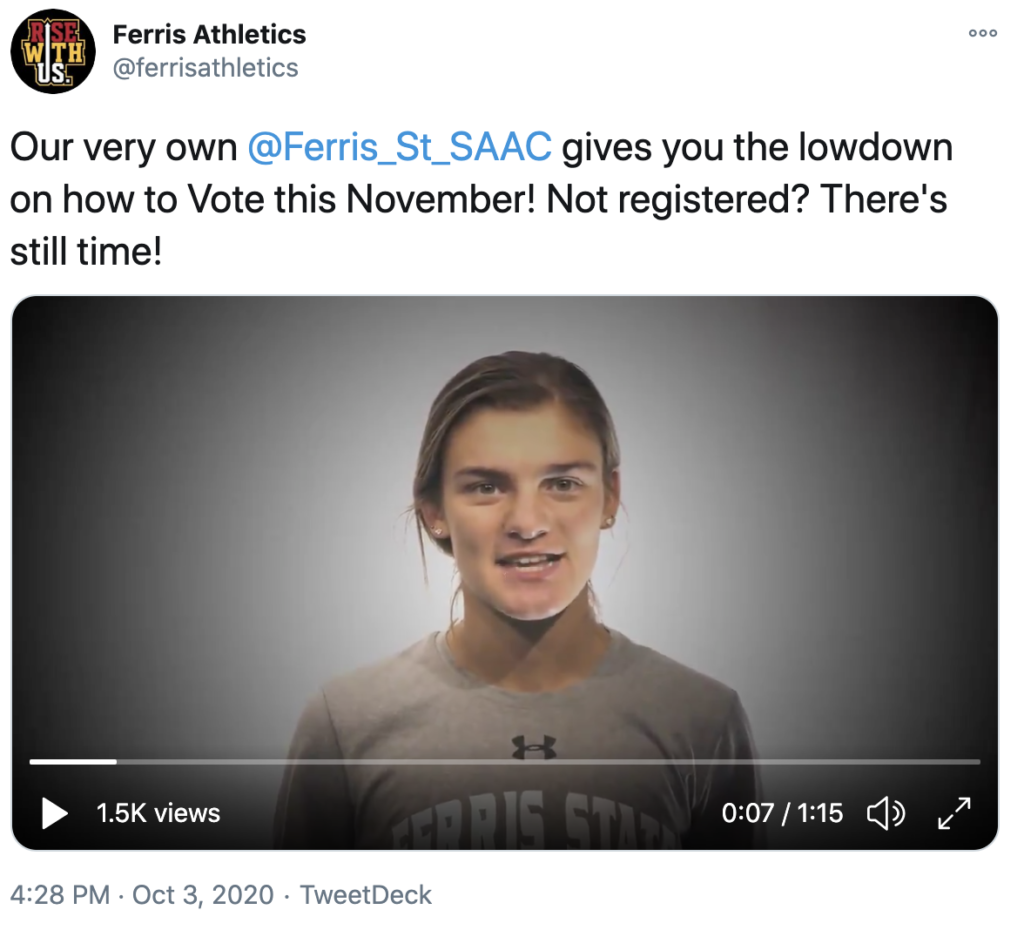 As the presidential election unfolds this year, many people are pushing for younger people to vote.
Many stories showing statistics on voting are indicating that less than half of Americans voted in the 2016 presidential election. A majority of them included young voters.
The Ferris State Student-athlete Advisory Committee (SAAC) wants to push the message to students on why they should make the decisions to vote. The SAAC is an organization that promotes the messages of Bulldog student-athletes. Their goal is to help student athletes stay involved in the community and get their voice heard. This semester, they have turned their attention towards getting students to register to vote.
As the election is three weeks away, students are coming together and finding ways to get the message out for people to find an alternative ways to vote. Recently, the SAAC released a video on Twitter by student-athletes on how you can register and still vote this November. Student-athletes in the video expressed how students can check your registration at the Secretary of State and steps you can take forward to get a ballot or vote in person before the deadlines.
SAAC treasurer and senior wing for the men's basketball team, Micheal Peterson, described the intentions of the voter registration initiative.
"SAAC's goal was to get as many Ferris State athletes registered to vote as we could. We felt it necessary with this election being very important to a lot of people. What we hoped to get out of this initiative was to shed light on how easy and important it is to vote." Peterson said.
The video was produced and distributed through multiple channels of social media including Ferris State athletics website on on both the SAAC's twitter account. Vice President of SAAC and senior midfielder Bri Rogers described the process of the video coming together.
"It was mentioned by us in a meeting about a month ago now, then two weeks later we came together and formed a committee with four of us. We then approached Harrison (Watt), our social media coordinator, I wrote the script for it and it all was pretty seamless. It has been pretty well received so far and we're glad to see that," Rogers said.
The committee that was formed to produce this video included Bri Rogers, Caleb Walker, Edina Taerbaum, and Thomas Hursey. In the video, student-athletes give clear instructions on how students can register to vote in the upcoming election. They also explain how voters have a large responsibility to determine the country's future, especially in Michigan. SAAC advisor and associate athletic director, Sara Higley explained the importance of the video.
"Student-athletes are leaders and our SAAC leadership wanted to stress the importance of voting and to help create awareness and interest within the entire student body to get out and vote safely," Higley said. "They wanted to bring awareness to the importance of voting and provide information on how students can register to vote, how to request an absentee ballot, and how to vote safely."
Voting this year means students are being part of making values for the leaders of the countries, states, and local cities. Peterson saw that it was already making a difference among his teammates, as the men's basketball team went from having half of its members registered to vote to 100%. His coach had walked the team through how students could register online. Rogers described the other measures teams took making sure their teammates were registered to vote.
"We tried to put a thing out in all of our group messages to communicate with the soccer team something like "Like this if you're not registered to vote" then we got them the resources they needed and where to go to register to vote." Rogers said.
As the SAAC is promoting this message, they want students to remember one thing, find the best alternative to vote and staying safe while you vote. Rogers gave one last message to fellow students on the election.
"My message is just get out and vote. I think that the biggest way for the youth population to get their voice heard is through voting. That's my biggest message for all the student athletes here at Ferris and all the students. It's something that I'll definitely doing this November 3rd and I think as many people as possible should go out." Rogers said.
With election day, Nov. 3, coming quickly, the video that the SAAC produced can be found on the Ferris State SAAC Twitter @Ferris_St_SAAC, or on the Ferris State Bulldog website.