Softball saw a step up in facilities get completed last Thursday with the official ribbon cutting of the improved Varsity Softball field.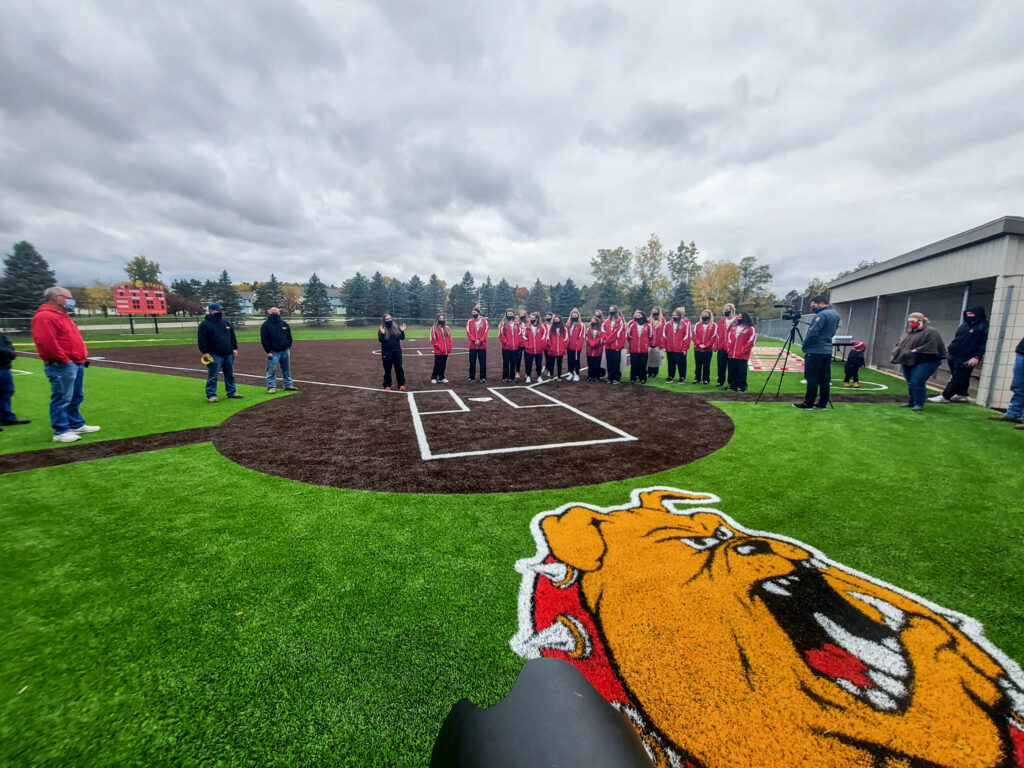 On Thursday, Oct. 15, a ribbon-cutting ceremony was held to promote the completion of the softball field upgrades. This event saw the entire softball team, project facilitators, and athletic staff attend to show the community these improvements to the stadium.
The improvements to the field include a completely new turf infield, which replaced a field that was previously completely dirt. The outfield was laser graded so that it is now flat and drained properly along with better fertilizing and overseeding. The stadium also received brand new batting cages and artificial bullpens.
"It is absolutely beautiful and everything that we could've asked for." Softball head coach Kristin Janes gave compliments on the upgraded facility. "We are ridiculously excited to get going using it. There have been so extremely influential people who have been a part of this project."
Originally planned two years ago, the total budget for this project was $245,000. The work was done by Ferris' physical plant and saved $35,000-$40,000 dollars. This was the first athletic field that was completed by Ferris States' physical plant staff that normally oversees and maintains Ferris State's facilities.
Grounds supervisor Scott Wilcox gave insight into the evolution of the project.
"It actually came together in the final hour. The contractor was hired, my guys came in last minute and said we can do this and save money." WIlcox said. "The physical plant was willing to take a listen to it and we bid against the contractor and were substantially less than they were."
Many of the players were also excited about the improvements to the field, with sophomore first baseman Kaitlyn Orne expressing her delight about the improvements.
"It's one of the most beautiful fields I've ever played on," Orne said. "there are some nice facilities around in the GLIAC but I think ours is going to be top of the line now. The pitching and batting mounds are some of the best I've ever seen, and I've played all over the country and all of Michigan and our field is the top field I've ever played on."
Junior outfielder Madison Mcleod also gave a positive review for the facility.
"I love it, it was exciting to see everything all new and redone," Mcleod said. "It will give us the swagger to make us play good. Basically, like a feel-good play good mentality."
Some of the improvements haven't been completed yet, such as installing new foul poles, a windscreen that will go across the outfield, and new backstop pads are still in line to be added to the rapidly improving stadium. Janes explained some of the benefits of these new improvements.
"It will be incredibly more beneficial to us, our problem has been the weather in the springtime, so either the fields too wet or it's too hard, or we get rained out snowed out whatever. Now we don't have to worry about that now because this artificial surface drains, now there should be almost no moved games or canceled games and we should be able to bring more home games to us because we don't have to worry about the weather." Janes said.
Orne echoed these sentiments but also talked about some of the playing advantages a turf field provided over dirt.
"I think the turf field is going to be great because it's going to not have as many funky hops as you would if it was on dirt. On turf, it's going to be nice and flat and won't jump up at you as much. It's going to be definitely nice sliding onto a base as it will be a nice easy slide instead of getting all scraped up." Orne said.
The Bulldogs will have to wait until the spring season to see any competition on the field, but when they do they will be looking to improve upon their 2019 record of 20-34.