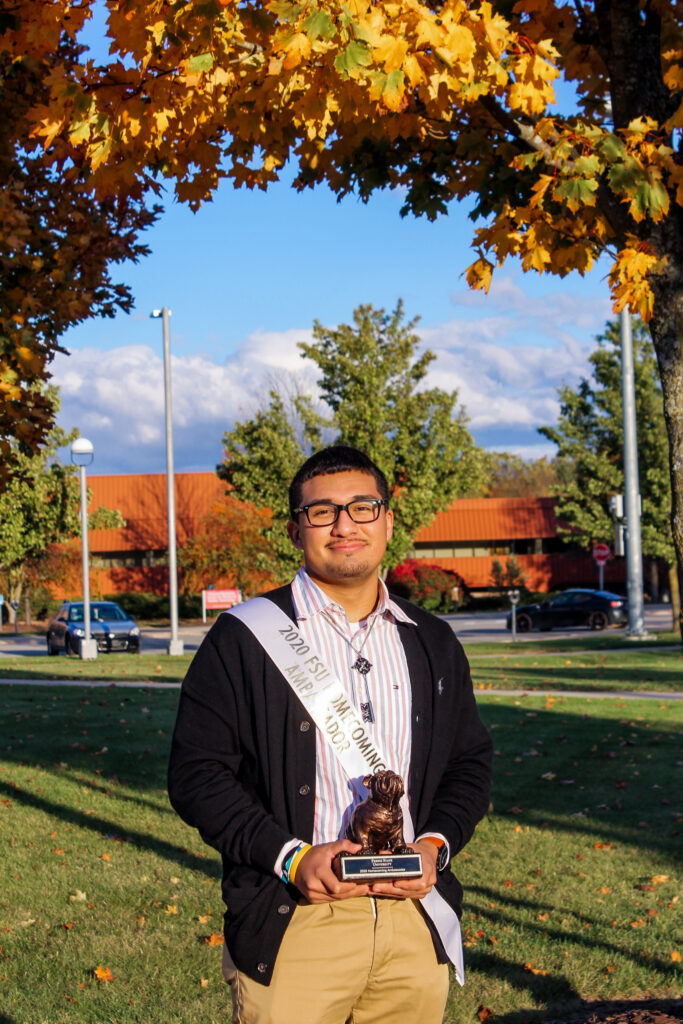 The 2020 homecoming ambassador has been announced and Leonardo Almanza came out on top as this year's winner.
Almanza is originally from Fennville, Michigan and is a senior in the criminal justice program. Almanza is involved in Ferris life and is a part of five registered student organizations including Sigma Lambda Beta Fraternity, Peer Educator/Staff Lead: Anti-Violence Alliance, Hispanic Student Organization, Student Leadership Activity & Advisory Council, Student Alumni Gold Club, as well as the being the president of the United Greek Council. When Almanza is not busy with RSOs he enjoys playing football, Fortnite and riding horses.
COVID-19 changed the way that Almanza and the other candidates campaigned this year.
"I knew that social media was going to be my best tool to reach the audience," He stated, "With everything going on with this virus it is very difficult to engage with students in person. It took a little bit of adapting, but I'm doing my best in managing, to say the least. The whole point of college is to be able to have engagement with students, whether it is with events, speakers, or activities around campus. The way I view this change is not to think that we lost many activities we've done in the past, but to view as ways we can create new events. It's all about adapting to the environment."
Almanza is very grateful to be elected as the ambassador and did not have very high expectations of winning in the first place and was excited to even be considered as a nominee.
"The biggest thing is the fact of how much support I had. In addition, being a first-generation student, statistically I'm not even supposed to be at school. Let alone even having the opportunity to run for such a high position. So, I'm blessed and speechless to say the least."
Almanza added, "I could not be in my position with everyone's support and push. I want to say a special thank you to my mother for pushing me to become the best version of myself. I know I would not be here without her. Also, as a Mexican not many people get to have these types of opportunities. So, I want to be an example to all the Hispanic community that it is possible. That if you have the mentality to truly want something, then you'll go out your way to go and get it. Never settle for anything less. Become the best version of yourself. You decide how far you want to go in life."
The homecoming ambassador's job after winning includes being the MC for the 2020 Torchbearer Awards Ceremony held at the end of the spring semester. They also work alongside Entertainment Unlimited to help present and introduce artists or events throughout the school year. Along with these jobs the ambassador also receives a $500 scholarship.
Almanza spoke about his plans for his scholarship stating, "I plan on donating it to my fraternity here. The reason why is because although I did win this for myself, I could not have been in this position without being a member of this fraternity. "The fraternity will give you more, than what you can give it." That is a quote that I was taught when joining and I never truly understood what that meant until seeing all the work I've done, but if you see all the work I've done and traced it back. It all goes back to my fraternity."
He emphasized that none of his work really matters if it does not have an impact on the future. As the new homecoming ambassador, he strives to try his best for the minority communities so that they can know anything is possible.