On Thursday, Oct. 8 Michigan authorities revealed that a group of men had been arrested for plotting to kidnap Gov. Gretchen Whitmer.
Six men, who identify as members of a right-wing militia group called the Wolverine Watchmen, were arrested and charged with plotting to kidnap Whitmer before the November elections. Seven others were charged under Michigan's anti-terrorism law for allegedly seeking to recruit an army of 200 to storm the Michigan Capitol and ignite a "civil war."
The Wolverine Watchmen, according to an article written by the New York Times, were meeting over the summer to practice building explosives, firearm training, and combat drills in preparation for the kidnapping. The group wanted to take Whitmer to a "secure location" in Wisconsin for a "trial".
In a press conference on Thursday, Oct. 8 Whitmer reacted to the news of the arrests.
"I knew this job would be hard, but I'll be honest, I never could have imagined anything like this," Whitmer said.
The news of the kidnapping plot has been a shock to most and has struck up a discussion on the current political climate.
Digital animation and game design junior Zachary Noorman wouldn't say he's very active in politics, but he tries to stay engaged with the current events. Noorman couldn't believe it when he first saw the news. He drew connections between the kidnapping plot and how disconnected the country currently feels.
"I think there needs to be a change, it's very divisive, people are out to get each other, they're trying to prove each other wrong and everything is very argumentative. There should be less of that and more of working towards common goals," Noorman said.
Noorman believes that the current administration has added to the division in the country and has allowed others to be more open about beliefs they'd usually keep to themselves.
"I think the current administration, and a lot of what Trump in particular has said, has encouraged some of the more hateful rhetoric you hear," Noorman said. "The kinds of people who have those harmful and even racist mindsets are being propped up and encouraged and it's definitely bad news."
Digital animation and game design sophomore Jack Davis also wouldn't consider himself to be heavily involved in politics, but he agreed with Noorman. Davis believes that the administration has heavily encouraged hateful speech and ideas from different groups of people.
"Having someone in power and even be publicly recognized when they have harmful beliefs, such as racist or white nationalist views, and excusing that sort of thing in public lets people who are more in the closet about those more harmful views be more open themselves."
This idea ties in with a research project that was done through the Center for Latin@ Studies by human resource management senior Edith Moreno and business administration senior Lezley Rodriguez. Their research project "Conflict and Deviance in Modern Society and its Impact on Race" focuses on analyzing President Trump and the ideologies that he has openly expressed.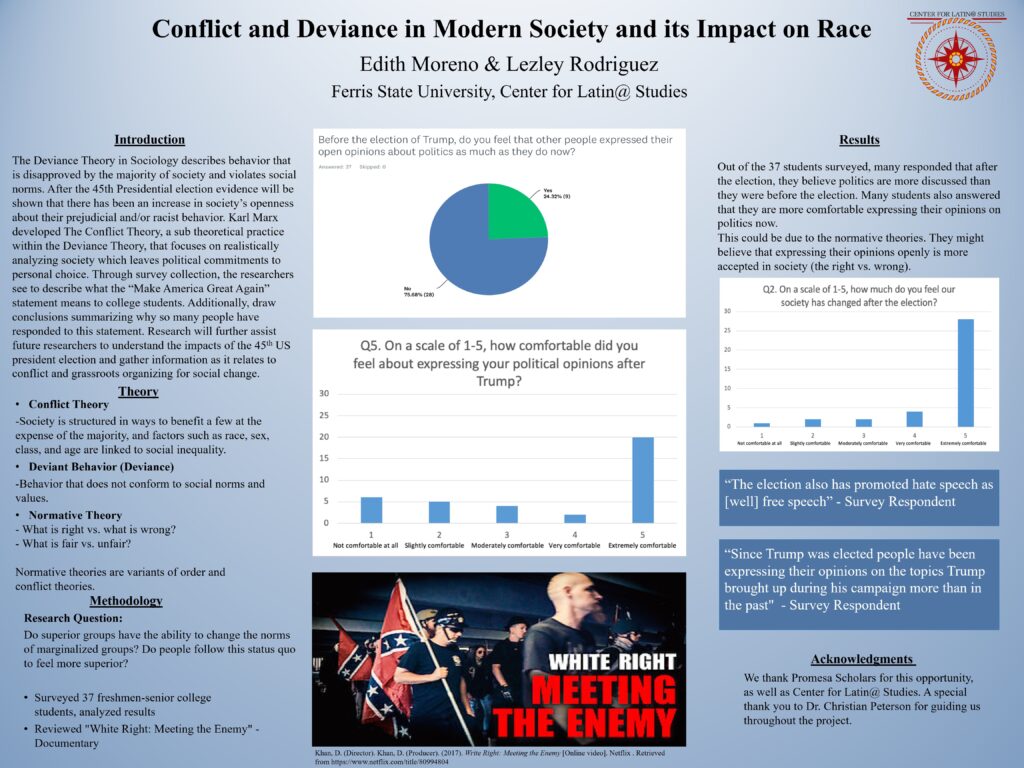 In their research project, Moreno and Rodriguez surveyed 37 Ferris students, 28 of these students, felt that people were more open about their political opinions after the 2018 presidential election.
"Our research showed us that the theories we were testing were valid and that the presidential election really did create a change in the political field," Moreno said. "People feel more open and willing to share their opinions; whether they be something one can consider good or something else that could be considered hate speech."
One of the anonymous survey respondents Moreno and Rodriguez quoted on their project specifically blamed Trump for the increase in expression of opinions.
"Since Trump was elected people have been expressing their opinions on the topics Trump brought up during his campaign more than in the past," the respondent said.
Many ideas President Trump shares are through his twitter account @realDonaldTrump. In April he tweeted "Liberate Michigan" in response to Whitmer's orders to shut down the state to prevent the spread of COVID-19. Many, including 2020 presidential candidate Joe Biden, believe that this tweet helped contribute to the plot to kidnap Whitmer.
When the President tweeted, 'liberate Michigan,' that's the call that was heard. That was the dog whistle," Biden said during a campaign event in Southfield, Michigan on Friday, Oct. 16.
Even former Homeland Security official, Miles Taylor, has agreed that the president has a heavy influence over groups of people that will take what he says to heart.
"[T]he president's rhetoric has served as a loaded gun for those groups who have since taken his words as sort of permission to do what they're doing," Taylor said during an interview with CNN after the first presidential debate in response to Trump not condemning white supremacists.
Taylor also stated that he believes Trump has created favorable conditions that allow domestic terrorist groups to rise
Despite argument in court that there was no real plan set in place by the group, a federal judge has ruled there is enough evidence to go to trial.
Moreno and Rodriguez's research poster can be found in IRC 131 on display to anyone who visits the Center for Latin@ Studies.