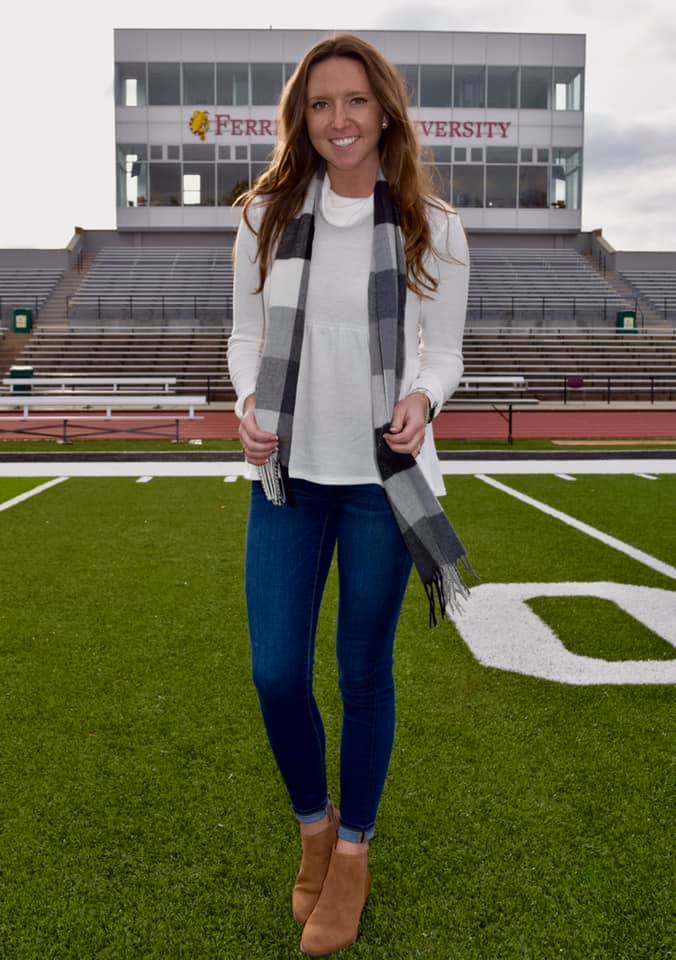 Being a part of sports is a dream for many, with the Ferris Athletics D.A.W.G program, many students are getting to achieve that dream.
Jake Daughtery is the Bulldog Athletic Association Coordinator and an advisor for the Dedicated Athletic Work Group, making up the creative title of "D.A.W.G." This group of essential students support staff works behind-the-scenes to orchestrate athletic functions within the university.
These student employees' roles include positions that deal with athletic communications, sales and development, equipment tech, facility management, game environment, gameday operations, sports medicine, and strength and conditioning. Each of these areas is considered a "group" that works for the whole of athletics to run smoothly.
Although these positions have been available to students for many years now, 2020 is the first year these dedicated students have a title. With a little creative thinking during the months of peak COVID-19, Jake and his counterparts, namely Harrison Watt, Nick Owens, and Savanna Stout, coined the acronym D.A.W.G. and the program was official. Jake emphasized just how crucial these individuals.
"You think Ferris State Athletics represents '17 sports, one team' when in reality, there are 18 sports that make up one team and the D.A.W.G.s are that eighteenth counterpart. These student workgroups are the glue and foundation to Bulldog Athletics." Daughtery said.
These students are found in various places across campus, with some holding completely virtual positions such as a social media coordinator and others working one-on-one with the athletes in the athletic training rooms.
Working for Bulldog athletics has been an excellent way for students to get involved and make connections, especially if they are pursuing a career in the sports industry. Daughtery emphasized how unique this opportunity is and how it provides a gateway for students to possibly work for Ferris in administration as a professional once they graduate.
Not only do student workers have the ability to work with student-athletes in practice and on game days, but students also get to work with established professionals in athletics here at Ferris.
Some of the alumni to come from this student work program have gone on to work with not only Ferris but the Detroit Tigers, the Detroit Red Wings, Michigan State University, Cornell University, Valdosta State University, and more.
Savanna Stout gave testimony to her experience going through this program and how she transitioned from a student role to now as a professional on the Athletics Senior Staff at Ferris.
"As soon as I got here as a little freshman, I was working volleyball and football. Quickly, I learned what it took to be on the Game Day Staff, and I loved it," Stout said.
Stout was promoted to Game Day Staff Manager as a sophomore and dealt with anything from running soccer scoreboards to working with marketing promotions at basketball, hockey, and football games. She quickly found her niche organizing game-day operations, and once she graduated, she was offered a position with Bulldog Athletics.
"I was reporting directly to the facilities manager, game-day operations coordinator, and the communications department weekly about what was happening each week." Stout said. "I was honored to be someone that the Athletic Administration Staff could trust early on."
As a professional, Stout organizes game-day operations such as hosting the visiting team and in-game promotions. She is also the Summer Camps Coordinator for sports camps for elementary, middle, and high schoolers at Ferris. Stout leaves those looking to get involved as a D.A.W.G. with these valuable words of advice;
"Connections are what will matter most after leaving college, and everyone at Ferris State Athletics is willing to help those who are striving to be the best," Stout said.
Stout's story is just one example of D.A.W.G. student staff's interactive role and the opportunities the program offers. If you are interested in getting involved with D.A.W.G.s, you can fill out an online application at the following web address: ferrisstatebulldogs.com/dawgs, or give Jake Daughtery a call at 231-679-6304.