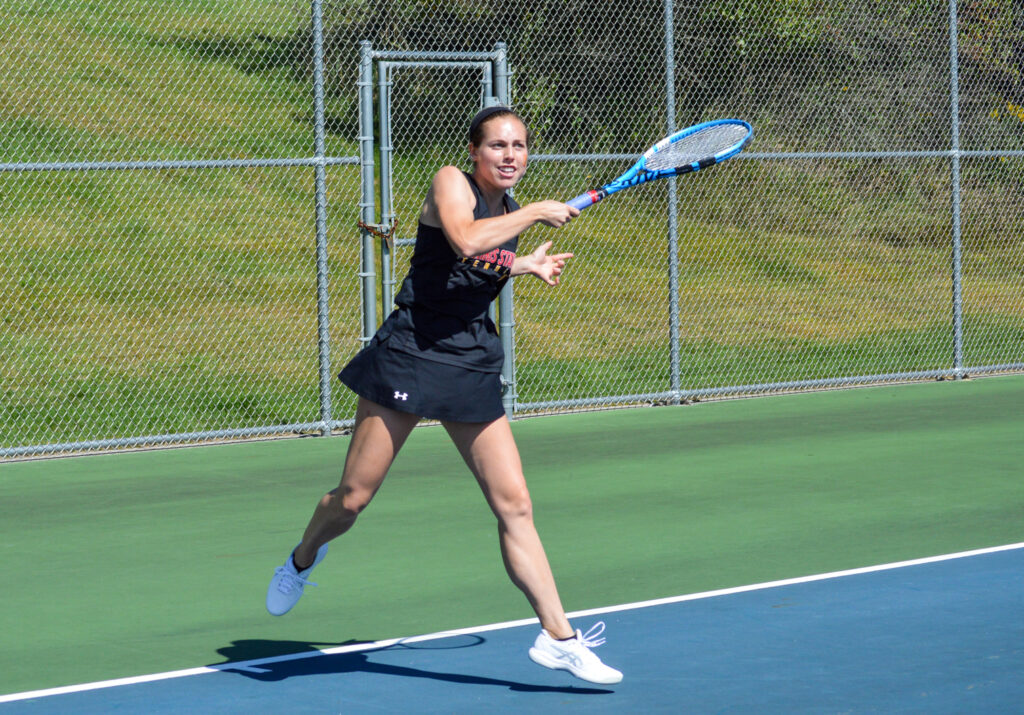 Women's tennis is full of leaders, and one of those leaders comes from over 2,100 miles away.
It's a bit of a surprise to say the least, to have a player from southern California playing tennis for the Bulldogs, but Brittany Lavenant is a surprising player. Being one of the leaders on the 11-9 squad last season, Lavenant was named GLIAC player of the week after leading the Bulldogs to their first win over Northwood since 2004.
Growing up an hour north of Los Angeles, Lavenant never really considered coming to Michigan. Only when her recruiting cycle took place did Ferris become an option.
"At the time of my recruiting process I was mainly looking into D-III schools along the west coast in California and Oregon, but then I got a letter from Ferris and it was a D-II school when I researched it" Lavenant said. "Yeah it was in Michigan, but D-III schools don't offer athletic scholarships, only academic. When I talked to the coach, he offered me a scholarship."
Prior to Ferris, Lavenant had an interesting prep career. She started playing tennis at the age of five and played in many tournaments growing up. At the end of her junior year, she ended up leaving her hometown of Camarillo to live in Las Vegas, attending the No Quit Tennis Academy. This was an interesting change in her life, as she was living alone at the age of 16.
"It was a very strict schedule, there were a lot of guidelines that you had to follow." Lavenant said. "I was playing at an academy where we would practice three hours a day and then after practice, we would have an hour of conditioning, then after that I was part of this foundation where we would pretty much do our homework and volunteer in the community. You had to be in bed at a certain time, you couldn't really go out and socialize because you're there to play tennis. I didn't really like having such strict rules."
After four or five months, she decided to move back home to enjoy her senior year with her family and enjoy having the high school experience. Attending the academy did make leaving home for Ferris much easier for Lavenant.
"Being 16 years old when I had that experience living in Las Vegas, and not only that, I've done summer camps starting at the age of nine, my mom would put me in summer camps and I'd go to UCLA or Pepperdine for a week or two weeks on my own, so I've never been too homesick. I like my independence; I like coming here and figuring out what I want to do with my life," Lavenant said.
That's doesn't mean that it hasn't been a massive change for Lavenant. Moving over 2,000 miles away into a small town such as Big Rapids can lead to a sort of culture shock.
"It's very different with how small this town is," Lavenant said. "The city I grew up in wasn't super big, but I'm more used to the suburbs. This is a lot of rural and farmland and I'm not used to that at all. I just got my car over the summer and I drove it from California. I'm not used to deer being here so now it scares me every time I have to drive at night or early in the morning. And the weather of course, I've seen snow a couple of times, but I've never seen it fall or be as terrible as it has been here."
After school Lavenant said that she would not be sticking around in Michigan, instead of leaving for possibly Texas or other warmer climates. But first, she must complete her career here at Ferris.