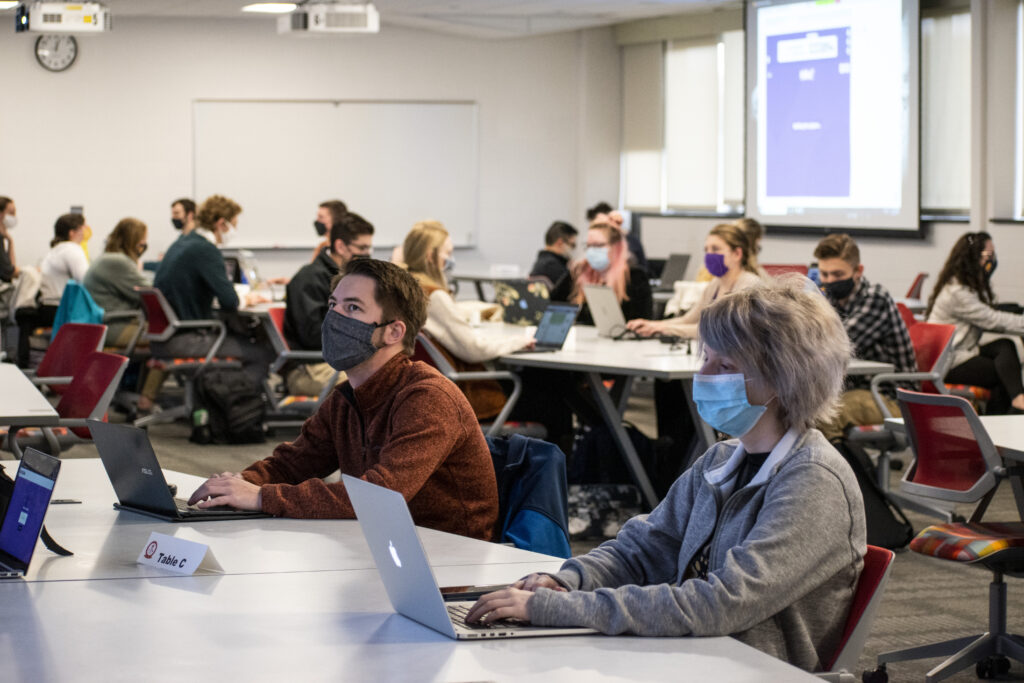 Ferris' nationally ranked College of Pharmacy has transitioned to mainly virtual delivery, and attending graduate school online has challenges of it own.
In the eight weeks this fall semester, both students and faculty have faced a learning curve in the transition, which has resulted in most lectures on zoom, labs in person and exams online.
Associate professor of pharmacy practice Annie Ottney said she couldn't have ever imagined teaching pharmacy online before this year. One of the biggest changes is that exams are open-note.
"I think it's helped us to see that the way that we write exam questions has to be different than maybe what we were used to in the past," Ottney said. "Some of it has meant changing our questions or the type of question or making it where they're having to pull on a little more information than we would have them be able to access in a classroom, but knowing they have access to resources at home. To be honest, it probably reflects more of the real world for pharmacy, where as a pharmacist you have access to all kinds of information and resources at your fingertips."
Kiara Y. Torres García, a second-year pharmacy student, said that because her exams allow students to use notes, she did not feel as though she was memorizing concepts or studying enough.
"However, it does allow me to focus and not bottle the material for each exam. Instead I can concentrate on what I believe to be the important pearls and information that I will need when I'm treating patients in the future," García said.
García and third year pharmacy student Johnny Alberts agreed that online learning proved to be effective in some ways and lacking in others. Ottney said the faculty's biggest focus was providing the same, competitive level of education as before.
"When we first started everything online in March, I really did not learn a lot from our last unit at the end of the spring semester, because questions were pretty easy and you had your notes," Alberts said. "There wasn't really an incentive to try. I moved back home during that time and didn't have great internet. I didn't feel the need to study and I couldn't focus at home."
According to Ferris' website, Pharmacy school tuition is approximately $28,500 per year for both in state and out of state students.
An article from the University of Illinois Springfield detailed various advantages and disadvantages found regarding the virtual learning experience. The article lists some advantages, such as a student's being able to study at their own pace, accessing more resources and learning in places other than the traditional classroom setting.
Alberts, who is currently taking courses in Grand Rapids, Michigan, has two online courses. One is fully online and the other a mixed delivery of in-person labs and online lectures.
Alberts said that living with other pharmacy students with similar schedules encouraged him to devote more time to studying.
Alberts online courses are synchronous, meaning he can learn the material at his own pace. He could watch pre-recorded lectures whenever he found time and watch them again to better understand the content.
García felt thankful for these advantages. Although, such benefits also had attributed disadvantages.
"While I do enjoy being able to watch and process classes at my own time, especially when I need to go back and listen to topics that confuse me, I also miss being able to have classes with my classmates and professors," García said. "When you're in class you can ask questions in-person or even listen to classmates' questions that you didn't even think about, which are important for professional growth. Online learning, especially when it's asynchronous does not allow for that to happen."
The article from the University of Illinois Springfield listed as many weaknesses as it did strengths when it came to online learning. There were drawbacks like limited access to technology, more responsibility on the students and a whole daily studying routine change.
García needed to find an efficient new studying method so that she could still learn new material as well as she did in person.
"An agenda and to-do lists have been my go-to this new year," García said. "I have to keep a to-do list of everything I need to do day by day. This way I remember to watch online classes, finish assignments and study for upcoming exams. When you're not attending class, it's easy to focus on one class, or just one assignment, and forget about others."
Alberts organized notes in Microsoft Word documents and adds more notes to his lectures on PowerPoint slides found in Canvas. He focused on less pen and paper writing and more typing for his adjusted studying routine.
Ottney said the faculty are doing their best to accommodate all students, and the response has been mixed from students.
"I'm constantly thinking of how can I rework or redesign what I would usually deliver into an online format to make it as meaningful and as interesting and as engaging as it can be," Ottney said. "So I think we are trying our best, as everyone is. You plan for something one week and suddenly plans change very quickly, we're trying our best to keep up with it."