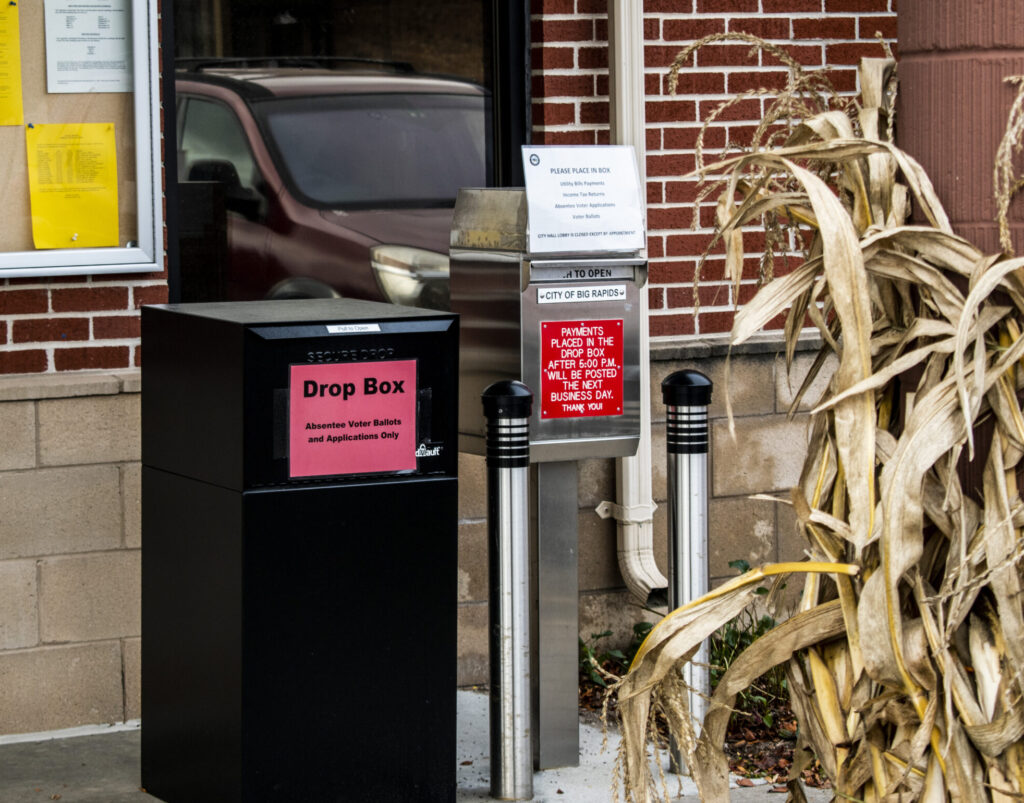 Grand Valley students were given an on-campus voting option for this year's presidential election.
On Oct. 13, a satellite clerk's office opened in their student center, according to Associate Director for Student Life Melissa Baker-Boosamra. One of the main reasons they pursued the satellite office was because the Allendale County clerk's office and polling location for most GVSU students is five miles West of campus, with no bus line. With many students living on campus without their own transportation, this poses a distinct barrier to voting.
While there are more hoops to jump through to get a formal voting location, a satellite clerk's office is easier to get approved and acts essentially the same. Students can register on site, request an absentee ballot, fill out the ballot and put it in the secure drop box at the student center.
"I really do think college students face a number of barriers and it can be overwhelming and complex," Baker-Boosamra said. "It depends on what state you live in and where you're registered and there are lots of dates to keep track of. Especially with COVID, it really can be overwhelming so I think when colleges and universities can help translate some of the general information about voting to their student population and reach them where they're at, I'd like to think that's a really important responsibility and service that we can provide to our students."
The satellite clerk's office had a wide variety of hours in the weeks leading up to the election in order to allow as many students as possible to vote early to avoid a large influx on Nov. 3. This was especially important with COVID-19, given that Allendale has already had a stay in place order. Baker-Boosamra did not have specific participation numbers but said they have seen the numbers doubling every day of students coming to the office.
"Not only is it a great service to our students, but it also, I would imagine, will reduce lines and wait times at the Allendale polling location, which will reduce public health concerns with having students intermingling with the community and the density there," Baker-Boosamra said.
Since 2006, Ferris has had the Political Engagement Project on campus. Its aim, according to political sciences professor David Takitaki, "foster an environment in which Ferris students could both learn about and actively participate in the political process."
Takitaki personally reached out to Secretary of State Jocelyn Benson about bringing an on-campus polling site to Ferris. While Benson initially responded positively, after COVID-19 shutdown Ferris' campus in the spring, Takitaki was informed that the SOS office would not be able to set anything up for the election this year.
"It would be significantly valuable," Takitaki said of the on-campus polling location. "A desire to bring that value to our students is what motivated our efforts earlier this year. PEP's main goals are to educate students about the political sphere, facilitate their participation in the democratic process and provide experiences that help them to become lifelong critical thinkers and participants in American democracy."
According to CLACS coordinator Mickey Albright has worked in collaboration with the PEP this semester to bring events and more information to students about voting. The efforts included social media plans, absentee ballot promotion, class presentations, and a student voter town hall with SOS.
CLACS also served as a mailing place for absentee ballot requests this fall.
Tony Baker, who is Ferris' director of community engagement, said he sees a lot of interest in political engagement among college students right now.
"The reasons why students have stopped participating, one, there's a sense that there's too much conflict in politics," Baker said. "Things weren't great before, but there wasn't the conflict that we have now, so I think people just didn't pay as much attention."
Baker believes one of the reasons for reengagement is that people have become angrier about the state of politics, regardless of the side they are on.
"It's not like your entire generation has the same thinking, but I think they recognize the cost. It seems to me that concerns about climate change has really got people your age concerned. The conditions of race, I think that your anxiety about the future, whether or not there will be careers for you, all of those things have gotten you more interested and more willing to engage. I think to some extent there was a long time where things weren't great, but they didn't change a lot and people just kind of stopped being connected."
Baker said they have a good relationship with the secretary of state's office, but earlier in the year they were unsure of how many students were coming back to campus and did not know what exactly they were asking for.
Voting has become easier for college students, however, with the passing of the amendment in the 2018 election. The voting laws in Michigan now allow for registration on election days, absentee ballot requests without giving a reason and casting straight-ticket ballots.
"It used to be so much more difficult for college students to vote until to this year," Baker said. "Prior years, just communicating how to register to vote, where to register to vote, how to vote once you registered, was just so complicated. Now, you just go to the Secretary of State's website.
"Historically, there was a reason for that. They, the powers that be at the secretary of state's office, did not want college students voting. So they made it more difficult to vote, they knew what they were doing. There was an intentional effort to discourage college students from voting."
Baker said he would not encourage students to go home and vote. However, students can register or re-register in Big Rapids in person from through election day.