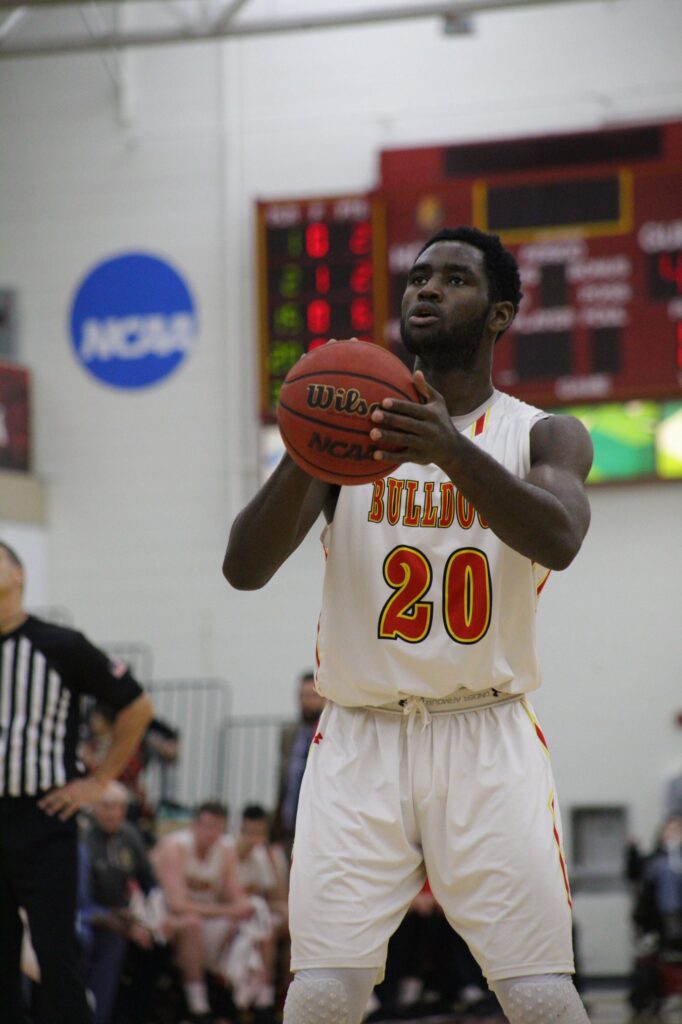 Some people make their own path to their future and fight for the dreams they want to come true.
Ferris men's basketball wing Dorian Aluyi started fighting for his dreams when he was in the fifth grade. Aluyi's dream is to make it to the National Basketball Association and once his basketball career is finished, he would like to attend graduate school for psychology and philosophy.
Aluyi was born right off I-290 in Chicago at Rush Hospital and grew up in a small city near downtown Chicago that had only one park with his elementary school two blocks away. While he resided in Chicago, Aluyi stayed with his grandma on his dad's side of the family while both his parents worked. Later in 2007 Aluyi's parents moved to Frankfort, Illinois for more space as a family.
"For a kid who had to teach himself everything about the game of basketball, my career is where I want it to be," Aluyi said. "I started playing in a rec league when I was in fifth grade. I have always liked basketball, I used to beg my grandma to take me to the park so I could shoot on a rim since I didn't have one at home.
Aluyi had a love for sports in general but found a passion for basketball after he watched the 2009 NBA Finals. In that game, the Los Angeles Lakers played against the Orlando Magic. Aluyi loved it when Kobe destroyed the Magic throughout the series. This is where basketball peaked above other sports for him.
"I believe I was in fifth grade and I was amazed at how he, (Kobe) made difficult shots look easy," Aluyi said. "The next year I did the same and watched the 2010 finals, a hard-fought battle between the Lakers and the Celtics. Kobe again came out victorious while again scoring the ball with such ease. At this moment, Kobe became my idol. This is when I decided that I wanted to go to the NBA."
At the start of Aluyi's basketball career, he began to mirror what he watched Kobe do. Aluyi said he just wanted to shoot and score like Kobe but he quickly realized that the game was much more than just putting up shots and getting the ball in the basket. In Aluyi's second year of playing in the rec league, his team won the championship and Aluyi believed he was good enough to play for his middle school team.
However, Aluyi would not make his middle school team until he was in the seventh and eighth grades. Aluyi focused on his game and spent relentless time in his driveway with the hoop he now had from his move to Frankfort. From here he went on into his high school, Lincoln-Way North, in the Southwest Suburban Conference. Aluyi said he wished he would've gotten to play in the Chicago Public School system as it was a very competitive league.
"I developed pretty quickly," Aluyi said. "I started on varsity as a sophomore and my junior year was my breakout year where I averaged 20ppg and 9rpg. We played in some good tournaments with some schools from the CPS and also against current knicks player Kevin Knox."
Lincoln-Way North was shut down for Aluyi's senior year due to financial struggles, so he finished his high school career at the neighboring school Lincoln-Way East where he averaged 17 points and seven rebounds per game. After high school, Aluyi decided to take his basketball talents and schooling to Minot State.
"Initially I was very unwilling to go D2 after only being recruited by D1 schools my entire high school career, but it was one of the best decisions I have ever made. Thanks, Coach Rich McBride, the former assistant who is now at Moberly CC," Aluyi said. "Minot is a small town like Big Rapids and is mainly populated by the athletes and students on campus. I knew I didn't want to stay in North Dakota permanently, so I used it as sort of a JUCO route."
After his two seasons in North Dakota, Aluyi brought his talents to Ferris State for his junior and senior seasons. The 2018 National Championship run for the bulldogs is what grabbed Aluyi's attention to transfer to Ferris.
"I had never really been a part of a winning team before, and like every other college athlete, I wanted to win a national championship," Aluyi said. "I also loved the style of play; we get up and down here at Ferris and besides, in AAU I have never played that way."
Aluyi still holds hope for his senior season here at Ferris. In the meantime, Aluyi has focused on school and personal enjoyment. He loves listening to music, reading every so often, study and breaking down basketball film. Aluyi also likes playing Xbox with some of his hometown friends and former teammates. It's something they all enjoy doing and an easy way for them to stay in touch.