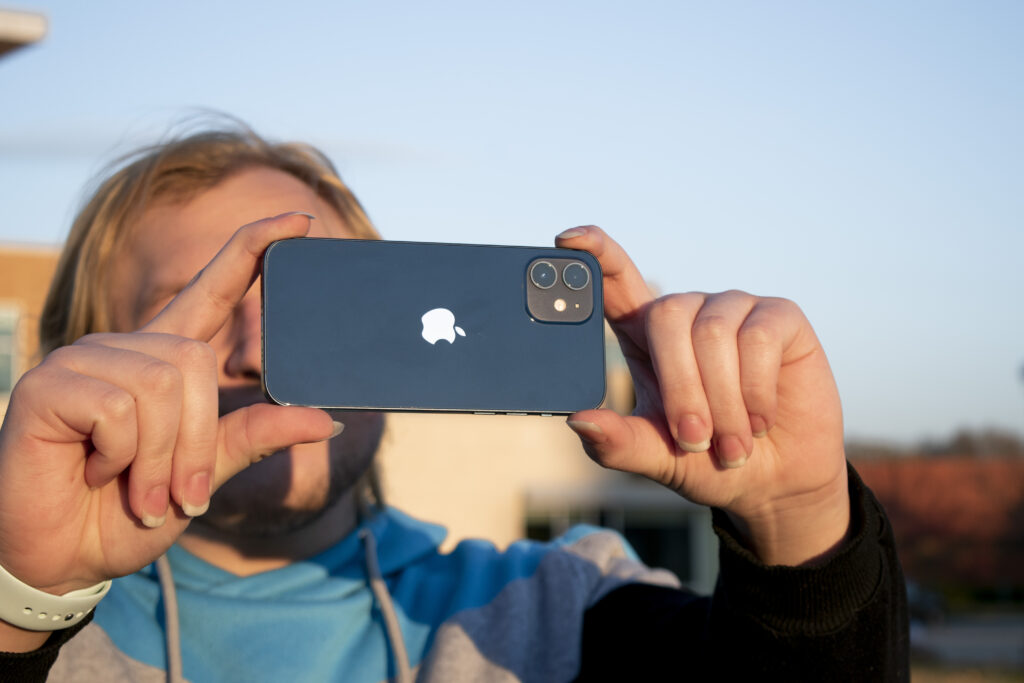 I've spent a week with the brand-new iPhone 12, and I have come to the conclusion that it's the no-compromises iPhone for the masses. Apple has created the total package: a great camera, 5G, a design that is simultaneously timeless and a throwback and a battery that lasts all day.
Let's get the boring technical jargon out of the way first. The iPhone 12 comes with Apple's new A14 Bionic SoC, which happens to be the first 5 nanometer processing chip in a mobile device. In simpler terms, it's a smaller chip that allows for more transistors and it's more power efficient. It also has Wi-Fi 6, Bluetooth 5.0, MagSafe, Apple's U1 chip and 5G. (more on 5G below)
This is by far my absolute favorite iPhone design to date. It's hard edges make the phone feel secure in your hand, which is a definite must with glass on the front and back. It's also perfectly weighted. The main reason I upgraded from the iPhone 11 Pro Max was because of just how dense the phone was.
The only thing I am not a fan of in terms of design is the plastic "window" on the frame for the 5G antennas. However, the screen is amazing as OLED and high resolution is no longer optional. The screen from the Pro line finally made it to the "everyone phone."
While it lacks a high refresh rate display, it is still one of the most color accurate displays money can buy.
In terms of performance, this is a screamer. I have no slowdowns, no hiccups and apps stay open in the background quite well. I was having RAM management issues across two iPhone 11 Pro Max's since launch day, those have vanished with the iPhone 12.
It also performs a lot better on Wi-Fi and cellular due to Apple going back to Qualcomm for their internet modems. It's just fast. The thing is, I didn't have any speed issues on 11 Pro Max because every phone is fast when it's new, but you're going to notice this performance down the line in two, three, four or even five years, that's when this new processor is going to shine the most.
The camera is probably the place this phone is going to shine the most. In short, it takes the best photos with the least amount of work. Your Tiktoks and snapchat stories and going to be properly lit and crystal clear. For the more technical dive, this phone has incredibly low light performance and perfectly tuned dynamic range. It does a great job at differentiating the subject from the background and keeping them pronounced, but not overly dark.
It also takes impeccable video. I can't think of a phone that rivals the iPhone when it comes to video. It has great stabilization and the mic is very good at isolating the speakers voice and balancing it evenly. All in all, this camera is a slam dunk.
The new iPhone 12 line comes with MagSafe tech built in. This is just magnets embedded into phone that allows accessories to attach directly to it. The headliners from Apple are a MagSafe charger that sticks to the device and charges wirelessly. I believe this is an attempt to prime people for the inevitable port-less iPhone. They also have a MagSafe wallet, but other reviewers that were able to get an early sample of this said the magnets in it were weak and it fell off easily. Hopefully that's just because it's preproduction.
Now we arrive at the buzz-worthy part of the iPhone 12: 5G. In short, it's not the headlining feature Apple and Verizon would like you to believe, at least for now. Just like the processor, this is going to matter in years to come. To grasp what I'm saying, I first need to explain 5G.
There are two types of 5G, low band and ultra wide band. The flashy one that's delivering multiple gigabits per second is UW. This is not really a selling point right now as to actually use it, you need direct line of sight to the node and to be within a few hundred feet of it. Low band 5G however is widely available and works a lot like LTE. It's a bit faster, but it is a lot more stable.
In my testing I was pulling 180 megabits per second down and 70 mbps up. That's around 50 more each way than regular LTE. I haven't been able to test 5G UW because it's only available in select, large cities across the US. For now, low band is a good upgrade, but not 5G at its best.
I'd like to close with my argument as to why you should buy this phone. I truly believe that there isn't a reason to purchase a "Pro" model iPhone anymore. The only real difference is the extra camera which only provides true portrait mode photos, but the portrait photos that come from phones without it using Apple's AI tech are on par if not better than those taken with the extra lens. At the end of the day, I suggest saving the extra $200 and buying the standard 12 as it is truly a no-compromises experience.