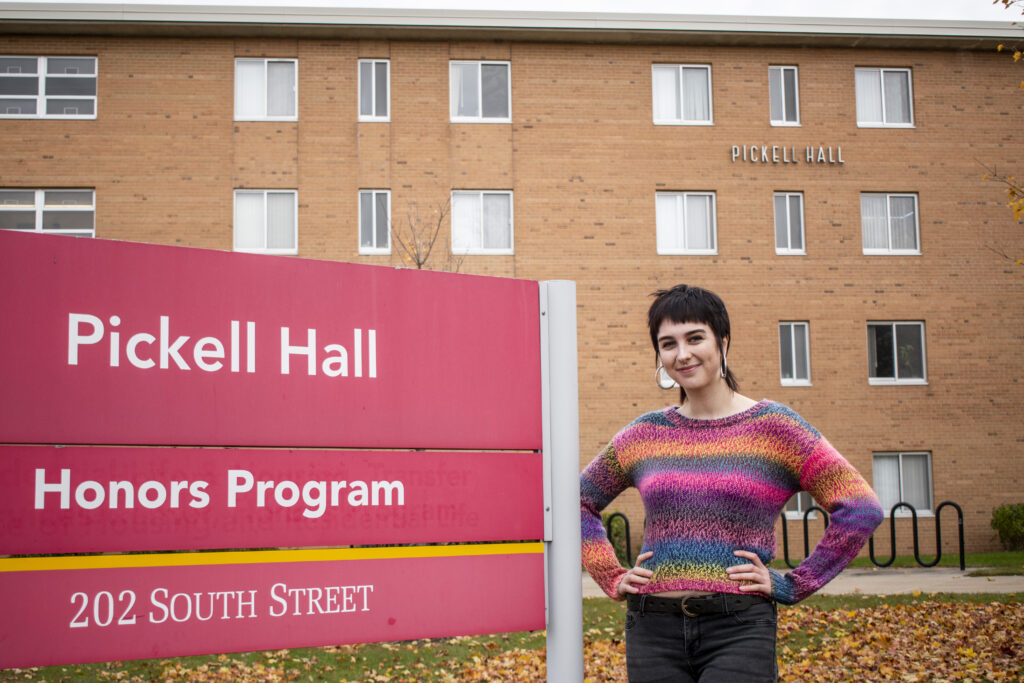 Life as a Residential Advisor in the dormitories may seem exciting, but there are physical and mental consequences not apparent to many.
According to the Ferris Housing and Residence Life's 2018-2019 Resident Advisor Position Description states, "an RA acts as a role model and medium to create a positive environment in the dorms".
There are at least 15 responsibilities attached to the RA position. Some of these include working at the front desk, hosting hall programs, decorating a designated hall floor, handling emergencies, and being highly accessible to residents.
"My life was surrounded by being an RA," communication studies junior Axel Laurain said. "You wouldn't even get a moment off when you were walking around campus because people would notice you, ask to get food with you, expect you to handle things, and we're always being watched."
Laurain was an RA for three semesters and spent over 40 hours a week doing work-related tasks.
The RA Position Description reads, "applicants may not be enrolled in internships, clinical or practicum experiences, participate in student teaching, be enrolled in the police academy, or have any academic commitments which take them off campus for significant amounts of time while employed as an RA."
This meant any potential RA must have a significant amount of free time in order to perform all their duties. One negative consequence of this is giving up time-consuming extra-curricular activities.
Before Laurain resigned from his position, he was told to end his involvement with the Ferris theatre program because his employers believed it was taking up too much of his time.
"I sacrificed myself, opportunities, and my mental health for a job so I didn't have to pay for housing," Laurain said.
For these student workers, finding time for other things was tough.
Television and digital production media senior Rachel Busch worked as an RA for one year and understood the struggles of finding that balance.
"I think the most difficult part of the job was finding time for myself," Busch said. "Again, when you live and work in the same place, it can be challenging to create boundaries between work and your personal life. I worked really hard at being an RA and a student, but in retrospect, I absolutely could have made more time to relax and do the things I enjoy."
In addition to these physical repercussions, some former RAs occasionally faced emotional hardships.
Busch said it was challenging to be an RA and still handled unforeseen circumstances as a college student.
That was more emotionally exhausting was when unexpected circumstances happen for their hall residents criminal justice senior Mitch Musial mentioned.
For confidentiality reasons, RAs cannot go into detail about any resident's personal situations.
"There was a resident going through a rough time mentally and wasn't taking care of themself," Musial said. "So I had taken time to make sure that I could check in with them and make sure that they were taking care of themself better and getting the help they needed to start the healing process."
Despite these obstacles, Musial, Busch, and Laurain agreed that this job made a lot of positive impacts on their lives.
As Musial got to know his residents, he learned about people from different backgrounds and understood them better. He said he would not change anything about his time as an RA.
"The connections, friendships, and learning experiences are all things that changed my life, and I will hold onto them for as long as I can," Musial said.
Time management and communication were skills that Busch strengthened as an RA. Busch loved forming bonds with residents and staff and becoming more extroverted.
However, there are evident problems that need to be addressed within Ferris Housing and Residence Life in order to ensure every student's happiness and success.
"Most RAs are heroes for doing so much more than they are paid for, without the support or pay needed for those kinds of jobs," Laurain said. "Housing does good, but we should do better. Be better for not only the residents but the RAs."