Everyone knows Thanksgiving for the delicious food and the chance to spend meaningful time with family, but the NFL games played on Thanksgiving Day have become another large part of the holiday tradition.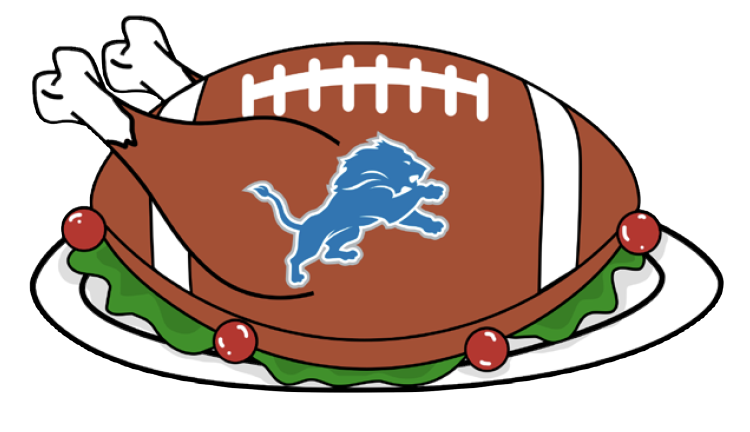 The first Thanksgiving Day game was played in 1934 and featured the Detroit Lions and Chicago Bears. Detroit was known for baseball in the Motor City, and Lions owner George Richards knew he needed to draw fans to his team. Playing on Thanksgiving Day was a risk, but one that Richards was willing to take to get Motor City fans to support the Lions.
Chicago prevailed on the first Thanksgiving Day game 19-16. For 32 years, the Lions were the only team to host a game on Thanksgiving. In 1966, the Dallas Cowboys started hosting a Thanksgiving Day game of their own and a third prime time game was added in 2006.
The only team to not have played a single Thanksgiving Day game is the Jacksonville Jaguars. While the Cowboys and Lions play every year, other teams across the league take turns playing on the holiday.
While Thanksgiving Day games in the NFL are commonplace, I do not believe that they should be played at all.
Don't get me wrong, I love watching the Lions play every Thanksgiving. It is a tradition in my family as much as eating turkey to watch the Lions on Thanksgiving. Despite my personal enjoyment of watching football on Thanksgiving, I believe there should not be any NFL games played on the holiday.
For starters, Thanksgiving is a holiday where everyone should spend time with family. As we sit around our dinner tables feasting on turkey and mashed potatoes, NFL players are on the field competing. Why should players, coaches, trainers, stadium personnel, and broadcast teams take the field to provide entertainment for us while we get to spend time at home with our families?
Thanksgiving is a time to show gratitude to loved ones by spending time together. Anyone involved with football on Thanksgiving is robbed of this experience. Instead of having dinner with their families, they spend the day preparing for and playing football.
Yes, the Thanksgiving Day games bring extra attention to the teams and players who participate, but is bringing extra attention to the NFL worth forcing players to be away from their families on a national holiday? I would argue that nothing is worth that, especially not football.
Those of us at home on Thanksgiving who watch the NFL throughout the day could also be negatively affected by football on the holiday. Last year's contest between the Dallas Cowboys and Buffalo Bills had 32.53 million viewers. Instead of devoting the day to spending time with their families, those millions of people were watching football.
In my family, we watch football all day on Thanksgiving and I know for sure that we often are more focused on watching the Lions than enjoying each other's company.
I firmly believe that family should be the focus of Thanksgiving, but because the NFL plays three games every Thanksgiving, some people do not have the opportunity to do so. Players, coaches, stadium personnel, and broadcast teams are away from home and their families. The NFL should take one Thursday game off for the season and play all the games on Sunday (except for the usual Monday Night Football game) on Thanksgiving weekend.
The same goes for the NBA on Christmas Day. Christmas is another holiday where spending quality time with your family is of utmost importance, and since 1947, the NBA has played on Christmas. Currently, there are five games played on Dec. 25 every year. Unlike the NFL, there are no fixed opponents.
In 2009, Orlando Magic coach Stan Van Gundy complained about Christmas Day games. The Associated Press quoted him talking about his dislike for the holiday games and how they keep many people away from their families.
"I actually feel sorry for people who have nothing to do on Christmas Day other than watch an NBA game," Van Gundy said. "I think we get a little carried away with ourselves with sports thinking we're more important than everything else."
Sports are fun. I love watching sports, but they should never be the top priority in life. Playing professional games on national holidays makes sports seem like the top priority and distracts/keeps people away from their families.
Professional sports should take holidays off.
This change needs to happen, and it should happen immediately.