Editor's note: This story was published just before Pennsylvania reported votes that put Joe Biden ahead of Donald Trump. The story has been updated at 9 a.m. to reflect that increase.
On the morning of Friday, Nov. 6, no president had been declared winner of the 2020 Election. But with the tide turning, former Vice President Joe Biden now leads President Donald Trump by 917 votes in Georgia and 5,587 votes in Pennsylvania.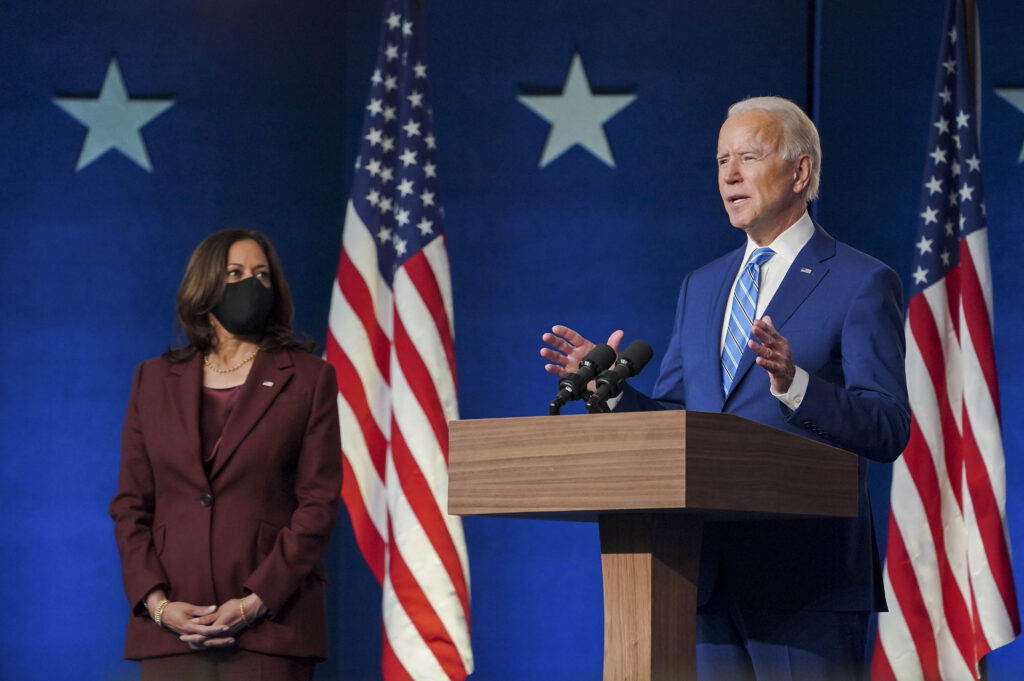 Both are still too close to call, but without Georgia and Pennsylvania's votes, the electoral college still leans towards Biden with 253 electors compared to Trump's 214. Fox News and Associated Press are reporting 264 electors for Biden after calling Arizona by Wednesday.
Biden still needs 17 Electoral College votes, expected to possibly come from Nevada, Arizona, Georgia or Pennsylvania. Arizona had reported 90% of ballots and Pennsylvania had reported 95% of ballots Friday morning with Biden down 18,049, a number that dwindled with every report throughout the day Thursday into the early hours of Friday morning. With a new batch of votes just before 9 a.m. Friday, Biden took a lead of 5,587 votes.
Mail-in ballots have contributed to the lengthy counting process, which only began for some states on election day. Democrats pushed mail-in voting leading up to the election, with concerns of COVID-19, and mail-in ballots were projected to make up between 50 and 70% of votes cast, as opposed to the 23% in the 2016 election, according to the Washington Post.
By Wednesday, Nov. 4, the voter turnout nationwide had already surpassed the 2016 turnout, according to the Washington Post, and is projected to break the record from 1960. While the popular vote does not decide the election, it is worth noting that Biden leads President Donald Trump by over 4 million votes, with 50.5% of all votes.
The last states that were officially called by the Associated Press were two states in the Midwest that were red in 2016: Wisconsin and Michigan. Both states flipped blue this election, with Biden winning Michigan Wednesday evening by 146,896 votes, and Wisconsin on Wednesday afternoon by 20,517 votes.
Biden wins Michigan, Trump files lawsuits
Trump came out with an early lead in Michigan on Tuesday, but that lead quickly began to dwindle overnight as more absentee ballots began to be counted. Due to Michigan legislation, ballots could not start to be counted until 7 a.m. on Election Day.
As a result of the spike in votes for Biden overnight Tuesday, many began to question the count. A clerical error in Shiawassee County made it appear that Biden had gained 100% of the votes counted Tuesday night. The error was corrected by Decision Desk HQ, according to the Detroit Free Press, and the data was corrected. The accurate data showed that there was never a point when Trump did not see an increase in votes.
In the states of Michigan, Wisconsin, Pennsylvania and Georgia, Trump and his campaign have filed lawsuits to either stop the counts or claiming there are fraudulent votes within the counts.
On Thursday, a district court judge in Michigan dismissed the lawsuit calling it mischievous and frivolous with a lack of evidence to claim fraudulent voting.
States still reporting
Georgia, a historically red stronghold, became a surprise battleground state in the 2020 Election. The state had 99% reporting early Friday morning, with Trump only leading by 1,267. There were still 14,097 ballots to count statewide and 4,355 ballots in Clayton County, a Democratic-leaning county in Atlanta metropolitan area, in the early hours of Friday according to CNN. Biden won 86% of the 1,300 votes reported in Georgia Thursday night.
Pennsylvania continued to report throughout Thursday night into the early hours of Friday morning. As of 1:33 a.m. Friday, Trump led with 49.5%, a total of 3,286,171 votes. Biden had continued to close the gap all day Thursday and had 49.2%, with 3,267,942 votes by Friday morning. In the last large batch of votes early Friday morning on MSNBC, Biden gained 5,073 votes out of Philadelphia and Trump gained 726, decreasing his lead to 18,229. According to MSNBC analyst Steve Kornacki just after 2 a.m. Friday, Biden was on pace to overtake Trump in Pennsylvania if reporting trends hold. After the last report out of Pennsylvania just before 9 a.m. Friday, Biden led at 49.4%, with 3,295,304 votes and Trump fell to 49.3% and 3,289,717 votes.
Both Fox and Associated Press had called Arizona for Biden by Friday, but other outlets refrained from calling the state with 90% reporting Friday at 1 a.m. Biden holds his lead in Arizona with 50.1%, a total of 1,532,062 votes. Trump sits at 48.5%, with 1,485,010 votes.
Nevada had 89% reporting Friday at 1 a.m., with Biden leading with 49.4%, 604,251 votes to Trump's 48.5%, 592,813 votes. Thursday morning, Clark County Registrar Joe Gloria held a press conference to address the number of ballots and the amount of time it was taking to count in their county. According to Gloria, 63,262 ballots remained to be counted and about 51,000 would be counted and reported by Friday morning.
Arizona will update the total count at 9 a.m. MT Friday, which is 11 a.m. ET, then again at 7 p.m. MT, 9 p.m. ET. There are still around 280,000 ballots outstanding, and 200,000 of those are in Maricopa County.
Senate races
John James was in the lead on election day in the Michigan senate race, but Gary Peters took the lead on Thursday, Nov. 5 as the count continued. Peters was projected the winner with 49.8% of votes, a total of 2,722,085. James ended with 2,638,794, which was 48.3% of the vote.
James has released a statement, saying he will not concede the race until the votes are certified and it is confirmed that none of the votes are fraudulent. Peters calls the refusal to concede "sad and pathetic."
Senate races across the country came down to single-digit percentages as well, including both senate races in Georgia. Control of the Senate will be determined by both of these races, which were both so close they will go to runoff races in January. Republican senator Kelly Loeffler and Democrat Raphael Warnock was the first race to be declared a runoff and Democrat Jon Ossoff and Republican Sen. David Perdue will also go to a runoff after Thursday's results.
The runoff races are due to Georgia legislation that requires a senator to win 50% of the vote to win. Anything less results in a runoff, even if they win more votes than their opponent.
From the candidates
At 4:21 p.m. Thursday, Biden spoke out saying he got a briefing on COVID-19 and the economic state of the nation. He also talked about the election, "it is the will of the voters, no one not anything else, that chooses the president of the United States of America," Biden said.
"Democracy is sometimes messy, it sometimes requires a little patience as well."
Biden was careful not to claim victories during the counting process but did say that he expected to win.
"I'm not here to declare that we've won, but I am here to report that when the count is finished, we believe we will be the winners," Biden said.
Trump held a press conference Thursday evening, which began with many false claims and included attacks on Michigan, saying that Detroit was not a city known for election integrity. Trump also claimed he won Michigan when he did not. He lost to Biden by 146,896 votes.
"If you count all the legal votes, I win," Trump said. "We think there is going to be a lot of litigation since we have so much evidence, so much proof. And it's going to end up, perhaps, at the highest court of the land … because we can't have an election stolen like this."
Trump made more unfounded claims, including that poll workers were duplicating ballots, and that Republican poll observers were banned from the polling site at the TCF Center. A crowd gathered at the TCF Center Wednesday and began to chant "Stop the count!" after being barred from entering the center due to too many poll observers already present in the center for COVID-19 regulations.
According to the Detroit Free Press, at least 134 Republican poll challengers were already inside the TCF Center when the crowd gathered.
Trump's press conference went for about four minutes, stating there has been "mass voter fraud," but three of the major news networks—MSNBC, ABC and NBC—cut off his conference to "correct misinformation."
Ry Rodriguez contributed to this story.