After four days of counting votes, Joe Biden was declared the winner of the 2020 Presidential Election.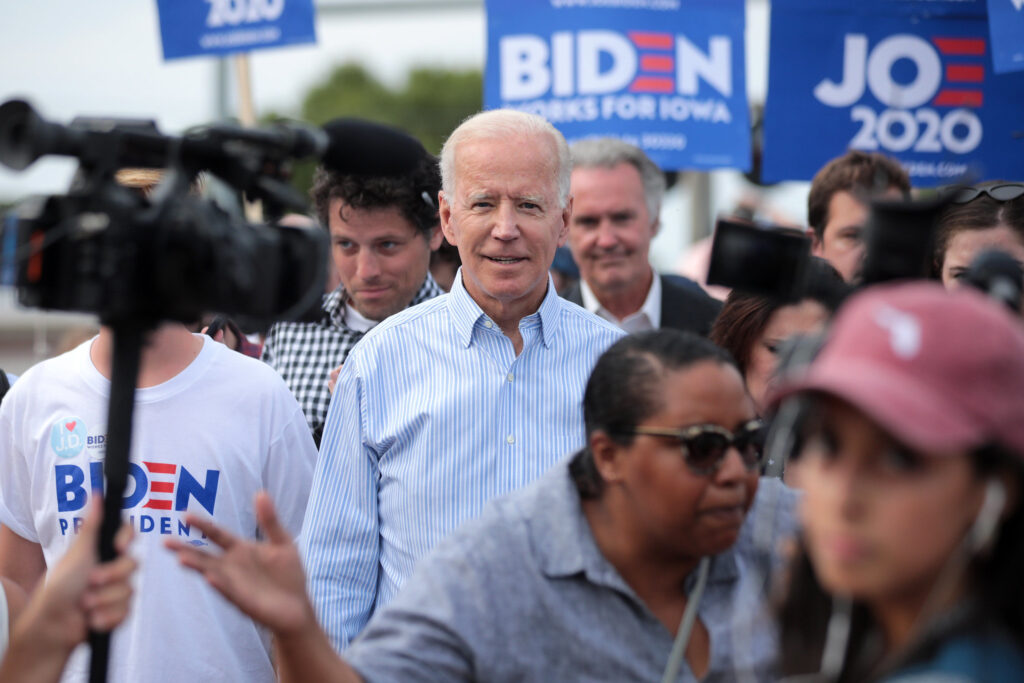 The president-elect won the electoral college with 290 electors in his favor to President Donald Trump's 214, according to the Associated Press. The race was called when Biden's home state of Pennsylvania, which flipped Friday morning in his favor, was called for Biden on Saturday by the Associated Press and many major news networks.
Biden made his first speech as president-elect 8 p.m. on Nov. 7 in Wilmington, Delaware, saying it was a time for America to heal.
"I pledge to be a President who seeks not to divide, but to unify," Biden said. "Who doesn't see red and blue states, but a United States. And who will work with all my heart to win the confidence of the whole people."
He also commented about his running-mate and vice president elect Kamala Harris.
"I will be honored to be serving with a fantastic vice president — Kamala Harris — who will make history as the first woman, first Black woman, first woman of South Asian descent, and first daughter of immigrants ever elected to national office in this country," Biden said.
Before Biden's winning speech was made, vice president-elect Kamala Harris paid tribute to the late congressman John Lewis.
"Congressman John Lewis, before his passing, wrote: 'Democracy is not a state. It is an act.' And what he meant was that America's democracy is not guaranteed," Harris said. "It is only as strong as our willingness to fight for it, to guard it and never take it for granted. And protecting our democracy takes struggle. It takes sacrifice. There is joy in it and there is progress.
"You delivered a clear message. You chose hope, unity, decency, science and, yes, truth. You chose Joe Biden as the next President of the United States of America."
Biden made clear his first order of business would be getting COVID-19 under control. Monday, Nov. 9. he named a 13 health experts to his Transition COVID-19 Advisory Board.
"Our work begins with getting COVID under control. We cannot repair the economy, restore our vitality, or relish life's most precious moments — hugging a grandchild, birthdays, weddings, graduations, all the moments that matter most to us — until we get this virus under control."
Biden, 77, won more votes than any presidential candidate in history with 75,664,341, far surpassing former President Barack Obama's 2008 record of over 69.4 million votes. Biden is ahead 4,594,406 votes and the states of NC, GA and AK are still counting.
Trump will also break the 2008 record for most votes for a presidential candidate and will be the candidate with the second-most votes for them, with over 71 million votes and counting.
Voter turnout was historic at over 144.8 million votes cast and counted by Saturday, with an enormous increase in mail-in ballots amid the COVID-19 pandemic. This delayed the counting process in many states, some of which had to abide by legislation that did not allow any tabulation of ballots until Election Day.
Michigan, Wisconsin and Pennsylvania were pivotal wins for Biden.
Before the announcement in Biden's favor, Trump tweeted at 10:36 a.m.: "I WON THIS ELECTION, BY A LOT!"
Biden and his campaign were careful not to declare themselves the winners at any point this week, but were optimistic as mail-in votes began to be tabulated throughout the last four days.
Biden's victory makes Trump the first one-term president since George H.W. Bush in 1992.
Trump responded to the result of Joe Biden gaining the title of President-Elect, accusing him of rushing to "falsely pose as the winner" and claiming "his media allies" are trying to help him to avoid the truth being exposed. White House staffers told ABC News that Trump was at a golf course a few miles from the White House "clearing his head" on Saturday when the results were announced.
Trump's lawsuits in Michigan, Wisconsin and Georgia were dismissed for lack of evidence of voter fraud, and lack of evidence of counting centers not allowing spectators.
His legal team made an attempt to appeal the ruling made by a Michigan judge, stating there was a lack of evidence to provide, got denied by the Michigan Court of Claims. This is because the legal team lacked necessary documents to proceed.
The sitting president has made is clear he will not concede the race until all lawsuits have been settled.
Trump's personal lawyer — Rudi Giuliani – held a press conference at the Four Seasons Total Landscaping on Nov. 7. Giuliani said him and his team will file lawsuits in all of the battleground states to make sure every vote is legal and the ballot watchers are allowed to view the counting process.
Lawsuits are still apparent in the state of Pennsylvania, for the late votes that arrived on Friday or later, and how the provisional ballots were counted.
The election still must go through ballot certification, but there will be recounts in Georgia and Wisconsin, and then those must be certified once more. Pennsylvania needs the margin of difference between Trump and Biden to drop between +/- .5% to trigger an automatic recount but the margin is standing at .7%.
"I am glad we patiently waited on the results, and I think the transition will be a challenging one," Ferris communication and forensics director Sean Kolhoff said.
Some states are still too close to call according to major news networks, but they all seem to have a heavy trend towards the President-Elect, namely Arizona and Georgia.
Political science program coordinator David Takitaki partially credited Biden's win to his optimism and positivity.
"Vice President Biden's campaign realized it could not compete with Trump's operation in negative messaging and left that largely to surrogates and outside groups," Takitaki said. "Biden instead spoke in messages of unity, hope and healing. Those messages resonated with many Americans tired of the divisive nature of the Trump administration."
Takitaki believes things went wrong for Trump when his campaign failed to reach independents.
"Trump's campaign largely ran on inaccurate accusations about Vice President Biden's plans and their effect on the American people," Takitaki said. "This was mobilizing to his base, but failed to win over independents and those with an accurate understanding of Biden's positions."
Unlike elections before, the president-elect has not got any phone calls from foreign leaders, yet.
Biden's inauguration is scheduled to take place on Jan. 20, 2021.