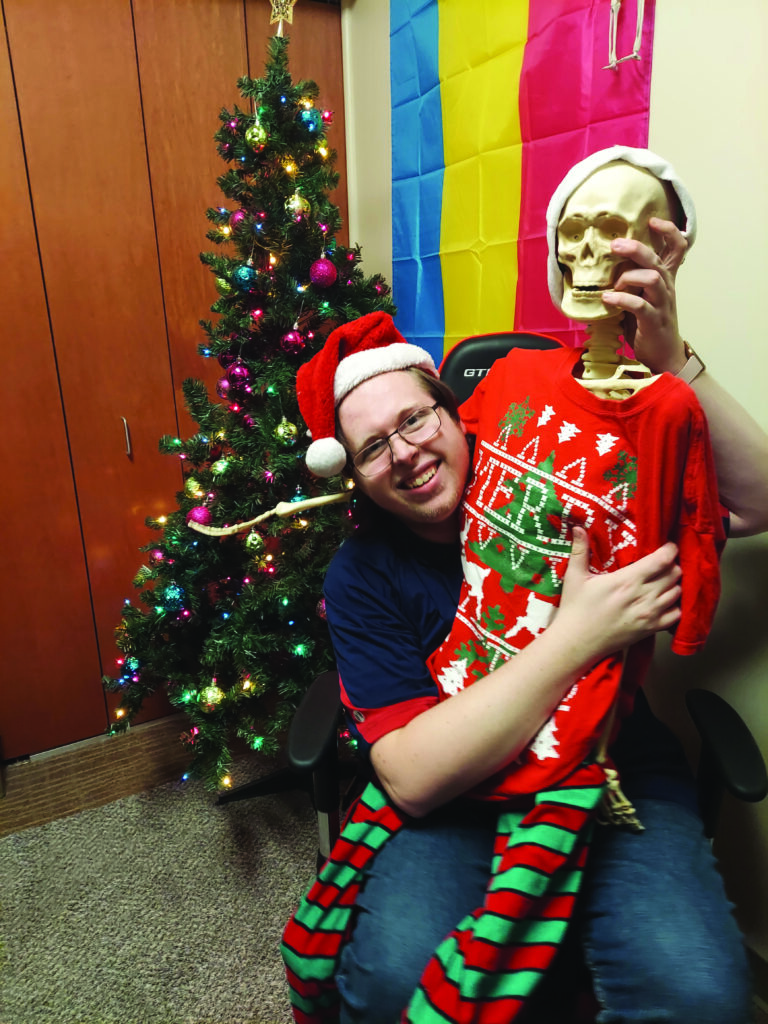 With Halloween over, many are in preparation for the next big holiday.
While Thanksgiving is the next holiday on the calendar, many overlook this holiday and head straight towards Christmas.
Once it hits Nov. 1, you're bound to see people begin hanging lights, pulling out Santa's sleigh, even bringing out the large pine tree to decorate with tinsel.
Claire Belke, a sophomore studying Spanish and operations in supply chain management, said that she begins celebrating the holidays the first weekend in November, putting up decorations and cranking up the Christmas music.
"Everyone's happy at Christmas, and the longer you can be happy the better," Belke said "It's a time that families are together. The longer the season lasts the better."
Belke believes that Christmas is a time in which people are at their happiest: when there is festive music, delicious cookies going around, and twinkle lights all around.
The Christmas season is known to lift up people's spirits and bring a lot of joy to their hearts. Getting quality time to spend with family and loved ones are what makes many say this holiday is one they like to celebrate as quickly as possible.
"Christmas has always given me a warm comforting feeling," social work junior Kylie Ellsworth said "It's always been a joyful time of the year with my family and friends. My family is so important to me and spending all that time with them is what makes Christmas so special."
Ellsworth mentioned that this is her first year celebrating the season so early, within the first week of November, but said that since it is her favorite time of year she is going to enjoy it for much longer.
With all the excitement in the air as the merry season approaches, some wonder why others skip over Thanksgiving. A holiday meant for remembrance of good times, giving thanks, and having time appreciating our friends and family. Why overlook this holiday to go straight to buying and gift-giving?
"When people think of Christmas," Belke said, "they think of a whole month of presents, celebrations, and activities. Compared to when they think of Thanksgiving, they think of only one day."
Belke said that Christmas is considered to be a bigger holiday than Thanksgiving, with much more joy and liveliness around all month long, rather than just a fancy dinner.
Trinity Johnson, a sophomore, is one student who looks forward to the liveliness of the season. She said that she begins planning in the early fall for gifts, so when it comes time for the special day, it can be celebrated greatly.
"It's exciting," Johnson said, "I get to see people open the gifts I get for them and it's special because I get to spend time with family."
Johnson said that it is a unique holiday, unlike Thanksgiving, because there is more to celebrate and more to be jolly about, especially in a year like this.
Along with festivities all month long, it was also noted that there is more hype to Christmas in general because the loving time of the season is embedded in so many lives since they were young, that it carries over with them through life, and many look forward to it every year.
While some think it is too early to begin putting reindeer on rooftops, and mistletoe under door frames, it's never too early to begin celebrating the happiness in our lives and the excitement of the holiday seasons.
kj – this is an opinion. not everyone enjoys the holiday seasons and not everyone celebrates Christmas. Holidays can be the hardest time of the year for many people.