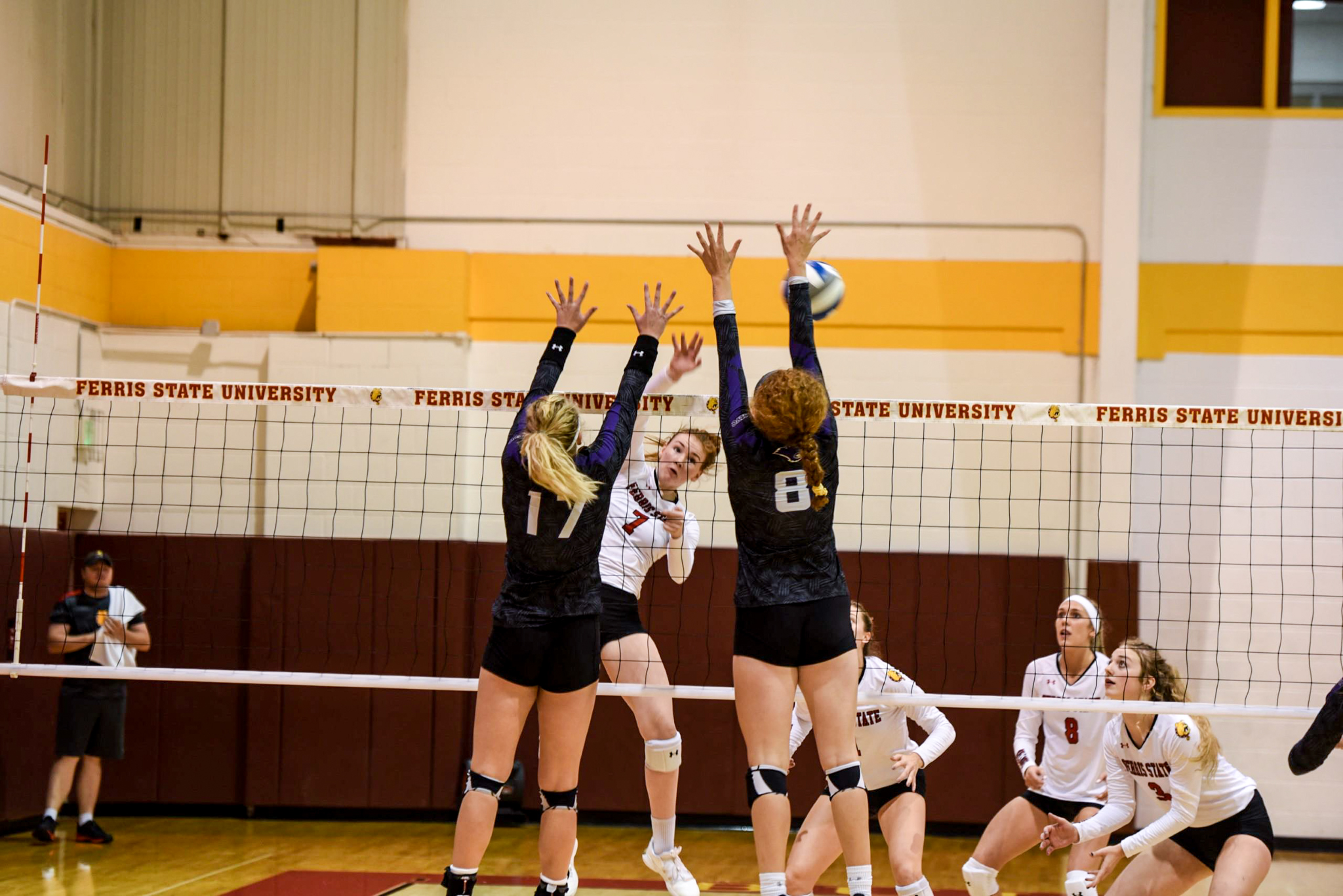 With one semester left in her collegiate career, Katie O'Connell is looking to make her last season at Ferris memorable.
As a junior, Katie O'Connell earned All-American honors for the second year in a row, was ranked as one of the country's top volleyball players, finished with both all-conference and all-region award recipients, was utilized as an all-around performer with ability to play multiple positions and totaled 316 kills with 407 digs and 52 blocks in 29 matches. O'Connell played in 109 total sets and hit .233 last season.
"It would mean nothing without my teammates and coaches." O'Connell said "They push me every day in practice to be better, and they help build confidence when playing," O'Connell said. "Over my last four years, I got to play with some great All-American players that I looked up to and learned from, so it's been an honor to have similar recognitions."
O'Connell not only focuses on her accomplishments on the court, but off the court she juggles being a nursing major and enjoys being with her teammates. While being a student athlete can be tough work, that hasn't stopped O'Connell's drive to succeed with her busy schedule. O'Connell said that with time and the support of the Ferris community the feeling of being overwhelmed as she managed her schedule got easier.
"I'm so grateful that all my professors would work with me if I had to miss class for volleyball and other schedule conflicts. My teammates and Coach Tia also helped plan team practices around clinicals and understood if I had to miss something," O'Connell said. "Ferris has been my home away from home for the last four years, so it's definitely bittersweet to know I'll be leaving soon."
The community atmosphere and tradition of the volleyball program was why O'Connell chose Ferris over other schools. When O'Connell came on her visit four years ago, she instantly felt how close everyone on the team was and how supportive the entire Ferris community was.
Now that her senior season has been postponed due to the COVID-19 pandemic O'Connell looks ahead to leading the team to a seventh straight GLIAC title and a chance to win a national championship in her final year.
"It was challenging at first trying to navigate how this affects everyone and our team, we just tried to stay connected, keep hope and focus on what we could do at the time. Our team is taking it one day at a time, and we're just grateful for every day we are able to be together and practice," O'Connell said. "I think it really shows the caliber of our team because none of this would've happened if we weren't pushing each other in practice every day to compete for a national championship."
As the world juggles everything that has been thrown around this year O'Connell said that she knows that the entire Ferris State athletic department and university is doing everything possible for the team to be able to compete safely again and they will follow whatever they have planned. The women's volleyball team continues to stay together during these times.
"During season, we like to play games or watch movies on the bus to have fun. We also go to other teams' games to support and cheer them on," O'Connell said. "On off days, we'll just hang out with each other, or sometimes we'll go to Grand Rapids for the day to shop or get food."
The Division II winter sport student athletes who compete during the 2020-21 academic year will receive an additional season of competition due to the Division II Management Council and the student-athletes will also receive an extension of eligibility if eligible for the waiver.