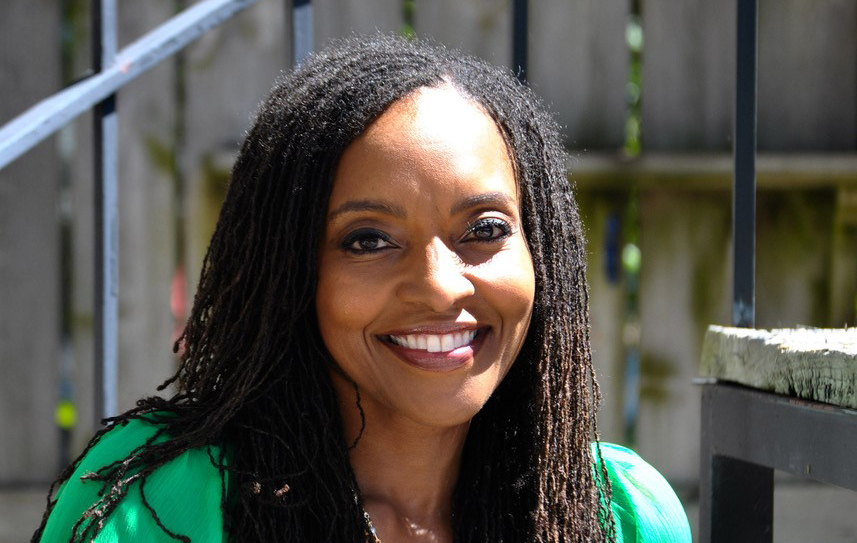 To say Dr. Kasey Thompson has had a unique career path would be an understatement.
Thompson, who teaches in the College of Business at Ferris, earned both a Master of business administration and a Ph.D. in values-driven leadership from Benedictine University. The non-traditional part? She earned both degrees while working at a national advertising agency and an international corporation most are familiar with: McDonald's.
Thompson was born in Gary, Indiana, where she graduated from high school in 1989. Thompson started her first stint in college at Kentucky University, and then transferred after her freshman year. Her mother then got very sick and then passed away, so Thompson went home.
"I didn't go back to school for a while because I am the oldest of three and my brother wasn't even a teenager at the time. I went home and took care of him and took care of my sister," Thompson said.
Losing your mother is one thing, but Thompson took on the responsibility of caring for and supporting her younger siblings as well. This meant getting a job, without a college degree. But that didn't stop Thompson.
She went to an interview thinking she was interviewing to take Visa credit card applications over the phone at Arc Worldwide. Little did she know, she was interviewing to be an administrative assistant for one of the national agency's biggest campaigns. Thompson got the job, starting as a secretary and within a year, she had been promoted to account management.
Thompson watched and learned from her coworkers, many of whom were Ivy-leaguers. She listened to how they talked and modified her strategic thinking based on what she would see them say and do during their meetings.
"One day I went to my boss and just started interjecting my ideas. A position came open, an actual account management, and I knew I could do it," Thompson said. "I interviewed for it, I got the job and kept moving up from there. When I left, I left as the account supervisor over the McDonald's business and that's when I transitioned over to McDonald's on Redbox."
Arc is a national advertisement agency that led marketing campaigns from Kohl's to Visa credit cards to the United States Postal Service and McDonald's. Thompson began her second stretch of college during her 10 years at Arc.
"It absolutely helped me grow as a person," Thompson said of her unconventional college journey. "It's all about grit. It's all about accepting whatever your life circumstance is and not letting defeat you, not letting it stop you. But you look at the circumstance and say what can I learn from this? How can I grow from this, where I am right now, and accepting that?
"Had I gone through a traditional 4, 5 years undergrad, gone out and got a job and kinda did it a traditional way, that would have been awesome. But, in retrospect, I would have not changed one single aspect of my life. I would've wanted a mother a lot longer, but I would not have changed one aspect of my life because it helped me develop a level of grit, a level of bite in me that I was able to navigate through a national advertisement agency without the background and the credentials."
Journey to the golden arches
After McDonald's acquired Redbox, they went to the Arc to help market their campaign. When it was presented to Thompson and her colleagues, nobody really wanted it. No one knew what Redbox was at the time, but Thompson said she loved challenges and took it on.
Over the course of several months Thompson wrote the preliminary marketing plan for Redbox. Thompson's boss at the time saw her work and said that he needed Thompson to come work for the brand, which started her career at McDonald's.
She went over to McDonald's and worked on the Redbox campaign, which she co-wrote the entire strategy for. Thompson can still go to any Redbox and find things that she wrote and created 15 years ago on there, such as the logo.
When McDonald's chose to sell Redbox to Coinstar, Thompson had a choice: stay with Redbox or go over to McDonald's, which she ultimately picked.
"I developed and led strategic initiatives for the 35,000 McDonald's restaurants around the world," Thompson said. "As the Director of Menu Innovation, you oversee the entire development process. From the initial strategic brief, all the way through product development, testing, commercialization, naming, and overall brand development. For example, I led the development team that brought Fruit & Maple Oatmeal to the U.S. menu. Fruit & Maple Oatmeal remains to this day, one of the healthiest offerings on the breakfast and all-day menu."
Thompson led strategic initiative which dealt with addressing the need for healthier and more balanced Happy Meals in the U.S., Thompson was responsible for leading the team which first introduced offering fruit in Happy Meals, as well as reducing the size of the French fries in the meals. McDonald's McCafe beverages was another development Thompson led which include the Frozen Strawberry Lemonade, Cherry Berry Chiller and the Mocha Mint beverages.
Part of Thompson's journey is the challenges she faced. As a Black woman, nothing was handed to her in her career. Not only did she feel that she had something to prove to her peers, but to her family, community and even herself.
"It is so ingrained in our brain that need to work harder, to prove more, to deliver more. Do I regret having to do that? No because it actually benefitted me, it made me stronger in the end," she said. "But I am absolutely sure I worked more hours. I did have something to prove. I was a first generation college student, first generation college graduate. I am the first one to even get a bachelors and masters and earn a PhD.
"I kind of took the weight of all the women before me and I didn't take it for granted. I knew I had a large responsibility and I knew that other women of all colors looked up to me and I would mentor so many people, men and women."
Thompson sees the extra challenges in a positive light, though. The times she had to go above and beyond to prove that her idea was the best made her better in the end.
"I look at that as me being more sharp, like I went through the fire more times but I am sharper than most because of it," Thompson said.
Her true calling
Thompson always knew that she was going to be a professor, that being a professor was in her career path. While she wasn't necessarily inspired by any of her professors, or see anything by media and movies, it was something she always knew she wanted t0 do.
She went into her undergraduate with the expectation of learning differently, making sure she paid attention to the way the information was delivered to guide her in her future profession.
A PhD in values-driven leadership wasn't a traditional degree to have; it was different and that was exactly what she was looking for.
"What makes it different is that it is looking at leaders from an ethical perspective," Thompson said. "My PhD is not only in business and leadership but it is in the ethical component of leaders and I find it amazing."
When Thompson got the offer from Ferris, she was in another city looking for a house. She was just about to accept a position teaching at a more well-known university, but something about Ferris piqued her interest.
"But one thing that struck me about Ferris is that — and I mean this with the greatest level of sincerity — out of all the universities I looked at, Ferris was the that seemed the most sincere in wanting to give every student an opportunity," Thompson said. "I researched the history of Ferris, with it being one of the first universities to integrate women being part of their first graduating class, African-Americans not only being allowed to come and play sports, but sit along side all of the classmates. This was one of the first universities to do something like this, to take a stand on being inclusive, to take a stand on promoting African-Americans, women and minorities. That was important to me."
While Ferris might not have been a university that Thompson had heard of before, it fit all of her values.
One of the lessons Thompson passes onto her students is that it doesn't matter if they come from Harvard or Ferris, because you have the same opportunities and you can do anything that you want to do. No one asked about Thompsons college degree when she first started at Arc, and she didn't talk about it. She put in the work, was able to learn on the job and earned her way to a top position.
Inspiring the next generation
Thompson just finished her first book titled, "Fall Down, Gritty Up: The Unconventional Mental Map for Becoming Your Own Hero" which is scheduled for release in April of 2021.
"'Fall Down, Gritty Up' celebrates where we all are, right here and right now," Thompson said. "I issue personal challenges throughout the book to help readers embrace the energy of all life experiences, from the most painful to the most joyous, and I then provide many principles throughout that will hopefully drive readers to dig deep and overcome whatever obstacles they face. My goal is to ultimately help readers discover how to transform challenges into positive energy so that we all learn how to flourish."
Thompson said her motivation behind starting to write her first book was based on all of the valuable lessons she has learned from her experiences, including converting adversity into power and navigating workplace bullies.
"If I've already fought a specific battle, I feel as if it's my obligation to pass on my learnings so that you may be better prepared in your life," Thompson said. "My point in the book is that if I've already gone through many things…if I can share those and help someone better navigate their own, then it was worth every single battle that I went through."
It has been Thompson's goal to write a book for many years now and it took about 2 ½ years to complete because it "continued to morph and flow along the way."
As a writer who was zero experience, Thompson said it was daunting when she was writing and publishing her book, because you didn't know who was in it purely for monetary reasons. This was a major reason why she created her publishing company, Pendulum Publishing.
"My experiences were I had a plethora of people I could reach out to, I could sit on the phone for hours and interview people. A l0t of people don't have that as a resource," Thompson said. "What I wanted to do when I started Pendulum was just mitigate all that first time anxiety that first time authors go through. Let's have a conversations, let me help you find what your next step should be."
Once you start to have the first conversation with writers, Thompson said, you can start to pull out all their great ideas and take out all the anxiety and hesitations they have. Thompson felt like she didn't have that kind voice to speak to when she started writing and that is what she hopes to be for others. She wants to be others' introduction into the industry.
"Pendulum Publishing helps guide authors along their writing journey and I don't seek a profit, per se, from my services," Thompson said. "I want to mitigate the worry as much as possible, because completing a manuscript is worrisome enough."
Since launching Pendulum Publishing this summer, she has had a steady stream of inquiries from authors across the U.S.
"Accepting where I am and using it to my benefit, instead sulking and saying 'woe is me,' but to say 'how do I become a greater badass as a result of everything I am going through?'" Thompson said."That's just been the story of my life."
Kendall Rooks and Cora Hall contributed to the reporting of this article.