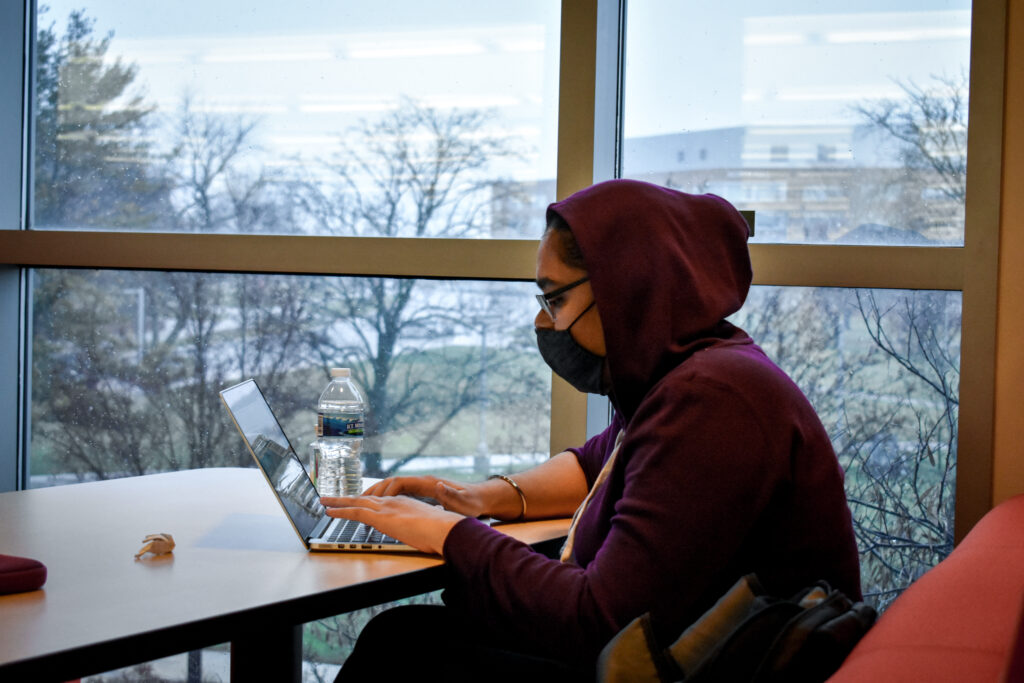 In-person classes are temporarily suspended at Ferris and universities across Michigan after the Michigan Department of Health and Human Services issued an epidemic order on Sunday, Nov. 15.
The three-week order was announced in a press conference held by Governor Gretchen Whitmer and will go into effect Wednesday, Nov. 18 to Dec. 9. Besides universities, high schools will also pause in-person learning and many recreational locations will close including bowling alleys, casinos, indoor dining at restaurants and bars and stadiums. Organized sports will be put on hold, with the exception of professional and a limited number of NCAA sports.
"In the spring, we listened to public health experts, stomped the curve, and saved thousands of lives together. Now, we must channel that same energy and join forces again to protect our families, frontline workers and small businesses," Whitmer said in a press release. "Right now, there are thousands of cases a day and hundreds of deaths a week in Michigan, and the number is growing. If we don't act now, thousands more will die, and our hospitals will continue to be overwhelmed. We can get through this together by listening to health experts once again and taking action right now to slow the spread of this deadly virus."
Whitmer's announcements comes in the wake of Michigan's worst week of COVID-19 cases to date.
Dr. Joneigh Khaldun, chief medical executive and chief deputy for health at MDHHS, announced in the Sunday press conference that in the seven days leading up to it, Michigan reported 44,019 cases and 416 deaths. The rate of tests coming back positive has spiked to 12.5%. According to The COVID Tracking Project, there are currently 3,241 people hospitalized in Michigan due to COVID-19.
Khaldun called the recent data on COVID-19 cases "alarming" and said it will overwhelm Michigan's healthcare systems.
In response to the epidemic order, Ferris announced that all classes will be moved to remote instruction beginning Wednesday, Nov. 18 through the end of the semester. Ferris' original plan included moving to remote instruction after Thanksgiving with the exception of in-person labs, but the new plan impacts all forms of classes, according to the email from Dean of Student Life Joy Pulsifer.
Residence halls, dining, FLITE, the Rec Center and University Center will remain open and Pulsifer said the university will continue to review guidelines and will announce any additional changes made.
The new order also restricts gatherings to two households at one time and the MDHHS urged families to pick a single household to interact with over the next three weeks. The order is not a "blanket stay-home" order like in the spring and allows for work that cannot be performed at home. Outdoor gatherings, outdoor dining and parks will stay open. Hair salons, retail stores, preschool through eighth grade, childcare and gyms will remain open and restaurants and bars will remain open for takeout, delivery and outdoor dining.
"Indoor gatherings are the greatest source of spread, and sharply limiting them is our focus," MDHHS Director Robert Gordon said in the press release. "The order is targeted and temporary, but a terrible loss of life will be forever unless we act. By coming together today, we can save thousands of lives."
Republican speaker of the house Lee Chatfield criticized Whitmer's announcement in press release Sunday night, accusing the governor of taking unilateral actions.
"The legislature led the way with a comprehensive plan to address this crisis back in the spring, which the governor ignored," Chatfield said. "The Legislature also designed the plan that reopened schools and is still used to this day, along with a new plan introduced last month that has so far been ignored.
"As always, we stand ready to act in a bipartisan way when the governor decides it is worth her time. Until then, we are still reviewing the details of this order like everyone else."
Republican Senate Majority Leader Mike Shirkey released a statement during Whitmer's press conference, saying he was "disappointed that Gov. Whitmer chose to go it alone, again."
In Whitmer's press conference on Sunday, she said the Legislature has been included on their weekly modeling calls and a number of conversations with experts. Whitmer also said she recently asked them for codification of the mask mandate, which they refused.
"I said 'Well, what is your plan?' and there wasn't one, other than doing some public service announcements," Whitmer said in the Sunday press conference. "We've got to act swiftly and I'm going to use every tool at my disposal to save lives in Michigan."