Ferris has officially released a statement about Professor Thomas Brennan's alleged Twitter account that hosts racist, antisemitic and COVID-19 denying tweets. This comes after multiple comment requests within the last 32 hours since the original story was posted.
"The comments and actions attributed to this faculty member do not represent the College's or University's mission and values or the institution's commitment to diversity, equity and inclusion."
The university stated in response to the zoom chat message sent during a College of Arts and Sciences meeting that they had already disciplined Brennan for his actions.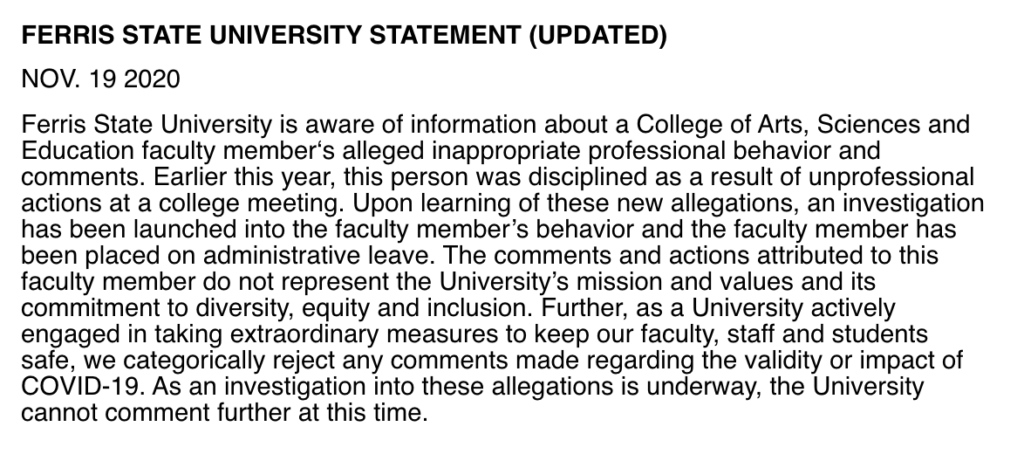 After the original story was shared, outcry from student's and faculty alike came pouring in on social media.
Ferris Biology & Chemistry alum Cierra Chartrand said "As a graduate of FSU (biology and chemistry) I'm deeply disturbed by this. This professor is spreading misinformation and conspiracy theories."
Today the Department of State made the declaration in a tweet that Anti-Zionism is considered antisemitism. How this will affect the case moving forward is still unclear, although it may have some effect because there were several tweets that were anti-Israeli.
UPDATE: An error in Ferris' initial statement left out that Brennan has been placed on administrative leave.
This is a developing story and the Torch will continue to update it as more information becomes available.
Kaylin Johnson and Cora Hall contributed to this story.