Many college careers have come to an end during the COVID-19 pandemic. Jackie Beaver's career was one of them, yet that has not stopped her from helping her team.
A senior middle-hitter for the volleyball team, Beaver has had a successful career over the last three seasons. With the volleyball season getting moved to the spring though, she will be graduating before playing her final season at Ferris. As things looked down on Jackie Beaver she has never given up hope, instead, she stayed optimistic during her last semester at Ferris. With the unexpected changes, athletes had to face Jackie took this as an advantage to help her fellow teammates out.
"When the season started I didn't know it was going to be my last. This brought out the leadership and patience within me. Realizing that I may not be returning in the spring I focused more on pushing the others in my position. Sammi(Hermann), Kira (Merkle) and Olivia (Henneman-Dallape) were the focus of my time," Beaver said.
Beaver transferred from Illinois Central Community College. She played high school volleyball at Metamora Township High School. Beaver started all 41 matches in 2018 and appeared in 145 sets for Illinois Central and she compiled 165 kills with 116 total blocks and 60 digs.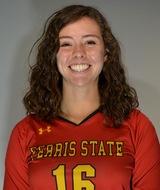 Beaver was a letter winner and standout on the prep level in Michigan.
As a Bulldog, she appeared in 13 matches during the 2019 season. She contributed to a sixth-straight GLIAC Championship in the regular season. Beaver also notched 13 kills and finished with seven total blocks in a reserve role for the Bulldogs.
Coach Brandel-Wilhelm describes Beaver's impact on the team as a great person and leader of the team.
Moving towards the current season Beaver will not be able to practice with the squad due to preparing to graduate and focus more on her semester.
"At the time, I didn't know that was going to be my last practice. Looking back, I'm glad I didn't know. I would have spent my last time in the gym bittersweet in my head rather than in the moment with my teammates," Beaver said. "Every practice with them I would be sure to ask what they wanted me to watch for them that day and I would offer as much feedback as I could. I remember the energy that was in the weight room our first day of conditioning. You could tell that everyone had been doing their home workouts and was ready to hit the gym together. That same energy and drive held through to our last practice, my last practice as a Bulldog."
The volleyball schedule will feature a North and South Division with three pairs of travel partners within those divisions. There will be seven weeks of regular-season competition and teams will play each opponent on back-to-back days. Those matches will take place on Friday and Saturday with the regular season beginning on Feb. 19 and concluding on April 3.
Graduating in a couple of weeks, Beaver expresses her gratitude to her teams and Ferris.
"Although my time at Ferris seemed brief, being a part of this program has changed who I am and has helped me learn so much about myself, I am very thankful for that. Huge thank you to Coach Tia for giving me this opportunity to play the sport I love and grow as an individual. Look forward to watching the team play in the spring. 1,2,3, Bulldogs! 4,5,6, Family!"