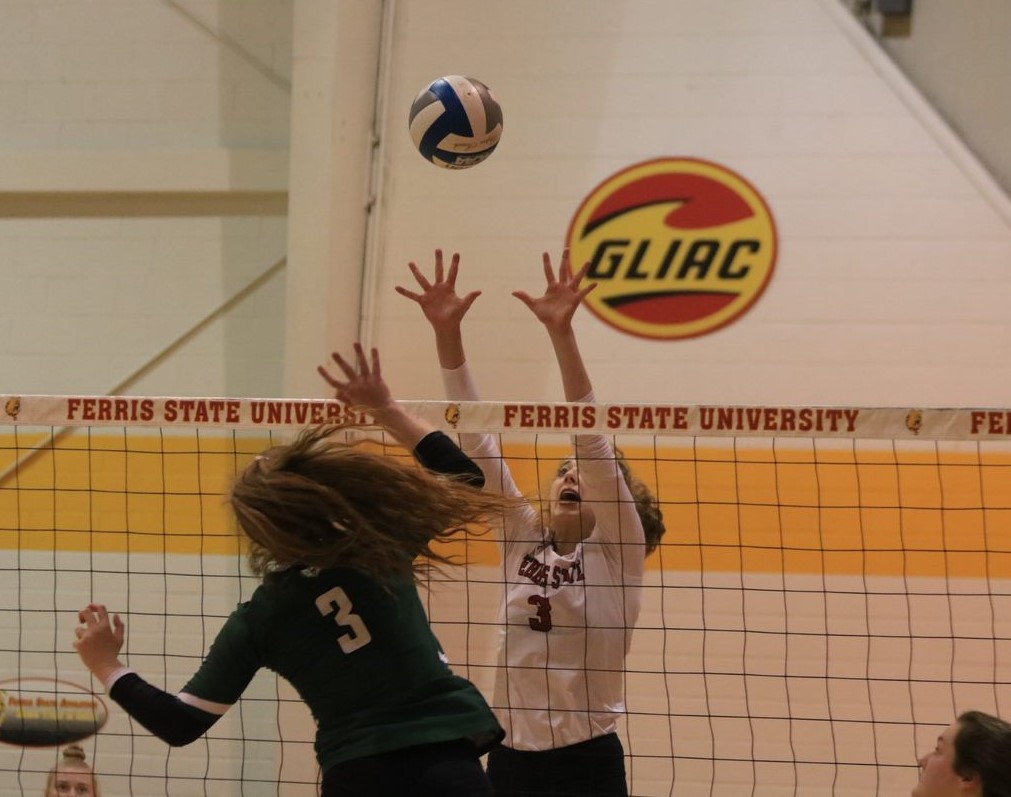 The Ferris State women's volleyball team is home to Samantha Hermann, a pre-veterinary medical junior, who enjoys slurpees, time with friends and listening to music.
A triple-sport athlete in high school, Hermann played volleyball, soccer and basketball while she was active in several other activities, such as the National Honor Society, the Indian Athletic Leadership Club, the junior Class committee and Future Farmers of America. Hermann said that her dream job is to be a large animal veterinarian, but she is unsure if she wants to specialize as a surgeon as of right now.
Hermann originally chose Ferris because she wanted to play for a successful team. Hermann knew that Coach Tia-Brandel and teammates would push her to her fullest potential. Academic wise, Ferris was the only school that could offer Hermann her major and allows her to continue her volleyball career.
"I'm so thankful to be a part of something so special. I'm grateful for all the lessons I've learned, but more importantly the friendships I have made throughout the years," Hermann said. "The thing I will miss most about Ferris is the people. There are countless friendships I have made throughout the years and it's truly a great community to be a part of."
Hermann entered Ferris and understood what it took to win championships. During her time at Minooka High School in Illinois, she was a standout. She led the conference in total blocks and helped guide her team to back-to-back regionals, section and super-sectional crowns with state-qualifying finales in 2016 and 2017.
In her first two years at Ferris Hermann played her full freshman year with 32 matches and her sophomore year with 31. Both seasons Hermann helped the Bulldogs win the Great Lakes Intercollegiate Athletic Conference Championship and the Bulldogs reached the NCAA Division II Midwest Regional Semifinals. Hermann finished her freshman season with 74 kills, 84 blocks, 28 digs and was ranked second for the Bulldogs in blocks on the year. Hermann stepped up her game a year later when she earned a spot in the starting rotation, collected 151 kills and 65 digs with 10 service aces.
"My biggest accomplishment was being a part of a team that participated in winning the GLIAC six times," Hermann said. "Truly is a surreal experience and I'm so blessed I was able to be on a team apart of that."
Hermann is proud to be a Bulldog and doesn't allow for outside distractions to interfere. With this rule,
Hermann said it is strictly volleyball only outside of school, but she knows how to enjoy her time with her teammates. Hermann believes that even in these crazy times it's important to have trust and patience, but it isn't always easy.
"I know whenever I hit the pillow at night that each day can be different. Personally, it took some time to adjust but you get into a routine on and off the court," Hermann said. "I really had to learn how to manage my time better. Things start to build up once you get behind and it is not fun catching up, but what works best for me is I have a schedule and I stick to it."
Hermann has her eyes set on this season and hopes to collect more time on the court. Hermann is also excited to become a senior and she cannot believe she will enter her senior season next fall, but is hopeful for the future. Hermann, like every student-athlete, wants to leave her mark at Ferris and win a national championship but mostly enjoys her final years with the teams she's bonded with so much.