With Erbert & Gerbert's decision to shut down after Thanksgiving break until fall 2021, 14 student employees need to find a new source of income.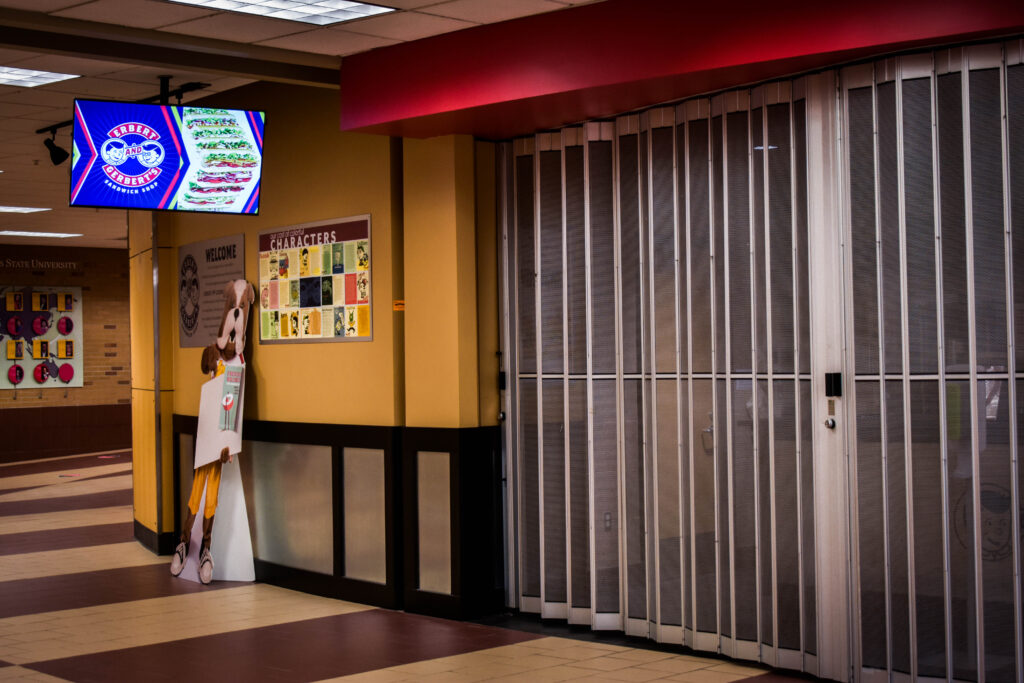 The Erbert & Gerbert's sandwich shop located in the IRC shut down during the holiday break due to a lack of business to keep it operating. This is because of COVID-19 surging throughout Michigan, causing classes to be taught remotely and online.
Director of Ferris dining Scott Rossen said business at Erbert & Gerbert's this year decreased by 67% compared to the previous year.
News of the shutdown disappointed the student employees but did not shock them. However, their positions at Erbert & Gerbert's were the only source of income for some of these employees.
Nursing freshman Connor Weaver only started working at the sandwich shop in Sept. 2020. Weaver said the shutdown caused significant stress for him but he understood why closing the shop needed to happen.
"I was kind of expecting it for a few weeks before they made the official call, but it was definitely disappointing because I had hoped it wouldn't happen," Weaver said. "I really enjoyed my job, and I hope I'm able to go back next year."
Hospitality and professional brew management senior Anna Jensen had worked at Erbert & Gerbert's since it first opened in Jan. 2018. Jensen worked as a student manager for the shop.
"[It was upsetting at first] but then [we] found out we are still keeping our closing date of thanksgiving break," Jensen said. "It is going to be sad not seeing my co-workers. Those of us that have been there since the beginning are really close."
This inconvenience also affected radiography sophomore, Noah Kamper. Kamper had worked as a barista for the neighboring Starbucks since Sept. 2020. He felt sad when he discovered the news because he enjoyed the job and his coworkers.
Music and entertainment business junior Nicole Hollinsky had to start thinking about how this shutdown would affect their future.
"I was concerned about my financial situation mostly," Hollinsky said. "It is hard to find paid internships in my field and, with Christmas coming up, this is my main source of income. Most of us have found some temporary work, but it has been difficult. I've been spending a lot of time applying to jobs and not hearing back."
Rossen and dining services made sure these students received job alternatives on campus to help ease their financial worries.
"We always take into consideration how the decisions made will affect our student employees," Rossen said. "Dining has offered these students other employment opportunities during this unprecedented time in other dining venues."
Students may also apply for unemployment if they feel it necessary, but the university said they will not assist the students affected that are not willing to work other retail or dining operations.
Weaver and Kamper have accepted these positions offered at other dining facilities around campus.
Jensen decided to work as a shift lead for the new Arby's restaurant opening – around mid-Dec. – in town.
"I am lucky I happened to get this job at the same time the shutdown happened so it isn't as inconvenient to me as it could be for others," Jensen said.
Rossen said that those who lost their positions at the sandwich shop will be able to get back to work right away when it opens again next year.
Erbert & Gerbert's is set to reopen in fall 2021 and hopes to receive more student business.
"We are optimistic about things going back to a more normal semester for on-campus students/sales," Rossen said.
This establishment will continue to follow all necessary health and safety protocols to ensure a positive experience for customers when it reopens.