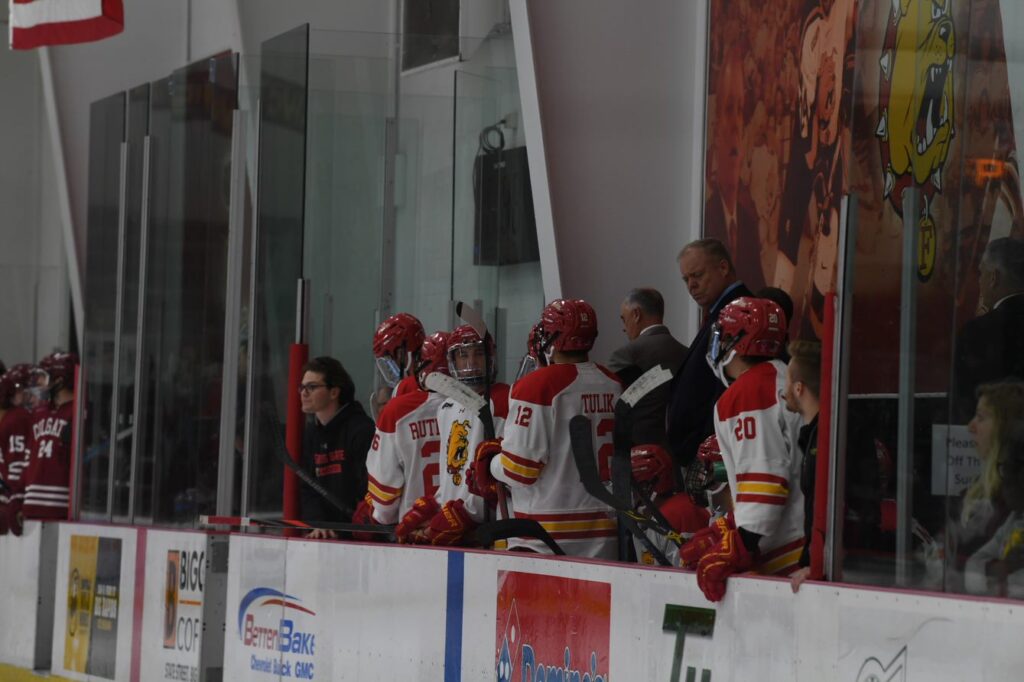 The Ferris hockey team was scheduled to play their first three games of the season on the weekend of Nov. 28 and on Tuesday, Dec. 8.
A positive COVID-19 test from Ferris's team forced the Bulldogs to postpone what was supposed to be their first games of the season. After a delay on Tuesday's game against Alabama-Huntsville, the game was officially cancelled Wednesday, Dec.9 after a positive COVID-19 test by Alabama-Huntsville. Despite the postponements, head coach Bob Daniels remained optimistic and looked on the bright side.
"We're really thankful to have been given this opportunity," Daniels said. "A number of fall sports got canceled and my heart goes out to them, I really feel for those coaches and student-athletes. I always try to remind myself that there are a lot of people out there that this is affecting in a much greater way. If it just affects us by putting our plans up in the air, then so be it."
According to Daniels, the Bulldogs knew about the COVID-19 issue on Monday, Nov. 23. It was not until late Wednesday, Nov. 25 that they found out they would not be playing their weekend games.
Bulldog players expressed similar levels of optimism as their head coach but also felt frustrated by the circumstances. Freshman defenseman Luke Farthing looked forward to getting out on the ice.
"It definitely was frustrating that we were so close and then having it unexpectedly pushed back again," Farthing said. "It was out of our control so we made our adjustments needed and did as much as we could to prepare for what we have in the future.
"We don't really try to focus on the fact that things can change so quick because of COVID-19. Our job is to show up to the rink and perform well as a team and that's all we can control."
Sophomore defenseman Max Finner echoed similar frustrations to his teammate but felt that the team needs to look ahead and stay focused.
"We have to be fully prepared for these games and we're not really worried about whether they could possibly be postponed or not," Finner said. "We're just focusing on preparing for that game and being ready for it when it comes."
Both players are excited to have the opportunity to play this year and look forward to whenever they can play their first game. Tentatively, that is scheduled for Friday, Dec. 11 at Bowling Green before returning to Ferris on Saturday, Dec. 12 at 7:07 p.m.
Even with COVID-19 making scheduling difficult for the Bulldogs, they felt their preparation for games is not dictated by possible postponements. Finner and Farthing said the team prepares to play and practices hard regardless of the situation.
When the Bulldogs can take the ice, they will not have the usual crowd support of previous seasons. While Daniels thinks this will hurt his team, he remains optimistic that at some point this season, fans will be allowed.
Another thing the Bulldogs have faced recently is practice difficulties. With players in quarantine, Daniels had to find ways to make the best of the situation.
"We've had to really be creative," Daniels said. "We had a number of players quarantined this week including all three of our goaltenders. We've been practicing without a goaltender and that's been highly unusual. We really try to utilize any time we have together as a group. We really want to make sure we use every minute when we get out there on the ice to benefit the team and be prepared as we can be for our first game."
Daniels credited college institutions and athletic programs for working together and cooperating in a way he has never seen in his career. He believes that this is "a real positive" to have come from COVID-19. He especially appreciated Ferris's administration, athletic director, and training staff for all the work they have done in preparing his team for this season and allowing them to have the opportunity to play.
COVID-19 presents many challenges, some of which can lead to frustration. However, the Bulldogs have kept a positive mindset and are itching to get out on the ice for the first time this season.