As the race to creating a COVID vaccine continues, Ferris pharmacy faculty shared some insight into the science and process of vaccination development.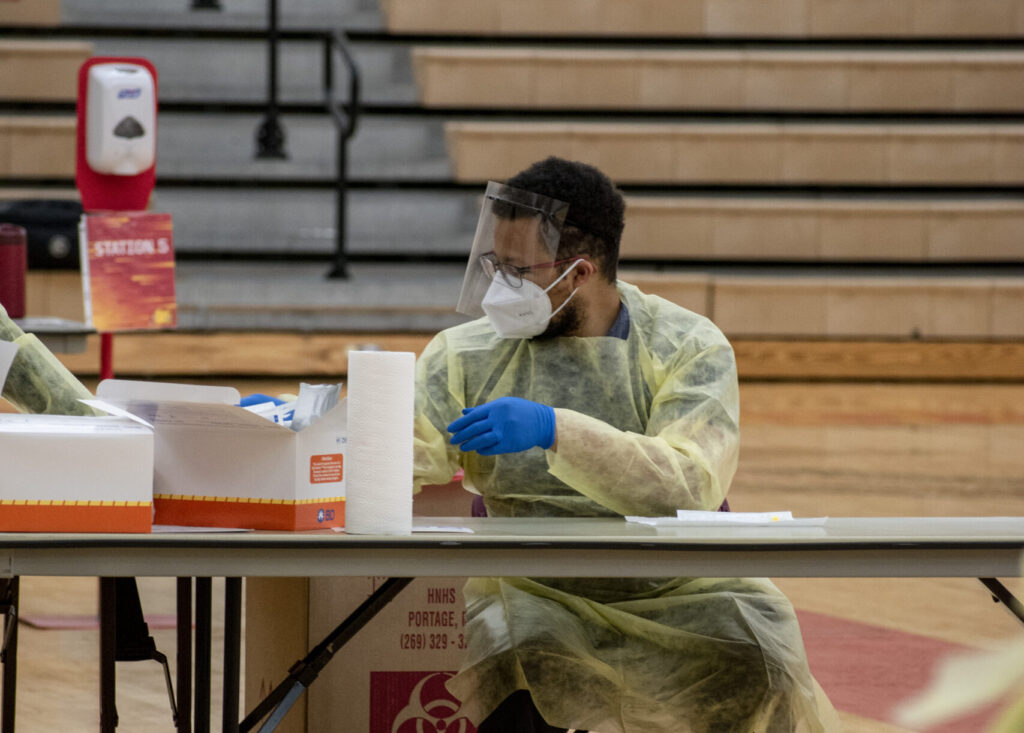 Ferris ranks in the top 100 pharmacy schools in the country and statewide, its program is 2nd only to the University of Michigan. Since the beginning of the pandemic, numerous faculty members have been involved in research as well as helping with testing on campus.
Michael Klepser, a professor of pharmacy at Ferris, specializes is in infectious diseases and point of care diagnostics.
He explained that the three main companies currently working to create COVID vaccinations are: Moderna, Pfizer and AstraZeneca.
"The first vaccine that's probably going to come to market is the Pfizer vaccine. Pfizer has already filed for emergency use authorization (EUA) and they have an FDA response date of December 10, meaning that they could be able to ship the vaccine immediately after that. Everybody is expecting the first doses to roll out sometime around December 15," Klepser said.
Michelle Sahr is an assistant professor in the Pharmacy program at Ferris. She explained that preliminary tests are showing the vaccinations at 95% effective for preventing the disease.
"The side effects seen with these vaccines have been in line with other vaccines: injection site pain and redness, mild fever and mild cold symptoms," Sahr said.
The vaccination development process is typically long, but Klepser explained that it has been quicker than normal because scientists have been able to build off existing technology which has helped speed the process.
"The vaccines are kind of interesting, one of the reasons the Pfizer and Moderna vaccine were able to come about so quickly is because they are using a technology that allows them to use RNA from the virus that encodes for the protein. That messenger RNA is injected as the vaccine, so the vaccine itself does not cause immunity, the messenger RNA once it's in the body gets translated and forms this spike protein that the body recognizes is foreign and generates immunity," Klepser said.
There are still many unknowns about COVID and its long-term effects. Klepser explained that immunity either comes from a vaccine or having the disease. In his opinion receiving immunity from the vaccine instead of the virus is much safer.
"Since these (vaccines) are so new, we don't know how long the protection will last. This may be a seasonal vaccine like the flu shot that will need to be given every year," said Sahr.
Qian Ding is a tenured professor at Ferris. She teaches pharmacy practice management and public health in pharmacy and health care systems.
She explained that the process of creating a vaccination is always three phases long in order to ensure the safety and efficacy of the vaccine.
"The process for the vaccine varies from three months to 97 months depending on different vaccines. The flu vaccine is the fastest, at three months. But generally, I see a lot of 12 months, 15 months, 18 months for the approval process," Ding said.
The COVID vaccine process has been on the quicker end of the spectrum, but once it's distributed into the public the research doesn't end there.
"After the medication (or vaccine) has been launched on the market there is a phase 4, the post marketing surveillance," Ding said. "The safety of the vaccine will be constantly reported by the health care providers."
Although one version of the vaccination could be available as early as December 15 it's important to realize that the entire distribution process takes time.
"As of now, the plans for distribution are for healthcare workers first (as early as mid-December), then essential workers, then people with high-risk conditions and/or 65 years or older. After those risk groups, the general public should be able to get the vaccine," said Sahr. "Just as we all need to wear masks and socially distant, we will need everyone that is able to receive the vaccine to receive it."
Since this process could take months keeping up to date with CDC guidelines for safety is paramount to beating this pandemic.
"Just be patient and be smart this time will pass but it's not going to go away overnight and I think that people want it to go away quickly," Klepser said.
In August the Kaiser Health News released the results of a poll in which 35% of people said they wouldn't get a vaccine when it came out. Klepser further explained that in many places social media has perpetuated fear about taking the COVID vaccine when it comes out.
"Right now, when you look at polls there are a lot of people that are afraid to take the vaccines and that is unfortunate because again, the only way we are going to get through this is we need people taking the vaccine," Klepser said.
While students, professors and community members wait until a vaccination is available Klepser encourages everyone to recognize the signs and symptoms of COVID. Some of the most notable are sore throat, headache, runny nose, or a loss of taste and smell.
"We've been doing a lot of testing on campus for asymptomatic individuals. However, when I'm getting positive test results and I'm the person who's calling people when I'm asking students or faculty how they're feeling more than 50% of the time the individual I talk to admits to having signs and symptoms of the disease. So that's problematic that they are not recognizing them, or they aren't thinking of themselves as symptomatic and isolating themselves and they could go out and potentially expose other people including the people that are testing," Klepser said.
Because of the quick spread of this virus as well as the instance of asymptomatic cases taking precautions is important.
"Even if you think that you're not at high risk you don't know if the other person that you're with has some sort of underlying condition that puts them at high risk for complications. This is a great way to practice some love and kindness to those around you by being cautious," Klepser said.