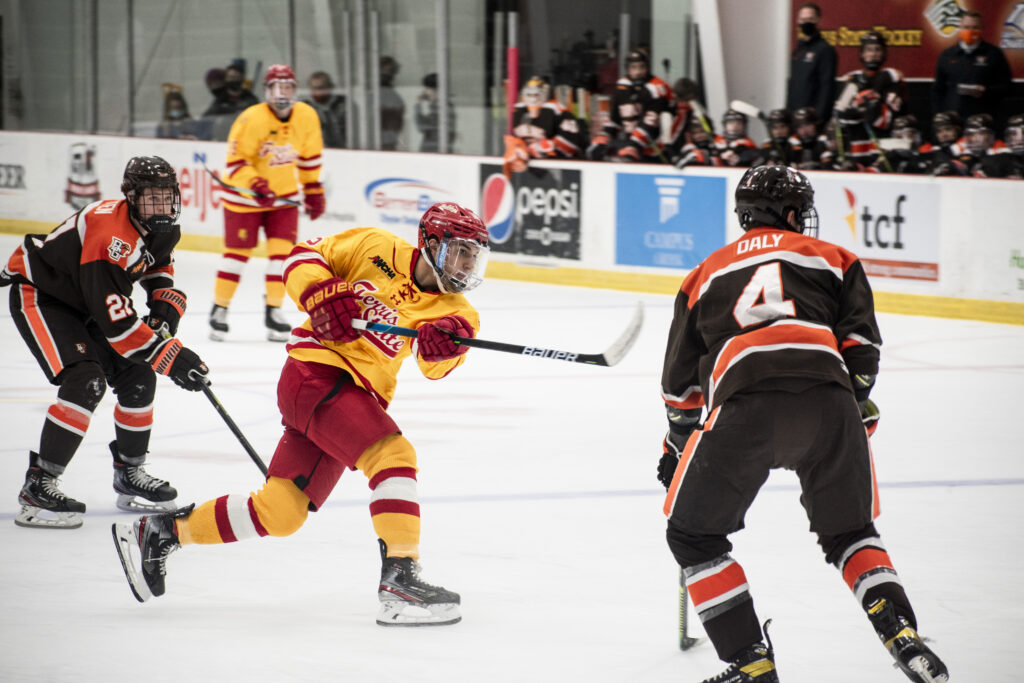 The Bulldogs lost their first home hockey game of the season Saturday, Dec. 12 against Bowling Green State University.
Ferris clashed with the Falcons for the second time in as many nights. The Falcons won the first meeting 3-2 on Friday, Dec. 11. Sophomore defenseman Jake Willets and senior forward Coale Norris scored for the Bulldogs.
Bowling Green started the scoring Saturday night with 8:57 remaining in the first period and took a 1-0 lead into the first intermission.
Ferris committed three penalties in the first period, but the Falcons failed to score on any of their three power plays. Junior goaltender Roni Salmenkangas registered 12 saves in the first period while allowing one goal on 13 shots on goal from the Falcons.
The Falcons scored their second goal of the night at 4:59 in the second period and extended their lead 2-0. Sophomore goaltender Carter McPhail replaced Salmenkangas in goal at 11:20, and Bowling Green scored for the third time at 11:24, taking a 3-0 lead.
Head Coach Bob Daniels liked what he saw from Salmenkangas, but thought McPhail had a rough Saturday night when compared to his performance from Friday.
"I really felt Roni played very well," Daniels said. "I thought Carter played well yesterday but he really struggled tonight. He kind of reverted back to scrambling around his goal. Overall, I thought they both performed well, and Carter was just a bit off today compared to yesterday."
Ferris scored their first goal at 13:38 in the second period on a power play when junior forward Ethan Stewart scored his first collegiate goal. He was assisted by sophomore forward Jason Brancheau. The Falcons held their 3-1 lead into the second intermission.
At 4:20 in the third period, the Falcons scored their fourth goal of the night, but the Bulldogs answered right back with a goal of their own from freshman forward Mitch Deelstra at 4:41. Sophomore defenseman Connor Fedorek assisted on the goal.
Bowling Green quickly reclaimed their three-goal lead with a score at 6:18, making the score 5-2. They extended their lead 6-2 with 11:14 left in the third period.
"We got a little sloppy in the third period and had a lot of turnovers and we gave them some easy opportunities back at our end," Daniels said. "But I come away from the weekend knowing that there's quite a bit to work with."
Daniels also mentioned that some sloppy play was to be expected because a lot of his players could not practice while they were in quarantine. However, he thinks they have the pieces to put together a strong season.
The Bulldogs next take the ice Wednesday, Dec. 16 at Northern Michigan University.