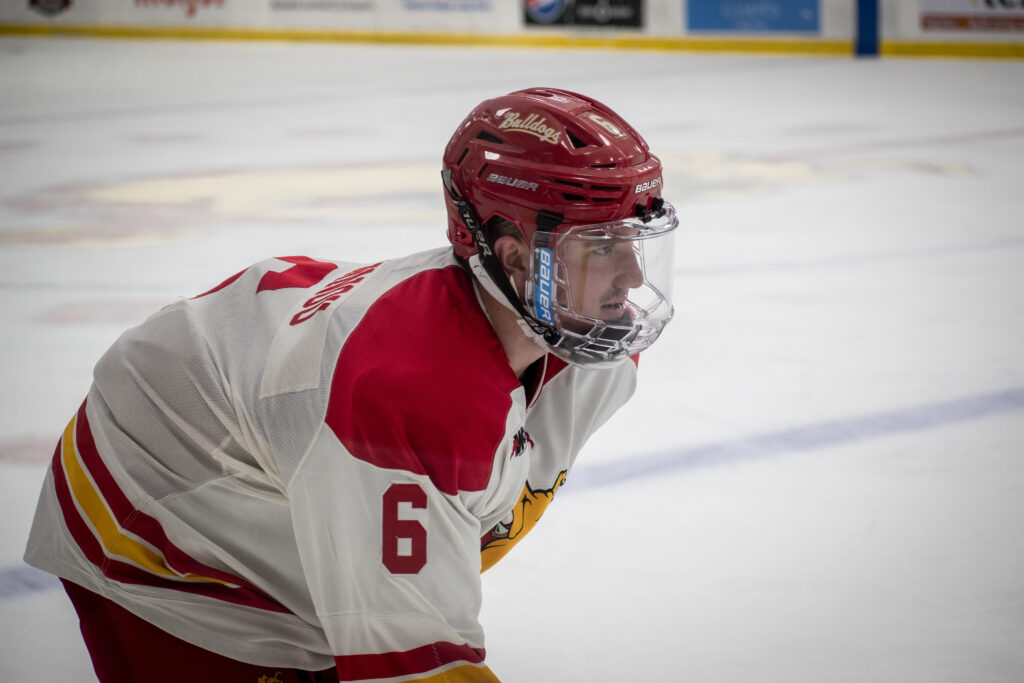 The Bulldogs faced their first league opponent when Bowling Green State University visited Ewigleben Ice Arena Saturday, Jan. 2.
Ferris entered the afternoon 0-4 after losing to Northern Michigan University Wednesday, Dec. 30. They welcomed a limited number of fans to the arena for their matchup with the 9-1 Falcons of Bowling Green.
Peter Daniels, a long-time supporter of Ferris hockey and the father of head coach Bob Daniels, recently passed away at the age of 91. Ferris honored him with a moment of silence before the game.
Bob Daniels said the moment of silence was "awesome" and he thanked everyone who helped pay tribute to his father.
The Falcons opened the scoring on the afternoon at 17:30 in the first period. They held their 1-0 lead into the first intermission. Ferris junior goaltender Roni Salmenkangas registered 10 saves in the first period. Sophomore defenders Blake Evennou and Connor Fedorek and senior forward Lucas Finner each had three shots on goal for the Bulldogs.
At 1:11 in the second period, the Falcons had a penalty for cross-checking, and the Bulldogs scored their first goal at 3:05 on the power play. Junior forward Ethan Stewart scored his third goal of the season and was assisted by freshman forward Mitch Deelstra and senior forward Liam MacDougall.
The Bulldogs got another power play at 3:59 when the Falcons were penalized for interference. However, they were unable to score. At 10:47, Bowling Green extended their lead 2-1.
Ferris had power plays at 11:38 and 13:59 but were unable to score on either opportunity. Ferris recorded 31 shots on goal through the first two periods compared to 20 for the Falcons, but it was Bowling Green who took a 2-1 lead into the second intermission.
Both teams played aggressively throughout the contest with consistent big hits against the boards and in the open ice. Play was paused at 3:27 in the third period for the officials to review a play where sophomore defenseman Max Finner hit a Falcon player after the whistle. The officials went to the monitor and penalized Finner for unsportsmanlike conduct. The Falcons were unable to capitalize on their power play.
Senior forward Marshall Moise was penalized at 6:08 for cross-checking. At 8:00, the Falcons capitalized on the power play and extended their lead 3-1.
Seconds later, the Falcons scored again, taking a 4-1 lead at 8:21.
The Falcons pressed their advantage 5-1 when Moise was penalized again just minutes later, this time for roughing. With under two minutes to play, Bowling Green scored for the final time and extended their lead 6-1.
"We played great into the third period," Daniels said. "We were whistled for a penalty and then they scored, and it goes 3-1. From there, I don't think we responded very well. I didn't care for how we finished up those last eight minutes of the game. We played a game that was really a positive and we were playing great, and I don't think it was a fluke. 6-1 is certainly not indicative of how we played that game, but it is indicative of how we finished it off."
Despite the loss, Daniels was encouraged by his team's play in the first two periods.
"I think we saw what the potential is that we have to play at," Daniels said. "I thought we carried the edge through the first 48 minutes of that game. That is a positive, but a lesson we can learn is that if we get off-script and start to freelance we can see what happens. That's a lesson the guys have to learn because even down 3-1, there was no reason we were out of the game. We were earning scoring chances against a very good Bowling Green team."
Bowling Green's 6-1 victory knocked Ferris to 0-5 overall and 0-1 in conference play. The Bulldogs will seek their first victory of the season Sunday, Jan. 3 back at home against the Falcons.