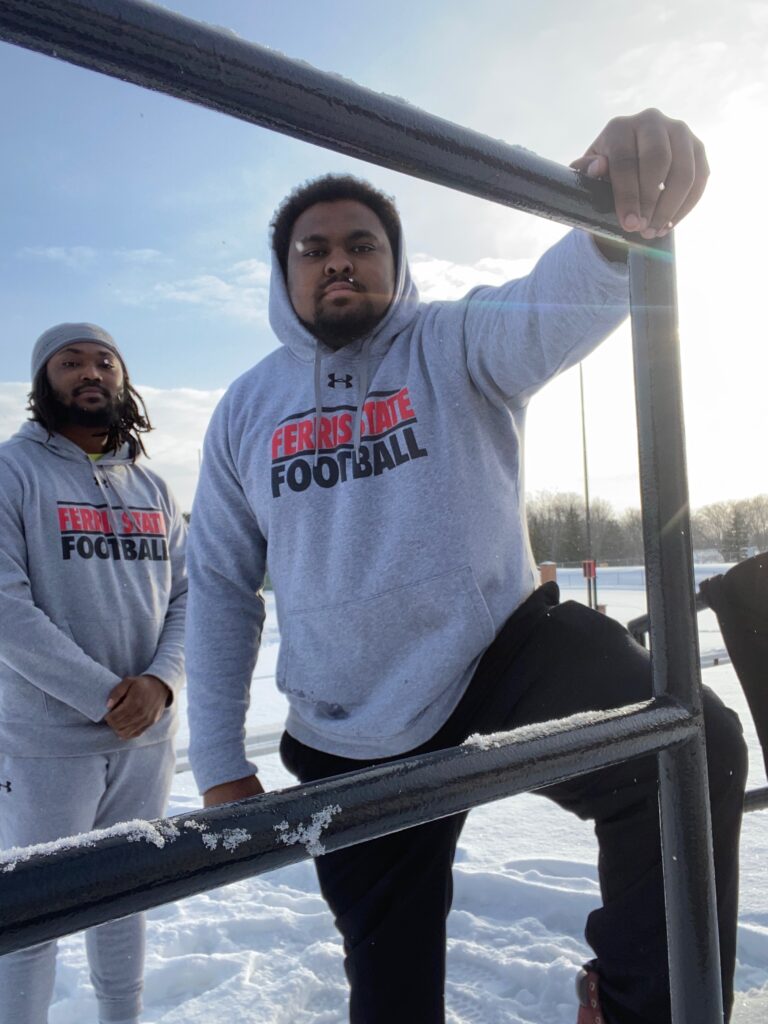 For Marcus Matiere-Bey, football wasn't just a game to play with his friends. Football was a way out.
Growing up in Flint, there were conflicts going on all around him. He always had to stay on his toes so that he wouldn't get caught up in something dangerous.
"In any part of Flint, you don't know what you're going to get, so we always have to be alert and to be cautious wherever we're at," Matiere-Bey said. "There's no particular area where we can get away from the crime. It's hard to get out of anything unless you get out of Flint in general."
Growing up in such an unstable area made it so that both Marcus and his brother Nick focused on making sure they stayed out of trouble, utilizing any way possible.
"We used school and sports to keep us busy and out of the street or getting into everything around us. Our mom instilled those morals not to be easily influenced. Even though we knew what was going on, she trusted us not to contribute to those types of things. Which we didn't."
That's where football came into the picture for the brothers. Football gave them an outlet that kept them out of danger while being able to show off their athletic ability. From early on, they had both shown athletic talent, but it wasn't until later that his brother specifically pushed him to use the game as an avenue.
"It all started back in high school with football," Matiere-Bey said. "I didn't really take it as seriously as I should have, thinking back to it today. I've been playing varsity football since ninth grade, plus my older brother encouraged my cousin and me to play ball. We wouldn't even be playing if it was for him, it was more of a family thing for us."
Marcus Matiere-Bey is the younger brother of current Ferris senior defensive lineman Nick Matiere-Bey. Nick came here four years ago, but injuries kept him out until he tried to come back last year. Due to COVID-19, the season was canceled. 2021 may be the year they get to play together for the first time since Marcus's freshman year of high school.
His brother, though, had more of an influence than just being a teammate. The elder Matiere-Bey pushed Marcus to become the best player he could be. As time went on, it became clear that football may be more than just a game to bond over. The Matiere-Bey's had talent, and colleges were beginning to take notice. Marcus talked about how his brother paved the way for both Marcus and his cousin.
"When he started getting football offers and started seeing more of a way, more doors for us to go through that can help us get out of the city and not just be a typical Flint person, kind of be above average, make something better of ourselves if we take it seriously," Matiere-Bey said.
As Marcus played out his high school career, Ferris became the main focus for the talented player. Many colleges were offering him and his cousin, Deron Irving-Bey, who committed to the University of Michigan and now plays at Central Michigan.
"Then I started getting offers; my cousin started getting offers, we kind of started seeing that bigger picture," Matiere-Bey said. "I got multiple offers, but it came down to Ferris. Ferris was the first school I ever visited. It was the first school my brother took me to, and I saved Ferris for my last official visit. Ferris was the first and last school I ever visited."
Matiere-Bey described the program as a team that welcomed him with open arms.
"Their football program, in general, from the first time I visited to the last time I visited, is still the same. It was a warm welcome from them," Matiere-Bey said. "No one ever tried to steer where I would go. My brother always pushed me to make my own decisions for myself and go in my own direction. When I got to Ferris, everything changed for the better."
It wasn't just his brother that pushed him to be the best that he could be. His mother played a major part in making sure that he would have a solid education to supplement his athletic ability.
"My mom really pushed us to take advantage of our education; she didn't play around with any bad games," Matiere-Bey said. "If we didn't have anything else, we had our brains. We had our head on our shoulders. If we didn't have sports, we'd still have school. That's why I still take school seriously today."
Marcus Matiere-Bey is currently studying business administration, after which he plans to go into real estate. He wants to be able to flip houses and build houses, something that he did a little back in high school with his coach.
"Growing up, we moved around a lot, so I kind of want to just give somebody a home," Matiere-Bey said. "There's no place like home, I always say. So just me giving someone a place to call home is like a blessing for me. It's just something I feel good doing. I'm still going to do this even if I do still play ball after college."
With two seasons of eligibility left in his collegiate career, Marcus Matiere-Bey has a chance to not only have a successful career on the gridiron but one off the gridiron also. That's something not many people in Flint can say. Using sports as an opportunity to get out of a dangerous situation has been a story told many times before, but Marcus Matiere-Bey and his brother Nick have gotten to experience it.