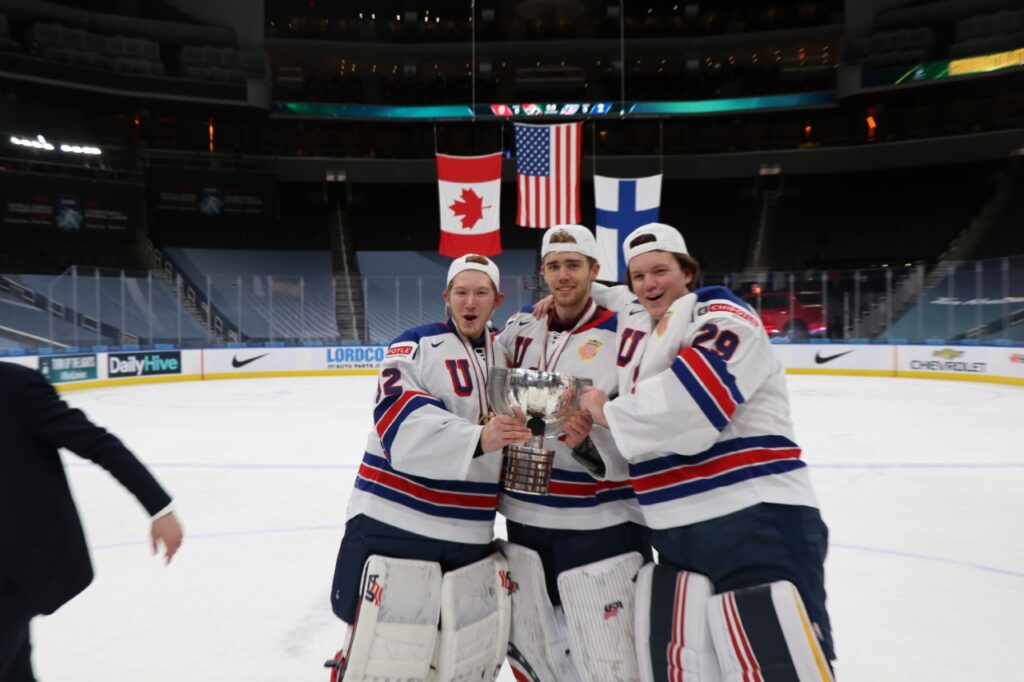 Logan Stein became the first Bulldog hockey player in program history to play in the International Ice Hockey Federation's World Junior Championships.
This was the freshman goaltender's second time representing the United States of America. Previously, he played in the World Junior A Championship in Dawson Creek, British Columbia. This year in the World Junior Championships, Stein and Team USA beat the heavily favored Canadian Team in the Championship game to win the gold medal.
"It's always an honor to represent your country," Stein said. "It's an opportunity of a lifetime. I'd never pass up a chance to wear the red, white and blue."
Stein added that "there's nothing better" than representing the USA. He was also humbled by the opportunity he had to represent Ferris hockey.
"I'm just trying to do my best to contribute to the great history of the Ferris State hockey program," Stein said. "Ferris has a great history of turning out great hockey players and I just hope to be another one of them."
Although Stein was limited to a backup goalie role to Spencer Knight on Team USA, he still felt that he learned a lot and achieved his goal of helping the team win gold.
Ferris hockey coach Bob Daniels praised Stein for being nice, outgoing, and "the kind of person that the school and myself are proud to have represent us." He added that "you couldn't pick a better person" to represent Bulldog hockey at the World Junior Championships.
However, Daniels recognized that Stein still has room to grow as a player.
"Right now, he's still a freshman, and he's finding his way through college hockey," Daniels said. "There's still going to be some bumps in the road because it's a different animal. What he can do is apply his experience to his own game. That in turn will help his teammates. I know for a fact that his teammates were very excited for him and proud of him."
Stein returned from the World Junior Championships to appear in his first game as a Bulldog against Alabama-Huntsville Friday, Jan. 8. Ferris lost that contest 5 – 4 while Stein recorded 40 saves and let in five goals. Stein started again the next night against Alabama-Huntsville as well, recording 16 saves and allowing two goals in a 2 – 0 Bulldog loss.
Ferris was 0 – 6 when Stein returned to the lineup and fell to 0 – 8 in the freshman's first two games with the team. However, Stein hopes to be a centerpiece for the success of the Bulldogs going forward.
"I'm the youngest player on the team, but I feel like I provide a lot of experience for this team," Stein said. "When it comes to playing in big games and moments, I feel that I am very valuable to this team in that area. I hope to be seen as a rock and a backbone for this team for the next three or four years. I want to help this team win championships. We're extremely young right now, but I believe we're bound to win a championship in the next few years."
For Stein, he learned that composure is key to the success of a goalie. He hopes to stay calm under pressure and in big moments so his teammates can rely upon him in the goal.
Stein views himself as the number one goalie, and Daniels expects the freshman to challenge junior goaltender Roni Salmenkangas for that job.
Stein hopes to take what he learned from his time representing his country and apply it to his time at Ferris, win games and a championship, and someday make it to the NHL. The freshman has high aspirations, but he is confident in his ability to achieve them.