In universities across the nation, Black students take part in Black Greek Letter Organizations. These organizations provide opportunities for networking, character development and community growth.
Omega Psi Phi is an active Black fraternity at Ferris. Omega, founded on Nov. 17, 1911, is an organization that strives to foster its members through its cardinal principles of manhood, scholarship, perseverance and uplift. According to their official website, "Omega continues to flourish, largely because founders — Cooper, Coleman, Love and Just — were men of the highest ideals and intellect. The founders selected and attracted men of similar ideals and characteristics. It is not an accident that many of America's great Black men are or were Omega Men."
"I know I want to be a strong Black leader in the world, and this is something that a lot of the Black leaders have done before me," biology senior and president of the Black Greek Council Greg Leatherwood said.
A motto of Omega Psi Phi is "lifting as we climb." This phrase is deeply rooted in the African American community, the National Association of Colored Women's Clubs (NACWC) being another group that has spotlighted this phrase.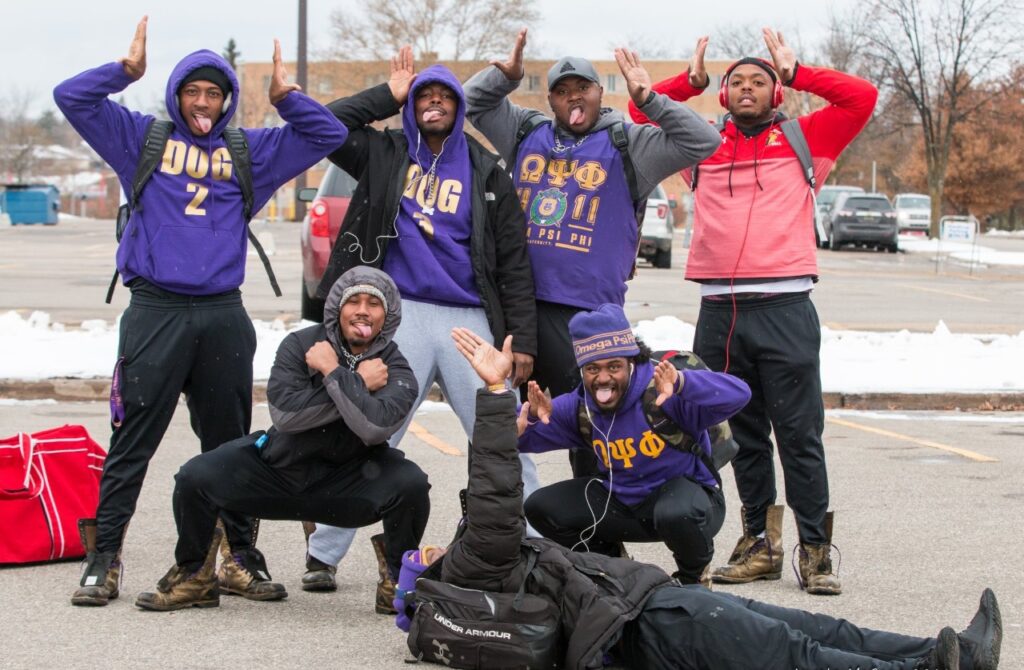 "One of our other mottos is lifting as we climb, right? We're a brotherhood that prides ourselves on pulling each other up as we're all coming up together, not getting to the top and then turning around and grabbing a brother to pull them up with you," Leatherwood said. "No, we lift as we climb, and it's really no brother left behind."
Omega Psi Phi implements numerous internationally mandated programs. These range from social action and health initiatives to scholarships and talent hunt programs. Achievement week is an important part of the Omega Psi Phi experience at Ferris.
"Here at Ferris, we do something called achievement week, which COVID-19 kind of ruined this semester. But usually we take a week, and we put on a week full of events for the campus to come together and network together. Specifically for the Black community, but everybody's always welcome," said Leatherwood. "We do one per semester, so hopefully COVID willing, we'll get back to that next semester."
While there are many who see BGLOs as influential organizations that enhance the college experience, there are others who argue that these groups are detrimental to the Black community. Ali D. Chambers, an assistant professor of African American Studies at Claflin University, identifies with the latter.
Chambers is an adamant critic of BGLOs and has written multiple opinion pieces on this subject. In an article published in Newsweek, Chambers wrote, "Consequently, it is the conformity to Western values and social norms that has created the controversy surrounding the initial purpose of the BGLO. Between 1906 and 1920, eight of the most prominent BGLOs were established. Many scholars have questioned whether these organizations were created in the hopes of unifying the Black community against the harmful effects of racial prejudice or whether they were formed by young African American students in order to gain acceptance into American society by emulating the white organizations of the period."
In his arguments, he often references the "be like us" theory of equality. This theory suggests that Black people would become equal to white people when they successfully emulated them.
The members of Omega Psi Phi had a different take on the matter. Marketing graduate Marvin Campbell touched on how Omega Psi Phi and other BGLOs make themselves unique.
"Particularly, you know, we would do things in the community like helping others out, maybe going throughout the community raking leaves from different people's houses, or we host different things like a voter's registration," Campbell said.
Leatherwood chimed in saying the BLGO enhanced the college experience.
"I wouldn't say that it unifies us or puts us in a white world or white culture because essentially everything we do is for black people. For those people who believe that we might feel like we're mentally superior or whatnot, I mean that's simply not true we just have a lot of pride in our Greek-letter organizations. All I can say is that I feel bad for people who think like that, because no man or woman of a Black Greek Letter Organization, especially Omega Psi Phi, feels as though we're trying to do something else besides help the Black community."
Another thing that sets Omega Psi Phi and other BGLOs apart from other Greek organizations is the events they put on. Every year, the Ferris Black Greek Council puts on a Marchdown in the fall and a step show in the spring. These events set a good impression in front of the student body and pay homage to African American history.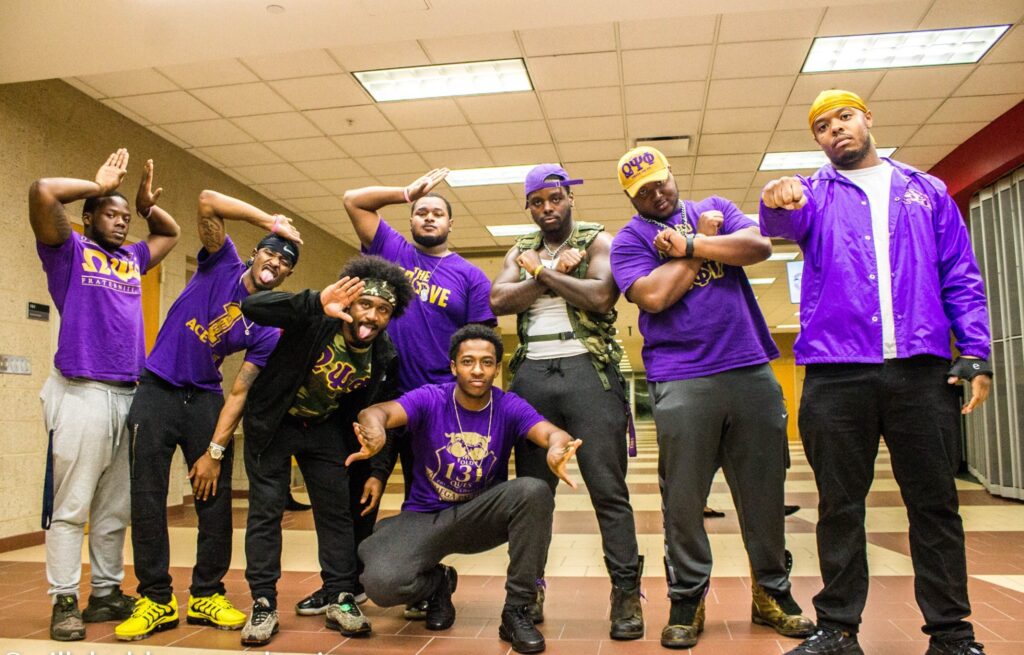 "These events are extremely important because of history and tradition. When Divine Nine and other Black Greek Letter Organizations move in unison, it is the product of the evolution of synchronized line dancing. History is very important to the African American community, and line dancing was a way for slaves to communicate and express themselves many years ago. It is something that has been apart of our culture since the start of our Greek letter organizations in 1906," Leatherwood said.
A chapter is a smaller, local group that is a part of a larger organization. Each individual chapter and its members will have a different experience based on the university they're located at. With Ferris being in a smaller town, this chapter's experience is unique.
"I think it could be a lot better. We haven't really experienced anything like any major discrimination. People at Ferris, the faculty and staff are pretty fair to us. I don't feel like we've been attacked or pointed out in any negative way. Sometimes it's a little unfortunate we can't do different events or host different people because of funds and financial purposes," Leatherwood said.
2020 was a difficult year for the Black community. With the constant reportage and firsthand experiences of racial injustice and public outrage, Leatherwood felt that Ferris hasn't done or said enough to put their students at ease.
"Essentially I never expect a lot of white people in power to have pity for anything that's going on with the Black community, because a lot of white people in power simply don't understand and simply don't want to understand. So it's not a shocker to me that they didn't come and say anything. Would I have liked them to? It would have been nice, but I'm not begging for anybody's pity. I'm not begging for anybody's sympathy," Leatherwood said.
BGLOs seek to accomplish many things, but helping others and maintaining a positive impact in their community is one of the most important goals that members do not take lightly.
"Helping others is a big part of what we do. The brotherhood is tremendous, but when you talk about the history, I think one of the greatest things in our fraternity is that the teachings don't change. As the world evolves, technology evolves, things get better, the times get better from all the way back to 1911, but the teachings don't change," Leatherwood said. "Every man of Omega will always have humility with dignity and humbleness with pride."
BGLOs have existed on college campuses across the nation for over 100 years. They strive to nurture and uplift not only their members but their communities as well.