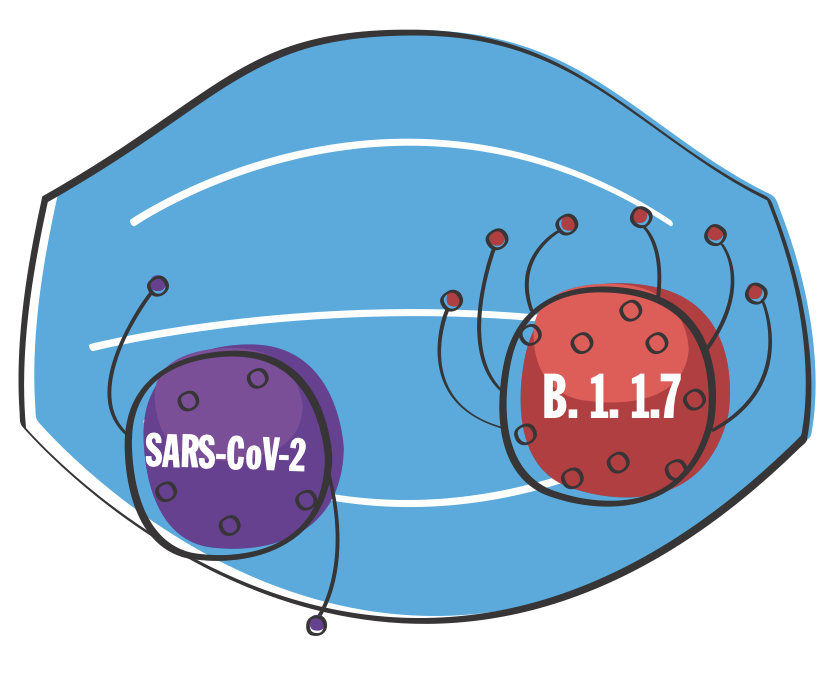 Last month a new COVID-19 strain was identified in England, causing concern across the globe.
Considering the new viral developments, Ferris health and science faculty provide insight into the process of viral mutation as well as advice for students and the general public for staying safe.
Michael Reger is an associate professor of public health as well as the coordinator for the Master of Public Health program at Ferris.
"There are actually a few new virus strains; however, they all seem to share one thing in common and that is that they appear to be more contagious than previous strains. Although they do appear to spread more easily in the population they do not seem to be more severe than previous strains in terms of hospitalizations and deaths," Reger said.
Dr. Jadhav, another associate professor of public health, explained that in addition to the discovery of the U.K. COVID-19 strain last month there have also been discoveries of viral mutations in South Africa, Nigeria and the United States.
Michigan's first case of the COVID-19 variant was confirmed in Washentaw County on Jan. 16. According to the Michigan Department of Health and Human Services, the woman had recently traveled to the United Kingdom. The MDHHS labeled the new variant B.1.1.7. and stated in a press release that it "is believed to be more contagious, but there has been no indication that it affects the clinical outcomes or disease severity compared to the SARS-CoV-2 virus that has been circulating across the United States for months."
Mary Beaudry is an assistant professor at the Ferris School of Nursing. She also works part-time at Spectrum hospital.
"Viruses, to stay alive, have to mutate and they are super tricky. They tend to jump around and mutate. They don't want to become so lethal that they kill everybody; that means they die," Beaudry said.
Due to the mutating nature of viruses there have been concerns regarding the effectiveness of the recent vaccines, which are in now in the process of being distributted, on new viral strains.
"It remains to be seen if these new strains will be resistant to the COVID vaccine itself. The vaccine is developed differently than that of the flu vaccine, so in theory, it may cover new strains as well as the older strains to produce immunity," Reger said.
Michael Klepser is a pharmacy professor at Ferris who specializes in infectious diseases and point of care diagnostics. He has been at the forefront of COVID-19 testing and precautions on campus since the pandemic began.
"As of right now they've looked at these strains and some of the antibodies that have been generated from the vaccines and it appears that the vaccines still work," Klepser said.
Klepser further explained that scientists were not shocked by the viral mutations. In fact, they expected them.
"It's relatively naive to think that this virus will not change. We need to know where those variants are and what they mean. Whether it's an increased transmit ability or eventually it means that we need a new vaccine," Klepser said.
There is talk that, with the constant viral mutations, a yearly COVID-19 vaccine will be needed.
"The most recent data that I have found says that if you got the COVID infection you probably have immunity for about five months," Klepser said. "If you get the vaccines, they look like the immunity will last for at least a year. There is probably going to be a need for an annual vaccine."
Each professor explained that the new variations should not be cause for people to worry. However, the public needs to stay educated and take the pandemic, mask-wearing and social distancing guidelines seriously.
"Students should continue to be educated about the virus and what needs to be done to be safe for themselves and people around them," Jadhav said.
Beaudry has cared for many COVID-19 patients at the hospitals and she contracted the virus this fall. She's seen first-hand the devastating effects of this virus and encourages everyone to keep taking this seriously.
"We cannot let our guard down. I think people get lulled into a false sense of security, saying either, 'I had it, I'm all good,' or, 'I got the vaccine and I'm all good.' You're not until we can get enough people vaccinated," Beaudry said.