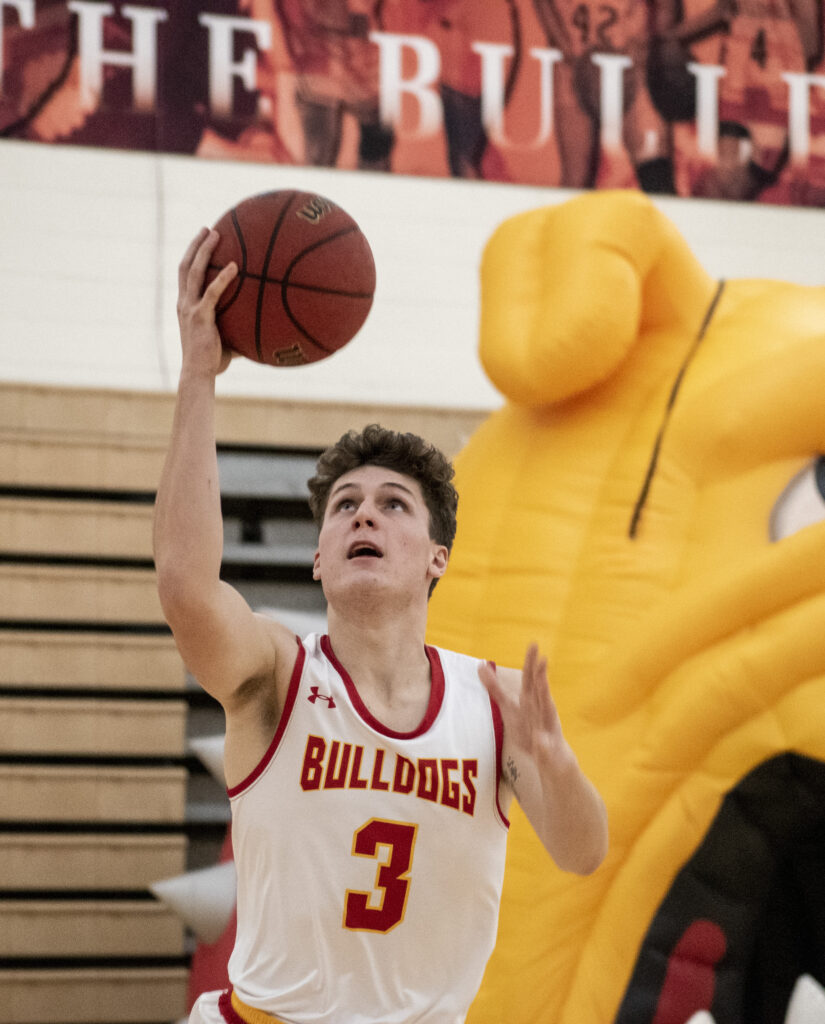 The Bulldogs ended the weekend on top with a strong defensive showing Saturday against the Wildcats of Northern Michigan.
The men's basketball team was looking to save the weekend after a 67-59 loss on Friday and came out stout on defense, allowing Northern Michigan to score only 45 points in their 67-45 victory. The Bulldogs are now 4-5 on the season and sit tied for second in the GLIAC North Division.
Head coach Andy Bronkema was happy with the performance after the previous day's defeat.
"We played better defense like we wanted to, we created better shots," Bronkema said. "What a turnaround. Mike (Peterson) got on the glass for us, but it was nice to do it when Mike even had a subpar game offensively. I didn't even know we had that. I thought we had to have Walt and Mike firing to be in there. That's a big step for us."
Multiple players stepped up throughout the game, with Walt Kelser leading the scoring with 15 points, well below his 22 points per game average on the season. It was the first win this season that did not see Kelser score more than his game average. Bronkema was happy that they didn't need Kelser to score as much and still pull off the win.
"That's the bare minimum for him, it's nice to win when he has the bare minimum because he's going to have those big games too," Bronkema said. "We're trying to find that balance where he doesn't have to have 30
to win, but he can have 30. It's a work in progress but we know that's what is going to make us the best in the end, to try to do that. We'll develop that flow with Walt, give it up and get it back, he's willing to do it, that's what I love about him, he's a star but he's willing to do it."
True freshman wing Jimmy Scholler earned his third start of the year, scoring 4 points but leading the team in assists with 4.
The second half saw Ferris States big men take over, with Mason Pline nearly scoring a double-double with 10 points and 9 rebounds. Sophomore center Vejas Grazulis also scored 9 points, most of which coming in the second half.
Defensively, the Bulldogs played with much more intensity, holding the Wildcats to only 19 second-half points. Northern Michigan shot 28% from the field in the second half, while the Bulldogs shot 55%.
"I think they worked really hard at it," Bronkema said. "Some of the shots that went in the day before did not go in for them, and that is a part of it too. You give them credit when they deserve it and give our guys credit when we deserve it. We really played good defense for the first time all year for close to 40 minutes."
Next up for the Bulldogs will be Lake Superior State at home on Tuesday evening, Jan. 26. Lake Superior State is 2-4 with wins against Wayne State and Purdue-Northwest, but are coming off a pair of weekend losses at home to Michigan Tech.
Next weekend the Bulldogs will be traveling to Michigan Tech, which sits at 5-1 atop the GLIAC North Division rankings.