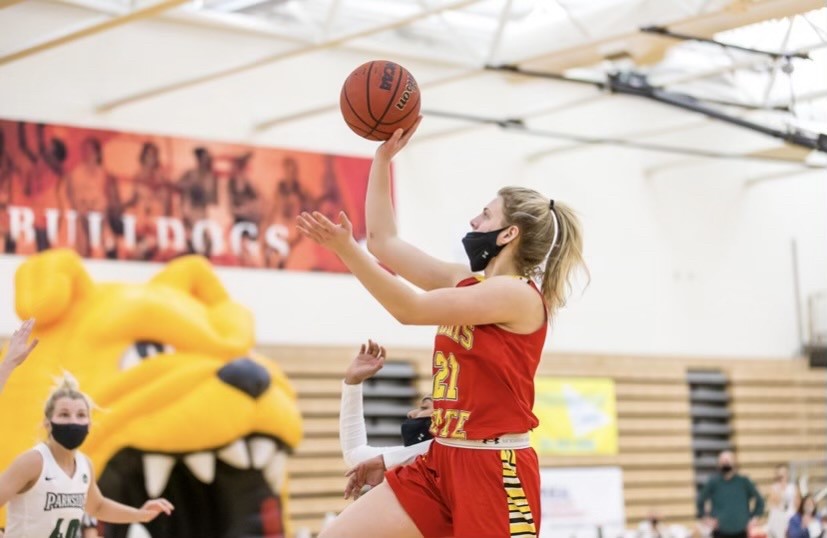 Few athletes have been able to find the levels of success that Kadyn Blanchard has had in both her high school career and to start her tenure here at Ferris.
Blanchard, a freshman guard for the women's basketball team, has had an illustrious career. In high school, Blanchard was a state final winner and was ranked top 35 in the state. Like many young women athletes, Blanchard grew up with a dream to play basketball at the next level, and this dream came true for her. From playing in a state championship her junior year, a quarterfinal game and a regional final match-up, Blanchard has been able to find success throughout her basketball career.
Now, Blanchard has another four years to show what she has while she plays the game she loves, Blanchard also gets to grow with the Bulldogs as a family. She is humbled to be a Bulldog and said she has so much to appreciate.
"One of the main reasons I chose Ferris is because of the family atmosphere of the team and community," Blanchard said. "All the girls and staff made me feel like I belonged here and was a part of their family, and now that I am here it is still the same; we are all one family."
Blanchard was offered a Division I scholarship at Niagara but turned it down to come to Ferris. Ultimately, the family first culture got Blanchard placed in Bulldog nation. With the ability to be an all-around player who displays toughness and isn't afraid to grind out tough plays, Blanchard lives by the motto "get better every day."
Recently Blanchard was named the GLIAC Player of the Week as she averaged 32 points, seven and a half rebounds, six assists and two steals in two games when the Bulldogs split against Parkside. Blanchard said it was awesome to have earned this accomplishment but knows she has aspects of her game to improve on. Ferris sophomore guard Mallory McCartney said that Blanchard and herself play really well together. To play with someone like Blanchard is amazing, and it means everything to McCartney to have her join the Bulldog family.
"She's a great teammate and already becoming a great leader so early. I'm excited for the next few years with her," McCartney said. "It is so exciting seeing Kadyn finding her groove so fast and honestly scary for teams in the GLIAC to try and guard her for the next 4 years. This is only the beginning for her. I am beyond excited to watch her continue to be a defense's worst nightmare; I am her biggest fan."
As the Bulldogs are only a few games into the season with a few missing players due to injuries, those injured players have taken Blanchard to new levels to help improve her game. The team entirely has made Blanchard feel a part of their family by encouraging her while being demanding when needed. Blanchard said she has really been helped with defense and seeing things that she does not necessarily notice on the court when she is in the moment.
"We are only a few games in so far, so people are still getting used to and improving in their roles, but everyone is starting to gel together quite nicely," Blanchard said. "We all respect our roles and help others in theirs."
Basketball is not the only hobby Blanchard cares about, as she has her own dirt bike with lots of other toys at her father's house in Freeland. She and her family have fun as they ride around in the woods and throughout her hometown.
Blanchards biggest goal is to open her own chiropractic practice in Michigan someday. After her four years of playing basketball, she plans to attend a chiropractic school for three and a half years to get her Doctor of Chiropractic.
"I really just love being around good people who can make you laugh," Blanchard said. "I am proud to be a Bulldog."
Kadyn Blanchard and the rest of the women's basketball team will be back in action at home on Jan. 29 against Michigan Tech at 4 p.m.