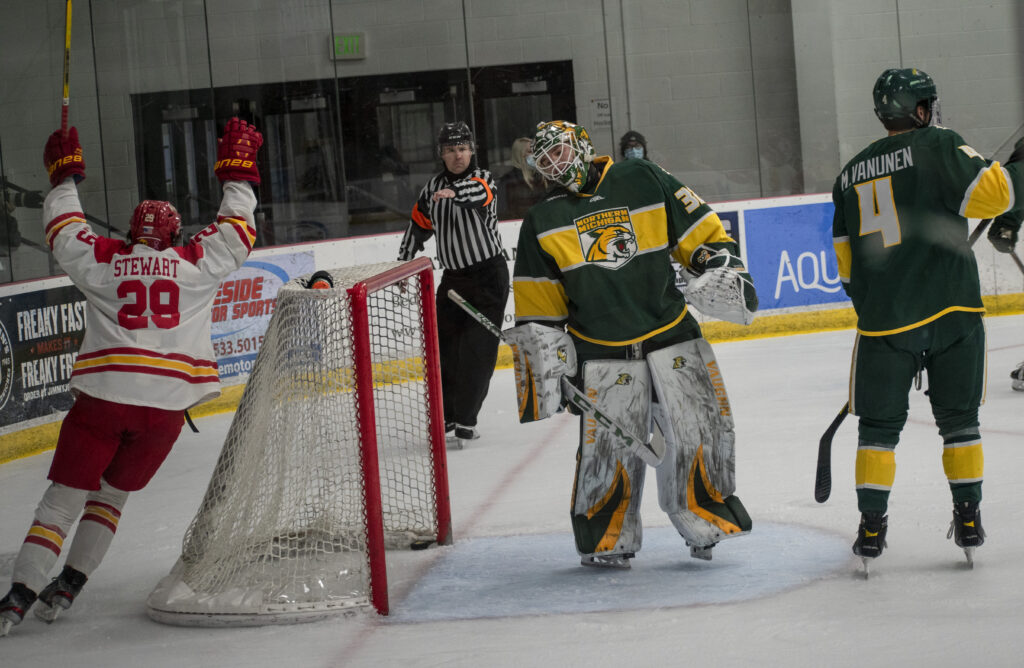 Ethan Stewart has provided consistent play on the ice for Ferris hockey to start this season and has been a leader for his teammates off the ice as well.
The junior Stewart has played an important role on both ends of the ice to start this season for the Bulldogs. Through their first nine games of the season, Stewart has a team-leading five goals to go with three assists. The forward credited his teammates and coaches for his offensive success.
"The coaches have put together good game plans for us, and the team has been working really hard," Stewart said. "I've had some good bounces and been trying to get to the right areas and my teammates have gotten me the puck in the right spots."
Head coach Bob Daniels recognized Stewart's hot start offensively, but also acknowledged that Stewart's play on the defensive end of the ice has been equally important. Daniels believes that nothing will slow the junior forward down.
"There's nothing in my mind that says he won't keep it going," Daniels said. "Even if he goes through a little drought offensively, he's still going to add a lot to the team because of his stellar defensive ability."
Stewart's start to this season is impressive, but it comes as a bit of a surprise to Daniels considering the injury Stewart suffered last year.
"When you consider the fact that he missed most of last season with a broken leg, for him to come in have the start to the year that he's had is really been a shot in the arm," Daniels said. "He's a hard worker and we knew he'd be in great shape to start the season, but I never could've expected him to have the start he's had."
Perhaps even more important than his start to the season is Stewart's role as an upper classmen leader for this very young Bulldog team. Ferris has 20 freshmen and sophomores on their roster compared to just nine juniors and seniors. A young team needs veteran leaders like Stewart to look up to.
"As an older guy who's been here for two years, I know what the coaching staff expects as far as work ethic and strategy," Stewart said. "If the younger guys have any questions about game plans or what the coaches expect from them, I can help answer them. I have to be there and set the example for them by doing the right things on and off the ice and answer any questions they have to help them develop as players."
Daniels credited Stewart for his leadership role on the ice, but also complimented Stewart's ability to lead by example off the ice.
"He is a very mature person that guides the freshman in the right direction," Daniels said. "He's also a great student, and that'll help show the importance of putting the time into your studies. Maybe the most important thing he does is show the young guys how hard you have to work to be successful. If the young guys watch how he goes about his business, they can pick up a lot of good habits."
Stewart acknowledged that before the season he did not expect to be the leader. He feels that he grew into his role as a leader and understands the importance of leading by example.
COVID-19 makes this season much different from past seasons because of the potential for schedule disruptions. Daniels stressed the importance of taking advantage of any practice time his team gets. He said upperclassmen like Stewart have done an "outstanding job" in helping the team to value practice time.
Stewart understands that his role as a leader on and off the ice will be imperative to the success of his team for the remainder of the season, and he plans to do everything he can to continue being that leader for his team.