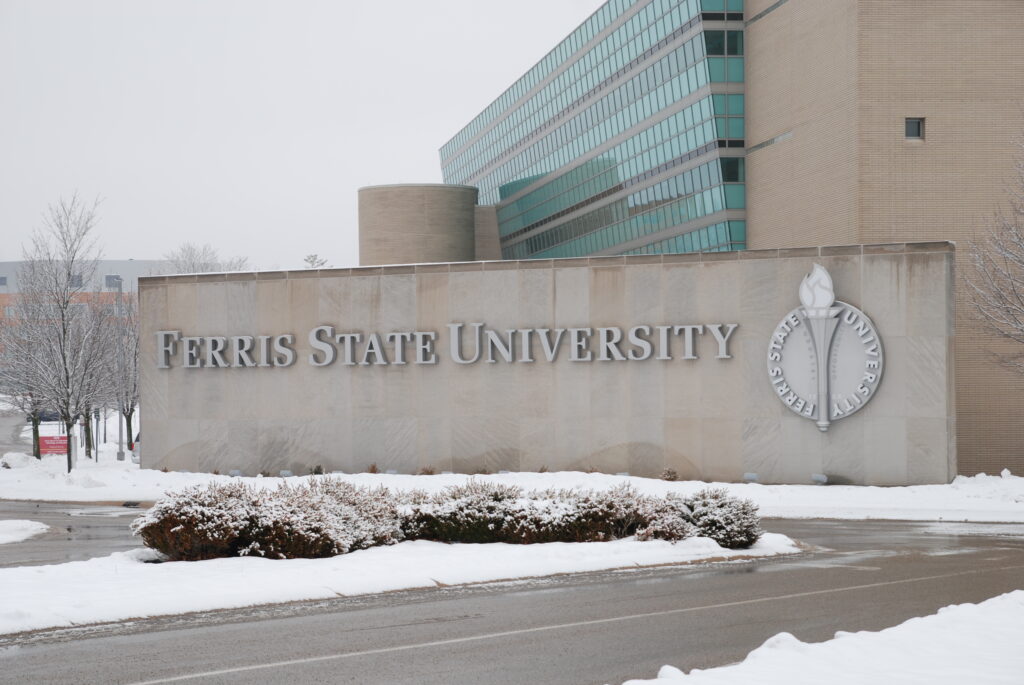 On Tuesday, Jan. 19, 2021, students joined Ferris staff members and Neumann/Smith architecture employees to discuss future campus projects to further develop the university.
The state requires all colleges and universities to submit a five-year capital layout budget and an update of their master plan. A master plan lays out different projects the university would like to accomplish over the course of a few years. It acts as a guide for future growth and development processes for the campus and local community based on their highest priorities and needs.
Projects include constructing new buildings on campus, renovating current buildings, vehicular circulation, parking, campus branding and more. The College of Optometry, the Timme Center for Student Services and the Swan building are a few building outcomes from previous master plans in the last 20 years.
Physical plant associate vice president Mike Hughes has worked at Ferris for the last 34 years and has been involved in all the master plan processes during that time frame.
"It's kind of like a funnel," Hughes said. "You start out really wide and get a lot of input. At some point, you have to narrow it down as you go through the funnel. And ultimately, there are decisions made administratively on what winds up in the plan … So it really gives you a way to prioritize what the needs of the campus are based on your financial resources and take advantage of opportunities that come along."
During the update meeting, Neumann/Smith architecture associate Bert Koseck asked the students what types of changes they would like to see made. A few students gave recommendations.
"Making Ferris a more immersive college experience will be taking the step to connect with the community," marketing senior Amber Eckel said. "I hope to see more and brighter lights between campus and downtown Big Rapids, a reliable Uber or Lyft service and Ferris State advertising Big Rapids Events or sharing new businesses downtown."
Eckel mentioned that adding more lights between campus and the downtown area will help the two areas build a better communal relationship in a safer way. She hoped this would attract more students to hang out downtown often.
Although Hughes will be retiring from his position this June, he would like to see the university take advantage of areas by the Muskegon River to encourage more student involvement in the unique local environment and community.
Hospitality and event management and digital marketing junior Emma Franklin also attended this meeting. Franklin appreciated the opportunity to offer input as a student. She added that the master plan also affected every student at the university.
"The Master Plan impacts my experience as a Ferris student and future alumni greatly," Franklin said. "The improvements to our campus give me pride in the school and it also updates me on what is going to be offered in my future. The master plan gives me hope for new opportunities at Ferris and keeps me excited to continue being a bulldog. The plans that they choose to implement impact my day-to-day life as long as I am attending Ferris, so it is important that the changes are not only relevant, but positive as well."
Not only will these master plans affect current students but also the students of future generations to attend FSU.
Franklin said that current issues will be fixed and improved to create a better experience for students to come. This will help the university modernize as much as possible.
Eckel said that the university's growth will drive the students' "idea of reinvesting into Big Rapids." Alumni will visit one day and see how the community has grown since they left.
"As a Senior at FSU, I hope the master plan will continue to expand the possibilities for all Bulldogs," Eckel said. "I want to come back to Ferris in ten years and see all the wonderful updates they've made to accommodate the students and the standing classics around campus."
This strategic plan revolves around FSU's mission, vision statement and core values. Overall, the university wants to consistently evolve into a more stimulating and successful learning environment for students.
The whole process takes about 27 weeks total from receiving initial input to the final master plan document. Over 30 groups of stakeholders will meet to give input on the plan.