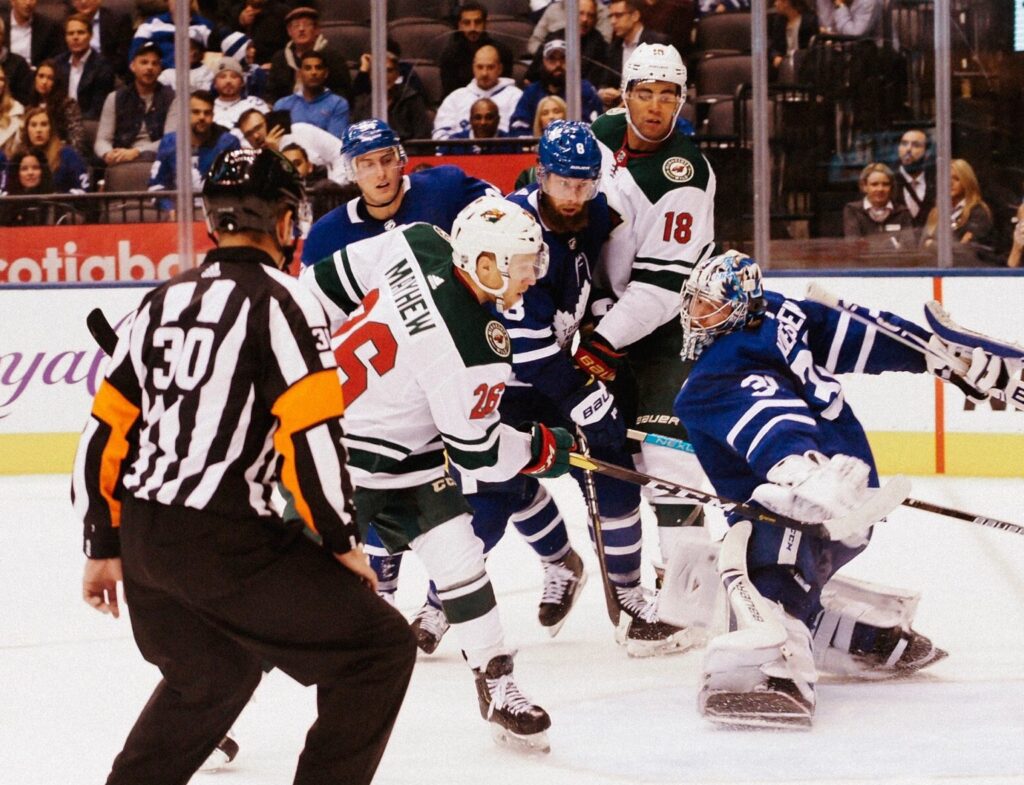 Since his time as a Bulldog from 2013-2017, the legendary nickname "Gerry Time" has followed NHL player, Gerald Mayhew, everywhere he's gone.
"I thought it would leave after I left Ferris State," Mayhew said. "I do not know why it stuck. Some guys still call me it daily. I hope it stays with me the rest of my life."
But where did this nickname come from? It began in 2014 after Mayhew, as a freshman, scored a game-winning overtime goal to send the Bulldogs to the WCHA Final Five Championship game. In a social media post following the game, former team beat writer, Harrison Watt, brought the nickname to life.
"I only had a second to think," Watt said via email. "I knew the guys called him Gerry and I felt like it was no longer overtime, it was his time. #Gerrytime was born in that tweet."
The former bulldog winger is now in his second season in the big leagues with the Minnesota Wild. He previously spent nearly four seasons with the American Hockey League's Iowa Wild after going undrafted. In his last season in Iowa, Mayhew earned the prestigious honor of winning the Les Cunningham Award as the league's most valuable player in 2019.
"Gerry had this enormous chip on his shoulder," Watt said on Mayhew's play. "He played like he was playing for his life, like he had to prove to everyone that he was great."
It was then on May 10, 2019, Mayhew was told to pack his bags at an unexpected time.
"I was at the bar after the game with teammates getting something to eat and having some beers." Mayhew said. "Then I got the call. I had to go to the rink and get my stuff. I was overwhelmed. It meant a lot to me."
He then joined his new team and began learning his new role with Minnesota.
"It was one of the hardest things I have ever had to do." Mayhew said. "You go from playing 25 minutes a night in the American (Hockey) League and come up to the NHL and play maybe six to seven minutes some nights. I just try to make the most of every shift."
As the time ran down in an early-season defeat against Toronto, Mayhew was delivered his chance to play in his first NHL contest. He certainly delivered, scoring a rebound goal to complete a dream-like experience.
"I couldn't really celebrate since we were down, so I acted like I had done it before. Deep down, I was ecstatic."
In this unorthodox new season, Mayhew and the Wild are still getting used to the changes with COVID-19.
"I had COVID, so I don't have to be tested every morning like other players due to protocol. (Since) we were in the bubble for playoffs, some of those guys had an intro to it."
While there are many changes off the ice, there are noticeable differences on the ice as well.
"There are no fans in the stands, which (was) a momentum builder. Since everyone is locked into the game, no one really notices it. The NHL has done a pretty good job of trying to make fake crowd noise and keep it the way it was. I think everybody has done a good job adjusting to it."
Mayhew and the Wild will face off on Feb. 4 against the divisional rival Colorado Avalanche.