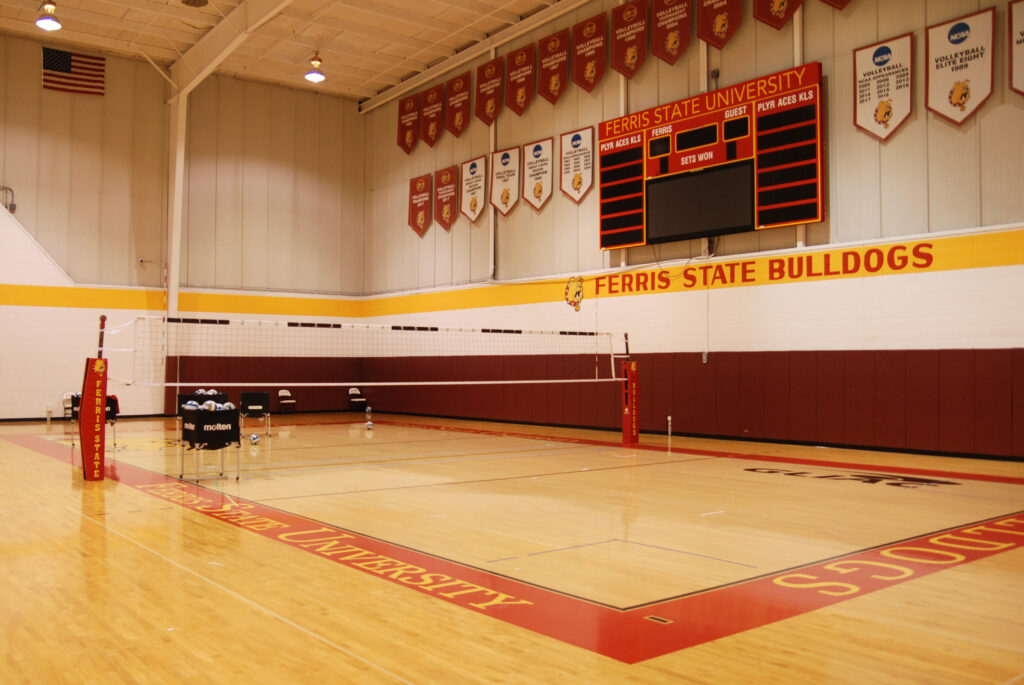 Maintaining the elite standard of Bulldog volleyball established by the program in recent seasons will not be easy, but the team is ready for the challenge.
The Bulldogs are coming off a 25-6 record from last season and have won six consecutive GLIAC regular seasons and tournament championships. They have also appeared in nine consecutive NCAA tournaments. Junior setter Julia Mitchell understands what it takes to continue the success of Bulldog volleyball.
"Bulldog volleyball is so much more than just volleyball," Mitchell said. "It's being completely devoted to the team and what we stand for, continuing the legacy of the players before us and respecting the game by leaving Bulldog volleyball in an even better place than the one we received it as."
As a veteran player, Mitchell knows that she cannot expect her team to be good simply because they have been good in the past. However, she believes her team can continue the success of previous Bulldog teams by trusting the process and rising to the challenge. Part of that is using her experience as a player to help the underclassmen.
"It's been tough because we've had six freshmen come in and they didn't really get a taste of what it's like to be a college athlete because of COVID," Mitchell said. "I'm doing my best to get them prepared for whenever the real world starts again so that we're ready to kick butt."
Ferris was ranked 17 by the 2021 American Volleyball Coaches Association Division II Coaches Top 25 Spring Preseason Poll. Not only did the Bulldogs earn recognition as a Top 25 team, but they were also the only school from the GLIAC to earn that honor.
Despite the ranking, Mitchell understands that her team still must prove that they deserve that ranking by playing strong volleyball when they first take the court Feb. 19 against Northern Michigan University.
"Being ranked is sweet, but at the end of the day, if we don't come out in our first games and show what we've been working on then the rankings don't mean anything," Mitchell said. "It's sweet, but now we have to prove it."
Offseason work was especially important this year because of COVID-19. Mitchell said most of their team meetings were virtual and focused on team chemistry rather than volleyball. She feels building that chemistry allowed her team to be "at a more advanced level" when they first took the court together this year.
A large part of building chemistry included integrating new assistant coach Hannah Wuest into the program. Wuest believes her time as an assistant coach at the University of Indianapolis and playing experience at Elmhurst College helped prepare her for her role with the Bulldogs.
"As an assistant coach, you have to have relationships with the players," Wuest said. "The most important thing about my college career was that it allows me to relate to the players. I know about the early mornings, the lifting, the practices and playing through injuries. There's a lot of connection and ways we can build trust to make a successful program."
Mitchell echoed similar thoughts about her new assistant coach.
"She brings a lot of new experience because she was a college athlete and she's been in our shoes," Mitchell said. "It's really nice being coached by someone who's been there and done that. She says things in a way that resonates with us. That is a really, really good thing for us. She's a confident coach and I think that's what we needed, especially during this crazy time."
Wuest's time so far at Ferris has been "amazing" and she looks forward to seeing what the team can do in a shortened fourteen game spring season and GLIAC tournament before picking back up in the fall. Through everything, her goal is to be consistent.
"I want to come into practice with the same mindset and just control what I can control," Wuest said. "We might have to miss a few games or have someone test positive for COVID. There's so many variables and our lineup could constantly change, so I want to be that one constant person in their lives who can put them in the right positions to succeed."
Dominant play on the court has become the norm for Ferris volleyball, and Mitchell and Wuest believe the team has what it takes to continue that dominance into this season.