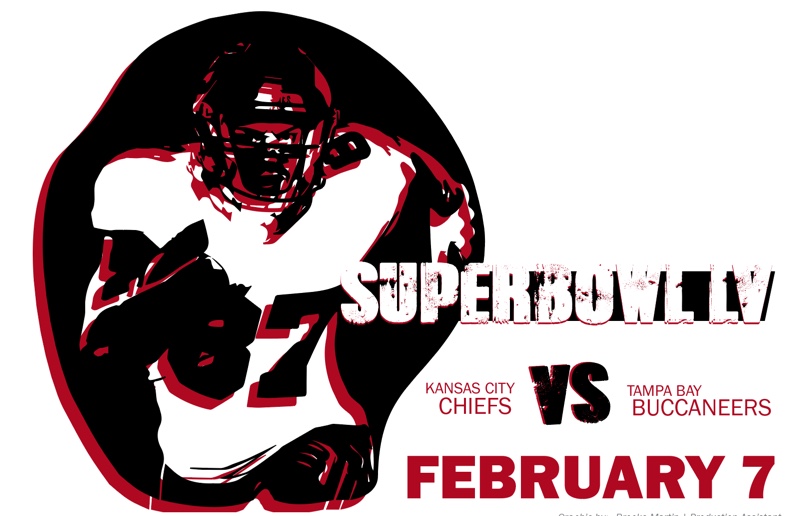 For the first time in the NFL's history, the Tampa Bay Buccaneers will host the Kansas City Chiefs in Super Bowl 55 inside Raymond James Stadium.
This Super Bowl will have multiple historical happenings even before kickoff. While both teams squared off in the regular season back in week 12, when the Chiefs beat the Buccaneers 27 – 24 at their home stadium, the game was still a hard-fought close contest. Now that they will face off again in Tampa, both teams understand their opponents and are ready to compete at a shot for glory.
The Chiefs won Super Bowl 54 and look to become the eighth team to repeat as champions. However, on the other side of the ball, this will be only the second time that the Buccaneers will play in the Super bowl. The first time was in 2002 when they beat the Oakland Raiders. Kansas City will make their fourth Super Bowl appearance as they look for their third win.
While the Buccaneers make their second appearance in the big game their quarterback is not shy from the spotlight. This will be Tom Brady's 10th Super Bowl appearance, which is an NFL record. Brady made his first nine Super Bowl appearances with the New England Patriots.
When talking about Tom Brady in the Super Bowl you cannot leave out Brady's six Super Bowl rings. If his team wins Sunday Brady will become the first player ever to win seven NFL championships. Three other NFL players have won a combined six championships: Fuzzy Thurston, Forrest Gregg and Herb Adderley.
Kansas City's side of records will include their star quarterback Patrick Mahomes. He will be looking to become the youngest quarterback in NFL history to win multiple Super Bowls at the age of 25. Age may be just a number to both quarterbacks, but to Brady, father time will not slow him down. At age 43 this will be Brady's third Super Bowl since he turned 40 and no other quarterback has ever made the big game in their 40s.
This matchup between the two quarterbacks, Mahomes and Brady, will mark the first time the previous two winning Super Bowl quarterbacks will face each other, as both quarterbacks look to add another most valuable player to their resumes so will their head coaches.
Andy Reid, the head coach for Kansas City, and Bruce Arians, who coaches Tampa, have only coached two games against one another. In those two games each coach has a win over the other and both were decided by three points.
Kansas City's path to Super Bowl LV started by the team winning a franchise record of 14 games in the regular season and then they beat the Browns and Bills in the playoffs to advance. Tampa Bay however made it to the Super Bowl after they went 11-5 in the regular season, while they took on Washington, the Saints and the Packers in the playoffs. Both teams met in the regular season prior to their match up on Sunday.
Each team will look for their offenses to be the focus of their games as this is the heart and soul of both teams. Arians and Reid are both pass oriented coaches with each team having solid options at star quarterbacks. Mahomes and Brady both ranked in the top five of the leagues in passing yards and touchdowns this season. Brady threw for 4,633 yards (third) and 40 TDs (second), while Mahomes threw for 4,740 yards (second) and 38 TDs (fourth). Both quarterbacks also rank in the top three in passing yards per game as Brady averages 289.6 and Mahomes averages 316.
The two teams will look for their star play makers that have shined all year to get them to the Super Bowl. The Chiefs will look for wide receiver Tyreek Hill and tight end Travis Kelce. The Chiefs pass catchers will also have Mecole Hardman to help catch passes but will lean more on Hill and Kelce.
While Kansas City confines itself to less play makers than Tampa Bay, the Buccaneers will look to make use of all their options. The Buccaneers will spread the ball more evenly throughout wide receivers Mike Evans, Chris Godwin, Antonio Brown, Scotty Miller and tight end Rob Gronkowski. Miller might be the biggest secret weapon in the Super Bowl, as he has been one of Brady's top deep-play targets with an average of 15.2 yards per catch. The running game for both teams will be there but the emphasis will be on passing.
Unfortunately, the defensive side of things is not going to be a huge decision maker in the winner of this game. Both defenses have been vulnerable but have areas that will help their respective teams. Kansas City will have major interior presence in Chris Jones and the backfield Tyrann Mathieu will roam around. Tampa Bay has an effective pass rush behind Jason Pierre-Paul and Shaquil Barrett as well as rookie safety in Antoine Winfield Jr.
The Chiefs defense will be intriguing to watch as their defensive coordinator for Kansas City, Steve Spagnuolo, has schemed against Tom Brady. Spagnuolo helped the New York Giants upset the Patriots perfect season in the Super Bowl back in 2007. However, with so many weapons and players to scheme around in Tampa it will be a heavier task. Super Bowl LV will mark the second straight championship in which both teams primarily wear red as their main uniform colors. This might make it difficult for viewers to distinguish who is who.
The Super Bowl will still host fans. There will be 22,000 fans in total. 7,500 of them will be vaccinated health care workers who have received free tickets from the league. Sarah Thomas will become the first woman to officiate in a Super Bowl this year apart of Carl Cheffers crew.
The Super Bowl LV halftime show will be headlined by three-time Grammy award winner The Weekend. Miley Cyrus will perform as the headliner to the NFL's TikTok tailgate party, which is new this year. R&B artist Jazmine Sullivan will join country singer Eric Church for a duet of the national anthem. This year's Super Bowl will host a special pregame coin toss as poet Amanda Gorman will recite an original poem.
Jim Nantz, Tony Romo, Tracy Wolfson and Jay Feely will call Super Bowl LV which kicks off Sunday, Feb.7 at 6:30 p.m.