While the average Ferris students and professors spend their days in class or studying, nursing professor Mary Beaudry and sonography student Sarah Williams balance personal responsibilities with the wellbeing of the community's most vulnerable members.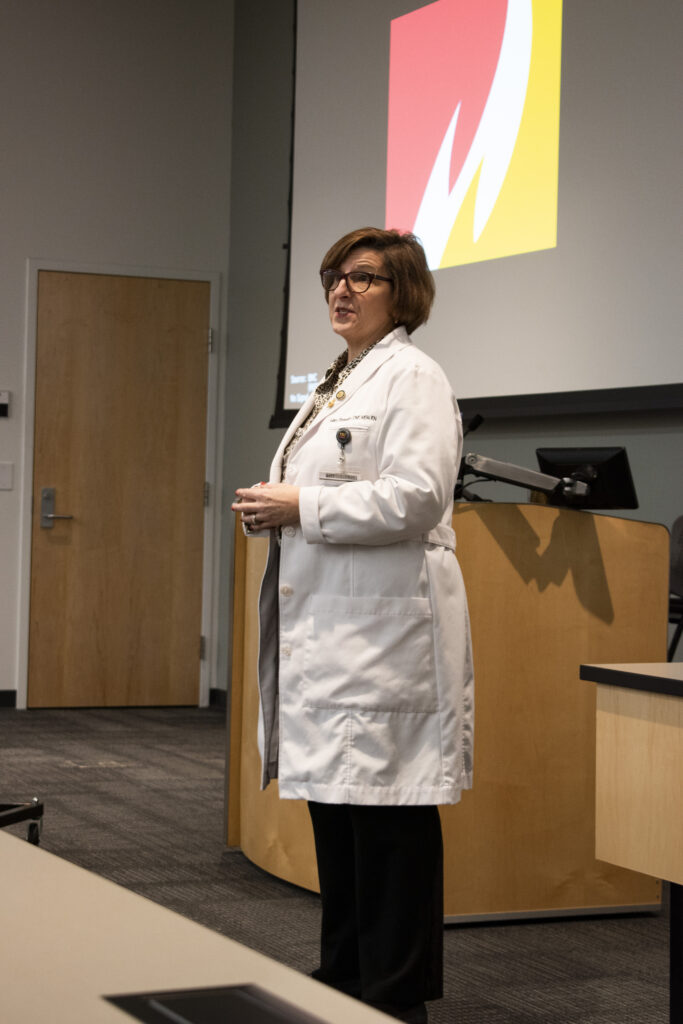 On the front lines
Mary Beaudry has been a nursing professor at Ferris since 2016. After seven years away from working as a floor nurse, she found herself missing patient care and took a position at Spectrum Health Kelsey this past August.
She began her new job in the middle of the coronavirus pandemic. Despite additional personal protective equipment and other precautions, things were relatively normal for the first few months.
"My coworkers have never seen the bottom half of my face," Beaudry laughed.
Things changed in November when the facility had its first active COVID-19 case. Patients had to be confined to their rooms, which was especially challenging for long-term care patients.
"I have one lady I take care of who hasn't seen her sister in almost a year. I think dealing with the depression of these wonderful people is really hard to stomach," Beaudry said.
At one point during the outbreak, Beaudry explained that they had more patients sick with COVID-19 than healthy individuals. She observed that this disease affected patients of all ages, but hit those with pneumonia, COPD and other conditions harder.
"Some were very old, and others were in mid-life. That was the horrifying part, because there's nothing you can do besides keep them comfortable," Beaudry said.
Caring for patients while wearing plastic gowns, multiple masks, gloves and face shields added a new level of challenge to the work. Beaudry said that wearing all the extra gear was incredibly warm, which caused her and her coworkers to overheat. It was hard to breathe, and it was exhausting for the healthcare workers. On top of that, patients often couldn't understand what was being said, especially the old and hard of hearing.
As the holidays approached, it was supposed to be 'the happiest time of the year,' but Beaudry explained that that was not the case as more people fell victim to COVID-19.
"The emotional toll that it took was huge. It's hard to pick yourself up and dust yourself off and go back in there after seeing what you saw," Beaudry said.
Contracting the virus
Beaudry woke up on Thanksgiving morning feeling, 'off.' She knew something was wrong when she couldn't taste her meal. Later her concerns worsened when she realized that she had a fever.
The next day she was scheduled to work, but instead she went to get a drive-through COVID-19 test instead.
"I felt like absolute crap. Even getting in the car, putting on clothes and driving to Big Rapids was something else. But I did, and I found out [that I had COVID-19]."
During this time, finals were in full swing, as well as end of the semester grading. Beaudry graded schoolwork and taught virtually from her bed during this time, even though she felt absolutely terrible and was having trouble focusing due to the illness.
"I felt bad for getting sick, even though it wasn't my fault," Beaudry said. "To feel like a human again … It took a good two weeks."
She had to take three weeks off of her work as a floor nurse. When she was finally able to go back to work, things had changed drastically since she had been gone.
"In the short space of about 12 days, we had 10 people pass. It was awful. You would come in, and this is someone you have known for five or six months. You live with them, you talk to them, you understand them and now you watch them take their last breath," Beaudry said.
At the nursing home, things are slowly turning back to a "new normal." Although, Beaudry explained that she still doesn't feel 100% and does not know if or when the extreme fatigue will go away.
Beaudry worries that her advice to students, staff and the public may seem repetitive. However, after seeing many people lose their lives to COVID-19, she thinks it is important that people take this seriously.
"This isn't over yet. Each of us has to protect the more vulnerable. That means grandma and mom and dad. Think twice before you put yourself in a position that could hurt somebody else," Beaudry said.
Stepping into a new role
Ferris sonography student Sarah Williams was optimistic for her 2019 – 2020 academic year. Unfortunately, her plans were put on pause when she was placed on the waitlist for the university's diagnostic medical sonography program in the spring of 2019. She would have to apply again the following year.
While this was deeply disappointing, Williams wanted to stay productive while she waited to reapply. She took courses toward the allied health sciences bachelor's degree and a summer class in phlebotomy. This summer course was exactly what Williams needed to open the doors of opportunity. She began working at the Traverse City Munson Medical Center in November of 2019, only months before the pandemic changed everyday life in the US.
As soon as COVID-19 made its presence known in Michigan, Williams saw the effects it had on healthcare professionals firsthand. Working as an inpatient phlebotomist in early March, Williams unknowingly drew blood from the hospital's first confirmed COVID-19 patient. This exposure to the virus would completely change her work life.
"I ended up being the designated isolation phlebotomist for all of the shifts that I worked," Williams said.
During the time Williams spent on the isolation floor that held all current or suspected COVID-19 patients, she experienced mental exhaustion. Personal protective equipment would have to be removed every time she entered a new room, and the hospital's safety policies changed daily.
The local distillery began making hand sanitizer, as the hospital did not have enough. With patients in such critical condition, Williams had little to no time to think about herself while working, often going an entire 12-hour night shift without any water. Despite this, the most difficult part of the job was working so close to people who would never recover.
"It was hard because you could see patients do so well one day, and then they would pass away the next day," Williams said.
After months of sleepless nights and demanding shifts, it was time for Williams to start a new chapter in her life. She had been accepted to Ferris' sonography program for the fall of 2020 and knew she would be moving back to Big Rapids. Because of this, she picked up shifts at Big Rapids Spectrum Health Hospital while still working full time in Traverse City. Williams continued to balance both jobs until she fully settled into Big Rapids Spectrum in October of 2020.
Switching from designated isolation phlebotomist in Traverse City to laboratory/ pathology assistant in Big Rapids, Williams got to learn what she likes and dislikes in a working environment. Working in the fast-paced culture of the "isolation floor" proved to be quite rewarding to her.
"I like being in a bigger setting with more staff and more patients," Williams said.
More than anything else, Williams learned the importance of offering empathy to everyone she treated.
"From patient to patient, they're each in their own situation. You have to be empathetic and caring to everyone, even to the ones that are mean or violent or rude," Williams said. "Working in healthcare, you have patients that are not necessarily pleasant to take care of, but you still have to be professional and caring."
As members of the medical field, both Beaudry and Williams are used to working selflessly for little recognition. When given a chance to spread their message, they would like people to take this pandemic seriously and look out for those around them, especially those who are more vulnerable, as it is impossible to know what others are going through.
Jessica Oakes contributed to the reporting of this article.