While most people throw their test papers away, Bulldog Sustainability Alliance is trying to educate students about the reprocautions their actions cause on our earth.
Photo provided by Hanna Bronz
The Bulldog Sustainability Alliance is an RSO on campus that promotes being green through reducing, reusing and recycling in order to create a better community and a healthier Earth to live on. This semester, get to know the group and a few important individuals that invite, participate and give back.
The people behind the scenes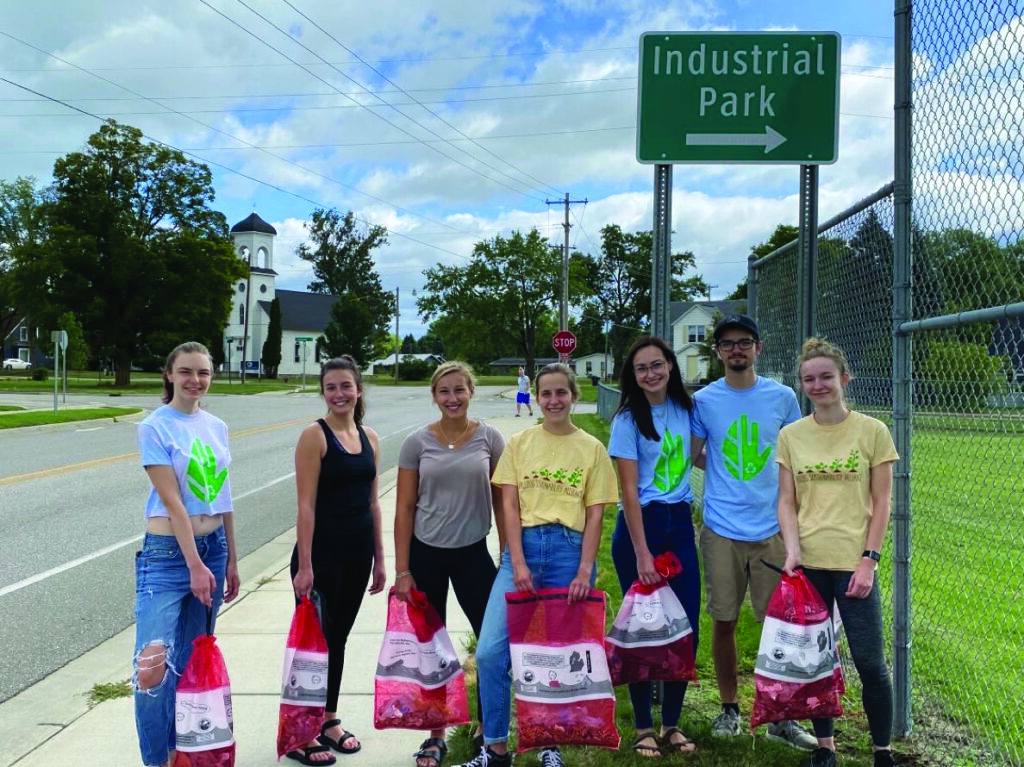 When beginning college, it was important to President Hanna Bronz that there was a group on campus dedicated to the environment, being sustainable and caring about their impact on the world. Luckily for the pre-pharmacy student, in the fall of 2018 Bronz came across BSA at Bulldog Bonanza.
Bronz attended a few meetings during her first year at Ferris to see if BSA was an organization that aligned with her ideals. The following year Bronz began to regularly attend and participate in events. Eventually, heading into her third year, she became president of the club. While her time as president has been strange due to the pandemic, her attitude towards activities, conversations and interactions about the organization have stayed cheerful and hopeful that BSA will be able to get back to assisting the community in person, as they did before.
For now, they focus on getting information out to students on how little actions they do in their daily lives can have big impacts, and how easy it can be to live sustainably, starting with recycling paper and reusing washable water bottles.
"Our mission is making sustainability more accessible for students and helping people understand that it doesn't always have to be complicated to integrate that into your life," Bronz said. "It doesn't always have to be going out of your way or making your lifestyle more painful, in a way. It's something easy to integrate in your life that is helpful for the world around you."
BSA encourages being green in realistic ways that relate to students' lives, informing them of important climate issues and sharing tips on how to make small, green changes in their lifestyles, like switching from plastic bags to paper or cloth bags when shopping.
Bronz is hopeful for the future activities BSA will be holding and the interactions they will have with students on campus.
Beside Bronz is her Vice President Sydney Starmer, also a third year pre-pharmacy student. Starmer also found BSA at Bulldog Bonanza during her first year at Ferris and was hesitant at first on fully committing herself to the organization.
Bronz was the driving force in convincing her to attend more meetings, participate in their clean up days and promoting sustainability online and with other students. Since joining BSA, Starmer has learned she is not alone in feeling unhappy with the current climate situation and that there are many actions to take towards a greener future.
Starmer mentioned how we have normalized using plastic bags, straws and single use items, indicating that we could be using cloth bags when we go shopping, metal straws and items that can be washed to be used again; items that are better for our environment are ones that can be used time and time again.
"I hope people see BSA and understand that we are in the same boat," Starmer said. "We don't like how things are necessarily either, but there are people you can stick together with to try to make an impact on the world around you."
A green history
In 2014 the Bulldog Sustainability Association was created to promote more sustainable choices for students that would benefit the university and the world around us. Prior to its starting up, the group was known as the 'Ferris Recyclers,' making recycling a more prominent activity on campus.
The group changed their name to BSA in order to expand their goals beyond just recycling. On their Facebook page, the group states that they "seek to unite students at Ferris towards sustainability goals," promoting not only recycling campus wide, but also better management of resources, alternative energy research and the investment of spreading knowledge to other students about the Earth.
In past years, BSA has been a top ranking RSO on campus, once even earning a spot as one of the top five registered student organizations due to their hard work, team effort, inclusion and dedication to community service. A majority of their work deals with beautifying the community through cleaning up around campus and the streets of Big Rapids, to hosting special speakers on the climate, to hosting fundraisers. BSA really goes to lengths to help their community thrive in a polluted world.
Since the beginning of the past school year, BSA has been struggling to keep afloat with only 20 members and coordinating only one event. Despite the trials the pandemic has issued the organization, members are staying hopeful as they continue to interact with others through their Facebook group and newsletter. They also stay hopeful for Earth day 2021, as they have big plans coming this April, along with hosting smaller events later this Spring.
A goal the organization hopes to reach, other than making the campus green, is ensuring students know there is a community out there for them with people that feel that they need to do something meaningful for the Earth and incite change. For students wanting to make a difference, no matter how grand or small, they can get in contact with the Bulldog Sustainability Alliance through Bulldog Connect or their Facebook page.