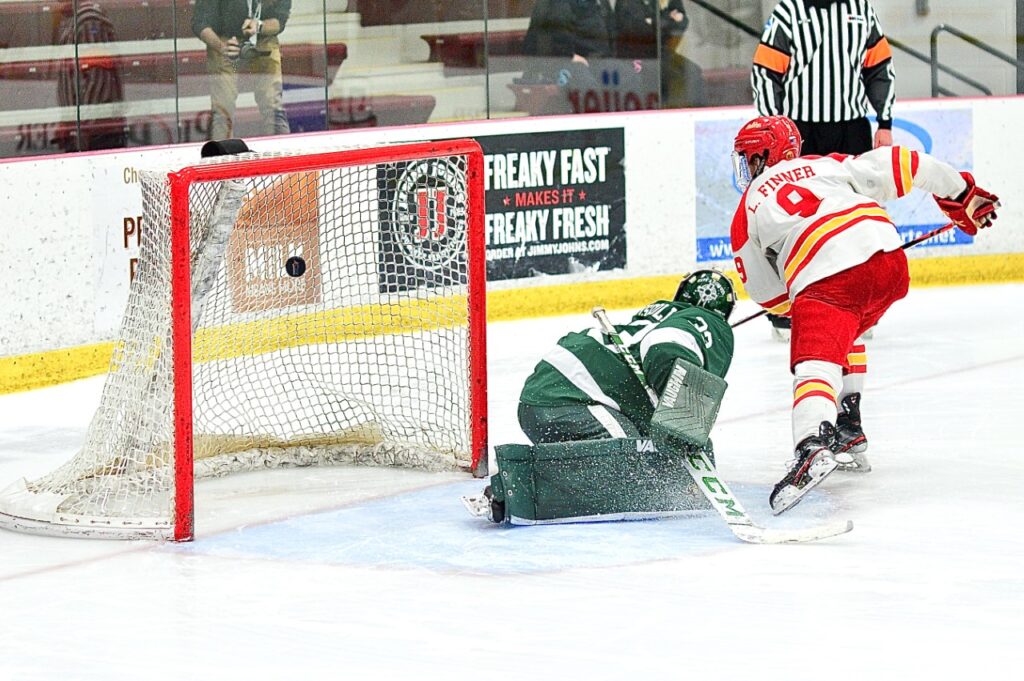 It will take more than a 1-14-1 start to the season to shake Bob Daniels' optimism.
The Bulldog's record of 1-14-1 represents the Bulldog's worst record through the first 16 games of a season in program history.
"The morale is a little down, but that has not affected the work habits of the guys," Daniels said. "Every practice is really excellent in terms of effort and desire. You can't help but lose some confidence when you aren't winning, but that has not impacted the effort level at all. Because of that, I continue to be extremely optimistic about this team."
Daniels explained that his team has been within a goal or two in most games this season, and he sees that as a positive. He feels that if his team is not getting "run out of the rink." They put themselves in positions to win, and he believes they will start winning games soon.
Despite the optimism, Daniels did admit that "the mental state is fragile." He feels his team has lost some confidence, but they are "not far from being able to turn the corner."
One of the largest challenges over the course of the season has been the teams issues stopping penalty kills. In both of Ferris State losses so far this February, six of the 13 goals allowed in the losses were a result of a power play. Daniels talked about the teams challenges with penalty kills shortly after their 7-2 loss to Bemidji State on Saturday, Feb. 6.
"It starts with the entire group, but it starts in goal too, you always say that your best penalty kill is your goaltender, and on nights where we get good goal tending like last night where we held them off the scoreboard on penalty kill. On nights where it's off a little bit is where you start to see issues with it." Daniels said.
Over the course of the season, goaltending has had its issues, with the goaltenders allowing a combined 4.26 goals per game. Freshman goaltender Logan Stein has the lowest out of the two main starting goaltenders for the Bulldogs, allowing 4.07 goals per game. Junior goaltender Roni Salmenkangas has allowed 4.18 goals per game.
Offensively, Ferris has actually improved compared to the previous season. In the 2019 – 20 season, the Bulldogs were scoring 2.00 goals per game throughout the campaign. This season, they are scoring 2.75 goals per game. Inversely, the team only allowed 3.47 goals per game in the 35 game season.
A big part of the reason Daniels remains optimistic is the play the team has received from its freshmen players. He credited both the freshmen forwards and defenseman for their play on the ice.
"We're starting to see some pretty good play out of our defensive core, particularly our freshman," Daniels said. "I'm seeing some real development in those guys. We're also really getting some good play from our freshmen forwards. There is no question that these freshmen and sophomores are going to be an integral part to our success going forward."
Even though Daniels remains positive, he recognizes that his team needs to gain confidence.
"There is no false confidence," Daniels said. "There is only one way to get confidence and that is to win. To get that, we have to keep doing what we're doing in terms of hard work.
"I do think it's just a mental thing now. We've been so close to winning, but each time we're there we find a way to stub our toe late in the game. We just need to have a breakthrough and win. We just seem to be on the wrong side of one-goal games right now."
The Bulldogs have been ahead, tied, or within one goal during the third period in eight of their 14 games this season. Despite that, they have recorded just one victory all season, a 7-0 blowout of the DII Trine University Thunder.
Choosing to only look at the upcoming games rather than the remainder of the season, Daniels feels his team needs to keep grinding and they will eventually win some games.
"We're still playing pretty good hockey and we think that'll transfer over to these games," Daniels said. "I'm looking at it strictly as in the next 48 hours and how do we best prepare for Friday night."
Daniels also mentioned that "no one is allowed to feel sorry for themselves." He wants his players to understand that they are all in this together, and they will get out of it together.
Losing seasons are something the Bulldogs have become accustomed to in recent seasons, as their last winning season was in 2015 – 2016. Daniels thinks those losing seasons could still affect the team this year.
Senior forward Coale Norris believes differently, saying that past seasons "do not have an effect on our play this year."
Despite the record and struggles the Bulldogs faced this year, Norris appreciates that Daniels remains optimistic.
"It's really uplifting," Norris said. "There's a reason he's been coaching at the Division I hockey level for 29 years. He has that confidence to lead a group through up and downs. It's really encouraging as a player to see the coaching staff with a positive mindset and still trying to get better every day."
Daniels and the Bulldogs will look to finish strong and come out on the victorious side of their games against Michigan Tech Feb. 12 and 13.