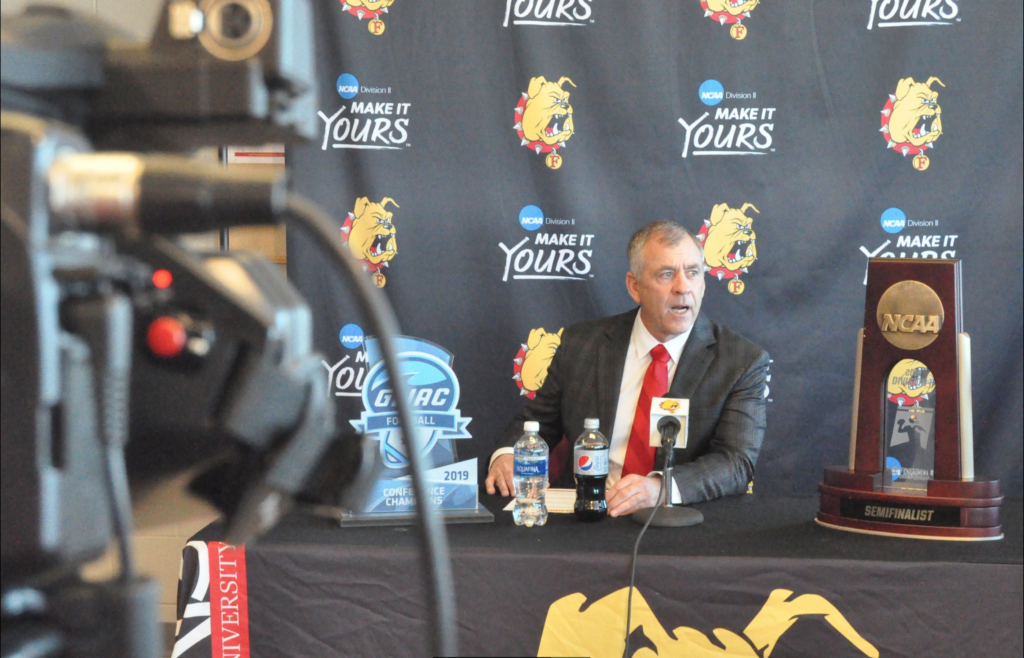 Ferris football welcomed 28 new recruits to the squad last Wednesday as Ferris brought in the top-ranked class in Division II football.
Signing a class comparable to many Division I FCS schools, Ferris continued to build upon its strong roster. According to 247sports.com, Ferris had the 174th ranked class in the country, regardless of division. The class included three offensive linemen, four wide receivers, two slot receivers, three potential quarterbacks, one tight end, two running backs, five in the secondary, five on the defensive line and two linebackers.
Head coach Tony Annese was excited about the class, stating multiple times that he believed that this was the best class Ferris had ever brought in.
COVID-19 did have a few impacts on the recruiting class. Most noticeably, the class was 10 players less than the 2019 recruiting class. Annese talked about the challenges the coaching staff faced as they now had to manage 6 classes of players on the team instead of five.
"If you guys think about this fact, our recruiting class that we just brought in the fall was the 2020 recruiting class, the '19 class all redshirted," Annese said. "So technically speaking, some of us will have to manage three freshmen classes here for 2021. Because the '19 class will be all redshirt freshmen that '20. class, I guess you'd call them retro freshmen, even though they didn't have a season and the 2021 class, true freshmen."
Beyond recruiting fewer players, Annese described some of the other challenges the coaching staff faced recruiting during the pandemic.
Annese talked about how it was all about managing the amount of players athletics could bring in at a time. At times, the team could only bring in one or two players for a visit. At most the team could bring four to six recruits in on any given weekend. He thanked the university for the help they provided in putting the recruiting class together.
"Some people didn't have that kind of effort made by their, their university administration. So, I want to thank the university administration for helping us just have at least a way to manage this circumstance and be able to put a good class together." Annese said.
The most well-known player on the list is star athlete Brady Rose out of Muskegon Mona Shores. The list of accolades run long for Rose, he is a two-time state champion, MLive Player of the Year, two-time all-state player, Mr. Football Finalist, and AP Press Division I-II player of the year.
He accomplished this by contributing to nearly every position one can possibly play in football. Over the course of the season, he totaled over 1,000 rushing yards, 19 rushing touchdowns, 900 passing yards, 10 passing touchdowns, a receiving touchdown, 4 interceptions (2 of which were returned for touchdowns), a forced fumble, a fumble recovery, led the team in tackles, blocked two field goals/extra points and returned a punt for a touchdown.
When describing the one favorite skill that Rose has, Coach Annese made comparisons to Barry Sanders and Walter Payton.
"Grit. The greatest skill you can have in football. You know, if you're gritty you can be a good football player. That's the beauty of the game. If you're gritty, you can be good. If you're not gritty, it's hard to be good." Annese said. "He's just grit, pure and utter grit at a level I don't think I've ever seen in all my years of watching football, you know, it pops up in my head sometimes unbelievable performances from Barry Sanders or Walter Payton. Maybe this sounds crazy, but you throw Brady Rose in the formula and you know Walter Payton and Barry Sanders didn't show the grit that Brady Rose shows."
Beyond Rose, three other former west Michigan high school quarterbacks were recruited, including Forest Hills Northern's Trinidad Chambliss, Muskegon's Amari Crowley, and Zeeland East's Carson Gulker. Chambliss and Gulker were both recruited to play quarterback, while Rose and Crowley were expected to play at the wide receiver spot, Rose more specifically as a slot receiver.
Following tradition, Ferris placed a heavy emphasis on its home state and grabbed plenty of the top talent in the state of Michigan with 18 coming from within the state. The Bulldogs also continued its highly successful pipeline to Florida, inking a program-record eight players in one signing class from the Sunshine State, in addition to a slot receiver from Georgia.
This year is sure to see the most competitive position battles Ferris has ever seen with an estimated 170 players looking to represent Bulldog football in 2021.